Saving Bella: Toddler Gets a Second Chance at
St. Jude
Their daughter's initial diagnosis left Amit and Jaya devastated. St. Jude gave the family hope.

March 13, 2020 • 3 min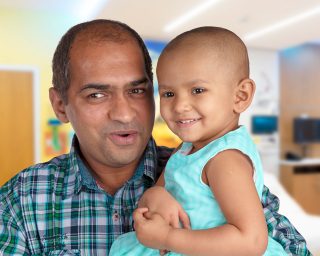 Just imagine the scene: It's the lobby of a hospital in India, a busy place. Amid it all, a young couple sits in a stunned haze trying to fathom the unfathomable, accept the unacceptable.
Their 1-year-old daughter — a bright and happy girl named Bella — likely was going to die.
That's what Amit and Jaya were told. Although the surgery to remove the girl's brain tumor had been a success, doctors said, subsequent tests indicated the mass was an embryonal tumor with multilayered rosettes, or ETMR.
As Amit and Jaya understood it, ETMR was more than an acronym. It was a sentence — a death sentence.
"There is no cure for this particular type of tumor — that's what they said," Amit said.
"My wife…she broke down."
Subsequent review, however, resulted in a change in the diagnosis. Bella, in fact, did not have ETMR — a type of tumor that is usually aggressive, recurring and often fatal — but another kind known as anaplastic ependymoma, which has survival rates that are much more encouraging.
She would go on to travel to Memphis to receive chemotherapy and proton radiation therapy at St. Jude Children's Research Hospital. Now, at 3 years of age, she is back home and doing well.
To understand how the turnabout happened, you have to go back to that hospital lobby in India. To the moments Amit would later describe as the worst he and his wife ever experienced.
They are sitting there, trying to accept the grim news about Bella. Jaya can't stop crying.
At that point, passersby — family members of another patient — see the couple and ask what is wrong. Amit and Jaya tell of Bella's diagnosis.
Members of the other family mention St. Jude, asking the couple if they had heard of the hospital in America. "If they accept your case, there will be high chances of survival for your child," one of them tells Amit and Jaya.
Amit has concerns. The surgery in India left him financially drained. He can't imagine how he would pay for travel to the U.S. and treatment at St. Jude.
When he learns from the other family that all costs are covered, that no patient family gets a bill from St. Jude, Amit has almost as much trouble digesting the news as he did the earlier diagnosis of Bella.
Soon, Amit is looking up St. Jude online, then sending an email outlining Bella's case history and asking for help in saving her. The hospital responds, requesting that he send a tissue sample of the tumor. Amit provides the sample via courier.
Within a few days, he gets a phone call. On the line is a doctor from St. Jude — with good news.
"They confirmed that my child does not have ETMR. She has anaplastic ependymoma, which can be curable if it is treated in the right aspects," he recalled.
"We are very happy."
St. Jude seemed a good fit for Bella. It has the Red Frog Events Proton Therapy Center, the world's first such facility dedicated solely to children with cancer.
After arriving at St. Jude in March 2018, Bella underwent cancer treatment as well as speech and occupational therapy. The earlier surgery had robbed her of some of her speech, but within a few months, Bella was talking profusely again, albeit with an American accent.
Having returned to India, Amit and Jaya look forward to settling back into the kind of life they had before their daughter got sick, when they were happily uninformed about things like brain tumors.
At the same time, they speak highly of the hospital that saved Bella. St. Jude, says Amit, is "more than just a hospital…St. Jude is something really great."