St. Jude

dads' bond forged through shared worry and hope
With their daughters in treatment, Dan and David relied on each other for support, found friendship through common experience.

June 13, 2022 • 3 min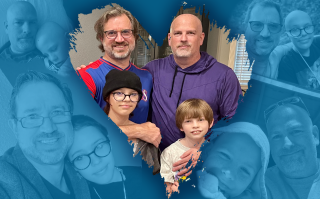 The proton therapy center at St. Jude Children's Research Hospital is a technological marvel. It houses a rotating framework three stories high that administers precision radiation in the form of a millimeters-fine beam of subatomic particles at more than half the speed of light.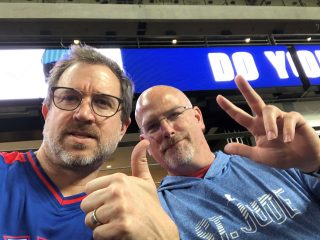 But when you're in the waiting room, you're essentially in the basement.
In Dan's recollection, that's where he was when he noticed that the only other person there, a stranger to him, was in a Dallas Cowboys shirt. Dan is a very social person, and there was time to pass. "You from Texas?" he asked the guy.
This is how these two very different men began to learn how much they had in common: They were both transplants to Fort Worth, they both had daughters and both of these daughters had brain tumors. This is how Dan and David became friends, but perhaps more importantly, how Dan brought David into an unofficial support group of St. Jude dads who helped see each through their children's treatment, and beyond.
David and his daughter Paige
When David and family moved to Texas from South Africa, his wife, Karlien, was enchanted with their new town. "I know it's impossible, but it smelled like my childhood," she said. "Like Sunday afternoons when my parents were sleeping and it's very hot and I'm riding my bike over certain roads where I know I'm not allowed to. It smelled like that freedom."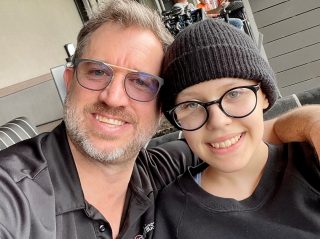 For their daughter, Paige, however, the relocation — at least at the moment — pretty much stank. A year into the move, the teenager felt isolated and out of sorts. She suffered chronic headaches and loss of confidence. She and her mom clashed over everything.
This was the situation when Paige was diagnosed with a brain tumor.
Imagine being a 14-year-old girl going through a difficult time a literal continent away from your friends, and now this.
Now imagine being the parents who have to disclose that it's cancer. Had they not found St. Jude, said Karlien, "I think I would have just put the fear of death in my kid."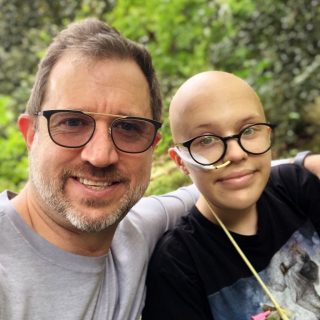 Pineoblastoma was a terrifying diagnosis, but St. Jude offered a sense of calm and even peace. "It was just like, okay, whatever is going to happen, this is the best place for it to happen," Karlien said. And the best way for it to happen, she and David agreed, was for David to stay with Paige at St. Jude while Karlien returned home to run their business and look after their son. If Karlien was "the wrong person to be there," in her own estimation, it's possibly because David was so perfect for the job.
Hands-on, structured, the driver to school and the maker of meals, David is also the calm in the storm when crisis looms. "I've hopefully been very steadfast, just in her corner the whole time," he said of Paige. He would see her through cancer treatment, not alone by any means, but as singlehandedly as he could because "my personality is such that I take a lot of any pressure that's on us and I internalize it," he admitted. "I don't ask for help at all." Reserved by nature, he turns inward under stress.
So David didn't really realize how much he needed support until it just showed up in the form of extroverted Dan, another dad who knew just what he was going through.
"I didn't know I needed that relationship until I had it," said David, "and then I was just unbelievably grateful for it. Then you don't know how you did without it."
Dan and his daughter Ellie
You could say of Dan as a dad: It's not his first rodeo. He's father or step-father to seven young people. His oldest and his youngest, Ellie, are 20 years apart. "My oldest son will tell you I'm a different dad each group. Now I'm a little more gentle, a little more mellow," he said.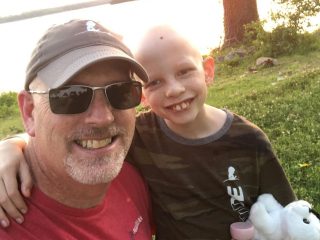 Dan describes Ellie as "very sweet, very gentle, very soft," and it's just possible she turned him into something of a softie, too. But when Dan felt his little girl was growing up too fast, he wasn't just lamenting the passage of time. She was outgrowing shoes and clothes at such a rate that her pediatrician recommended a visit to an endocrinologist. She seemed to be in precocious puberty.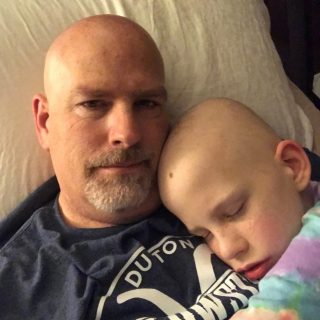 In fact, Ellie, at age 8, had a cancerous brain tumor: medulloblastoma. She was referred to St. Jude, arriving in Memphis about a month after Paige did. Both girls received proton therapy and chemotherapy at St. Jude with their dads by their sides.
Sharing caregiving duties with Ellie's mom, Dan initially struggled with a sense of powerlessness. "You want to fix everything, you want to solve all the problems, make everything go away," he said. "With this, you can't. You have to change your mindset."
For Dan, that meant accepting his role had shifted. "I'm a pretty smart guy but I couldn't do a damn thing with her cancer," he said. "My job now was just to comfort and console and be there."
The St. Jude dads were able to offer each other moral support and practical advice, from well wishes on radiation days to tips on nausea meds, as well as something more.
"With them," said Dan, "I can pick up the phone and say, Hey, my scanxiety is through the roof, and they're like, We're with you, buddy. They know what the feeling is. They've gone through it. What I truly love about it with those guys is there's nothing we can't say to each other. I call it dad sympathy."
Sometimes it was heavy stuff. Ellie and Paige were often in the hospital for chemotherapy at the same time. Ellie, in particular, struggled with side effects. It made a big difference to have "a friend going through the same thing at the same time on the same floor," said David. "We would message each other, You up for a coffee?"
Or they would meet up at the pizza place on the ground floor of their St. Jude housing.
"The conversation is talking about football for the first five minutes, but it inevitably goes to the treatment because that's the thing you can't speak about to too many people who will understand," said David. "We could tell each other that we were scared, that we were sad. We were able to be vulnerable."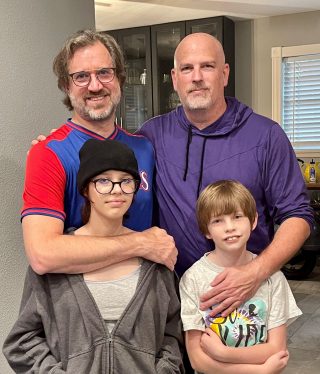 And sometimes, it was about making their own fun. When Paige started losing her hair during treatment, she decided to shave her head and David decided to join her. They shared pics to the St. Jude dads thread.
"And then all the dads shaved their heads," David recalled. "So there was a lot of fun stuff involved. It wasn't all serious, it wasn't always about the treatment. It was just a bunch of friends interacting."
The girls are now out of treatment and back at home, but the dad sympathy remains necessary.
"When the doctor said, Clean scans, you're good to go home after last chemo, I thought the anxiety would go away," said Dan. "It left me for about 10 minutes."
Dan and David and a couple of other dads still get together and talk about their children's post-treatment care, scans, hearing aids, stuff that affects the kids' quality of life. But also sports, Formula One, music … Dan and his partner, Lynn, have introduced David and Karlien to country music: a key step, Dan says, in "turning these South Africans into Texas red-dirt country folks."
So whatever brought these two dads together — Fort Worth, St. Jude, fate — there's really no separating them now.
"It is quite a big surprise to end up in this situation with a guy who I will now consider a lifelong friend," said David.
"It's not something that was just during cancer treatment," agreed Dan. "I want to be there for them and I know they'll be there for me. I can't wait to go to their girls' graduations. I can't wait to go to their weddings."