St. Jude

patient takes her first steps for the second time

St. Jude mom cheers as Eri'Elle learns to walk again

January 10, 2023 • 3 min
Angel knows exactly when her now 4-year-old daughter, Eri'Elle, took her first steps.
"She walked two weeks after her first birthday," Angel recalled.
As a baby, Eri'Elle was smart, playful, happy and never stopped moving. As she grew from baby to toddler, that didn't change
Eri'Elle kept moving, Angel said, until she couldn't. That's when they were rushed to St. Jude Children's Research Hospital in Memphis, where her "St. Jude baby" battled a life-threatening tumor. And it's where Angel rejoiced to see Eri'Elle's first steps — for a second time.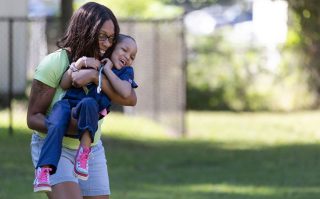 In late September of 2021, Angel made several trips with Eri'Elle to her local hospital for persistent constipation. But, in a span of two weeks Eri'Elle had gone from an active toddler to a child in pain who couldn't walk.
"In the blink of an eye, everything changed," Angel said.
Her local hospital in Louisiana did scans and sent them to a hospital in a larger city for more extensive tests. Doctors there gave Angel life-changing news.
"She came and told me my baby had a tumor pressed up against her spine and that was making her not walk," Angel said.
Doctors there referred Eri'elle to St. Jude.
"When do we leave?" Angel asked.
"Right now," she was told.
Angel called her mother, who was looking after her older daughters, signed some papers and with just "the clothes on her back," left at 3 a.m. by ambulance with Eri'Elle for St. Jude.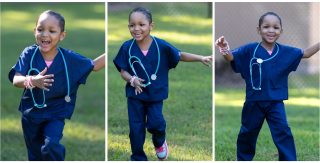 "From the time I stepped foot on the campus, I didn't have to worry about anything. Everything was taken care of, even with myself. They were concerned about me as well," said Angel, who, like any other parent, was "overwhelmed."
Tests started immediately. Eri'Elle was diagnosed with a rare and aggressive malignant rhabdoid tumor on her spine.
Eri'Elle underwent two operations last January, including one to remove the tumor.
"My baby is a warrior because she never let any of it get her down," Angel said.
And as Eri'Elle grew stronger, she begged to do more.
"She kept saying, 'Momma, I wanna walk,'" Angel said.
On Feb. 18, 2022, at 2:41 p.m. at their Target House apartment at St. Jude, Eri'Elle took her first steps - for the second time.
In the video capturing that moment, Angel cautions Eri'Elle to take her time.
"Take my time. Take my time," Eri'Elle said excitedly as she balanced on still shaky legs and walked.
Witnessing those first steps was extraordinary.
"By the time we got to that point, I was happy because, when we made it to St. Jude, my baby couldn't sit up. She couldn't feel her legs," said Angel, who cries while telling the story.
Angel had come to terms with the possibility that Eri'Elle might never walk again. So, the transition from a wheelchair to a walker was prayed-for progress.
"By the time she got to using the walker, I was just ecstatic, grateful and thanking God that things were moving up," Angel said.
She now shares her St. Jude testimony with everyone.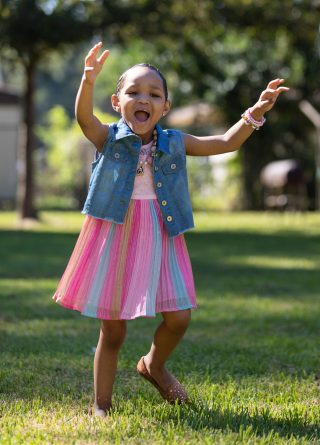 "I thank God for the people he put in our lives to get us to that point. Because if it weren't for those researchers and those doctors and the people that do the genetics and nurses, my baby wouldn't have come this far," Angel said.
Eri'Elle loved everyone who cared for her. For her, physical therapy was playtime.
"She'd go down to radiation and she'd know everybody by name," Angel said.
When someone there asked if she wanted to be a nurse? "No," Angel said, "She said she wants to be a doctor."
"She has her own little ID with her little picture on it. She's such a character," said Addie, Eri'Elle's grandmother.
"The fact that this amazing care is offered for free, and I do not have to scrimp and save, we are beyond blessed," Angel said.
Both Angel and Addie knew about St. Jude before Eri'Elle became a patient. A member of Addie's prayer group had a grandchild who was treated there. And she had bought tickets for the local St. Jude Dream Home® Giveaway.
"If it were not for St. Jude, we would not have been able to afford the treatment to save this baby's life. It's a wonderful thing," Addie said. "The treatment this child had, and it not cost a penny, that is a miracle in and of itself."
Angel is a self-described "straightforward parent" and didn't sugarcoat Eri'Elle's diagnosis for her daughters, now 12 and 10. And Addie is a breast cancer survivor.
Her oldest daughter cried. Her middle daughter declared that their little sister would beat the cancer. They all prayed.
Thanks to technology, Addie said, the girls were able see and talk to Angel and Eri'Elle every day.
During their nearly eight months at St. Jude, Eri'Elle and her mother left Memphis only once, for a Christmas visit. Eri'Elle's grandmother, Addie, and Addie's sister, Henrine, made the nearly five-hour drive to Memphis to collect them on Dec. 23 and the family drove home to Louisiana that same day — a 10-hour round trip.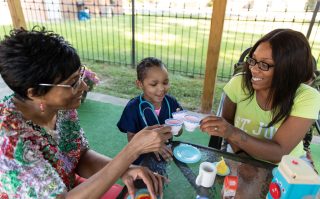 "The girls were so surprised because their mom and their sister had come home for Christmas," Addie said.
It was a short trip. Eri'Elle and Angel were back at St. Jude the day after Christmas.
"I didn't know my daughter was as strong as she was until she went to be with her child all day every day for that long," Addie said. "She basically carried that load by herself."
Eri'Elle's great aunt Henrine lives 83 miles away and stepped in often to help with Angel's daughters. She took the girls to her house on odd weekends to give Angel's parents a break. Now, Henrine is a monthly donor to St. Jude
"Once Angel got to St. Jude and she was telling me all that they do up there, my goal, for as long as I can, is to contribute to St. Jude, so that just like they helped Angel and Eri'Elle, they can help somebody else along the way," Henrine said.
Right now, Eri'Elle goes back to St. Jude every three months for scans
"She's such an amazing child, so resilient," her grandmother said.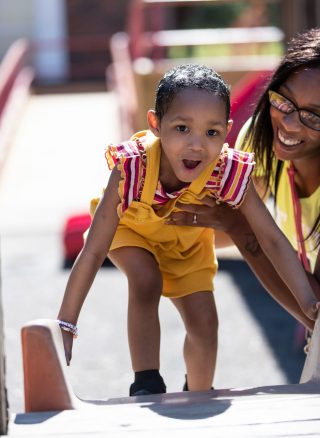 Eri'Elle is an active 4-year-old who is spoiled by her big sisters while they all spoil a new baby brother.
"Now she's older. She's more mature after having to be at St. Jude and going through so much," Angel said. "But she's back being a little girl, just running around playing and jumping and enjoying life."
And that's why she will always love St. Jude.
"They gave me my baby back," Angel said.