After Remarkable Cancer Journey, Teen Golfer Shines in a Tournament Full of Stars
Having survived four bone marrow transplants with the help of
St. Jude,

Brennan takes his rightful place in a golf tournament full of luminaries.

July 23, 2019 • 5 min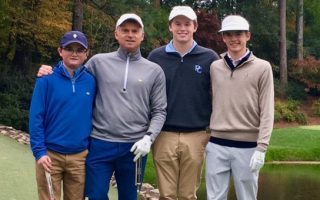 It would be late July and the Memphis heat would make it extra hard for him. Because after three relapses and four bone marrow transplants (from four donors) to save his life, he is grateful and eager to live life fully, but mindful of his physical limitations.

Brennan fought for several years against his cancer at St. Jude Children's Research Hospital. Then at home he worked for several more to get back in the game he loves. His body was tested beyond its limits, yet his stamina is better and he's stronger. But it is hot on any southern golf course in the summer. Brennan's sweat glands have been inhibited; his 17-year-old body has trouble regulating temperature. So more often than not, he may play nine holes in the heat, if that. He does what he can.
But this week represents an opportunity to play the sport he loves in a town that means so much to him and his family, while visiting old friends and meeting celebrities. He'll be honoring St. Jude during the week when the best golfers in the world will be in Memphis, golfers whose names have been spoken in Brennan's home in reverential tones since, well, ever since Brennan could remember.
Folks like Justin Thomas, Rory McIlroy and, of course, Phil Mickelson, a golfer who stepped into Brennan's life with personal inspiration when he needed it most and with whom he maintains a strong emotional connection. There aren't many kids, after all, who can say they had lunch with the famous left-hander before he teed off at the Masters.
So Brennan quickly accepted the invitation to play 18 holes, in the summertime heat, at the Danny Thomas Celebrity-Am during the World Golf Championships (WGC) – FedEx St. Jude Invitational.
No surprise, really. Brennan doesn't shy away from challenges.
Overcoming insurmountable odds
Brennan was diagnosed with acute myeloid leukemia on his seventh birthday. After that came 30 months of treatment that included three unsuccessful bone marrow transplants, two of them at St. Jude.
Even one transplant takes its toll on the body. As the procedure wipes out the cancer cells, it also scrubs a person's immune system, leaving them as vulnerable to infections as an infant. The weeks and months after transplant, then, are fraught with risk. The body might reject the transplant. The aftermath of the procedure is often painful, causing bone pain, thyroid issues, numbness and tingling, and fatigue.
After so much grueling treatment and slim survival odds, Brennan's parents weren't sure it was conscionable to move forward. So, before they said yes to a fourth transplant, they posed the question to Brennan.
Fast forward nine years and his answer is obvious: now 17, he's pursuing his passions, especially golf, a part of his DNA that remains undisturbed despite cancer treatment. He has played since he was 3 years old, growing up in Augusta, Georgia, the home of the Masters Tournament. He even played in competitive junior golf events just a few months after transplant number one. He plays very well, as do his two brothers, Christopher and Nat, who just finished his first season of college golf.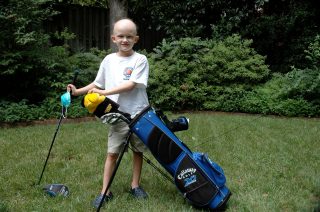 Giving back - and lunching with Lefty
Brennan is far more than a golfer. He's a symbol of hope and optimism. His mother, Tara, says she gets emails from moms and dads, who after middle-of-the-night online searches of "leukemia" and "relapse" and "bone marrow transplant," find Brennan's story.
The questions keep coming: What did you do? And is there hope for us?
"I understand that," Tara says. "I remember thinking after Brennan's third relapse and before his fourth bone marrow transplant, 'If I had only known someone who had done this before, it would make this decision easier.'"
The family has embraced this role of reaching out and giving back. They've raised nearly $1 million for St. Jude. Brennan's dad, Turner, who blogged throughout his son's treatment, wrote a book about his family's experience titled Possibilities. He also co-wrote a song of the same name, which was recorded by country star Darius Rucker to benefit St. Jude.
And when Brennan was undergoing his first bone marrow transplant and heard golfer Phil Mickelson's wife had breast cancer, the 7-year-old sent her a letter of encouragement.
"I remember it said something like, 'You can do this,'" says Tara.
And did Brennan mention his own cancer in that letter?
"No, he didn't mention it," says Tara. "He didn't. He just wanted her to know she could do it."
A year or so later, around the time of Brennan's subsequent transplants, Mickelson called Brennan to say he was thinking of him, to encourage him.
Then, just after Brennan's fourth bone marrow transplant in 2011 when he was still so weak, Brennan's doctor at St. Jude suggested that it might be helpful for his fighting spirit if, with major precautions, he went home for a few days. Being the first week in April, the family loaded up and took Brennan to — what else? — the Masters Tournament. There, after a chance encounter with Mickelson in the parking lot, Brennan's father told Mickelson his son would be coming to the tournament for an hour or two. It was then that the big-hearted left-hander suggested Brennan and his brothers join him for lunch.
"This was on the Saturday of a major tournament," says Turner. "I mean, it was just an amazing and extraordinarily thoughtful thing to do, particularly considering that his competitors are either already on the course at that time or focusing on the day ahead. It's a great story about Phil Mickelson and his character and his heart."
Brennan has several favorite golfers playing in the WGC – FedEx St. Jude Invitational. Mickelson holds a special place for obvious sentimental reasons, but also for Phil's delight in poking fun at himself and encouraging others to "just hit bombs" on social media.
Last spring, Mickelson began posting short YouTube videos on topics such as in-home exercises for how to get "calves like Adonis."
Brennan and his brothers can't get enough. Life's too short not to laugh.
Brennan also enjoys ribbing with his brothers, rubbing it in that he gets to be part of the Danny Thomas Celebrity-Am.
Says Tara: "For the past couple months when his brothers have talked about junior and amateur golf and their tournament plans for the summer, Brennan, who is a stoic old soul now, says with a straight face, 'Yeah, I'm playing in the Danny Thomas Celebrity-Am.'"
It stops the conversation — and gets a laugh.
Which celebrity will Brennan be paired with?
Maybe, actually, he'll be the celebrity in his foursome.
Because in a tournament packed with people who have distinguished themselves in sports, in arts and in business, Brennan is the only one who can say he's survived four bone marrow transplants.
Even in a tournament full of stars, Brennan shines.