Tina's quinceañera: a tradition of a lifetime
After overcoming a cancer diagnosis at age 10, this
St. Jude

patient and her family celebrated her 15th birthday in style.

October 11, 2022 • 5 min
English | Español
Dressed in a mauve-colored ball gown and sparkly tiara, Tina made her grand appearance on a second-floor balcony and waved at family and friends, some of whom had traveled long distances to celebrate her 15th birthday.

Tina had wanted to forego the elaborate birthday celebration at first. She likes things simple, and certainly did not feel comfortable being the center of attention. But as she looked at her parents, smiles wide, she was happy that she had conceded to having a "quinceañera,'' like those celebrated with family and friends in her native country of Venezuela.
A few years ago, Tina's future had been uncertain when she was diagnosed with a brain tumor. She was treated at St. Jude Children's Research Hospital. Her parents helped her through the most difficult times of treatment and never left her side.
"This is also a very big moment for my parents because they once thought that I wouldn't have something like this,'' she said. "I wanted to give that gift to my parents."
On this sunny Saturday afternoon in South Florida, her mother, Marina, and her father, Vicente, beamed with pride. When Tina danced the waltz with her father, Marina looked up at the sky with emotion. It was a moment she had dreamed of for years, and one that at times she and her husband feared they would not see.
"For me it was important to see her dance, to see her smile, to see her enjoy herself," Marina said. "And that is something that one longs for when one asks and prays to see her well, to see her healthy."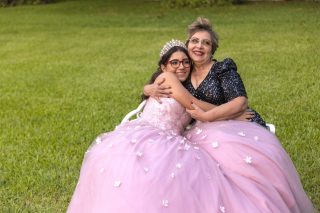 Seeing Tina "look like a princess,'' brought tears to the eyes of some of the guests as well.
"We are celebrating Tina's life, faith and the love that we have for her, and that is why we are here so happy and euphoric," said family friend Maria Alejandra Colmenares, who attended the celebration with her husband, Carlos Lobo.
Unexpected diagnosis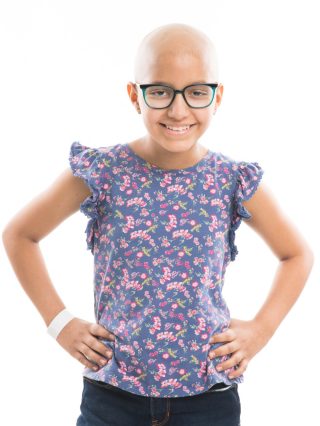 Tina had always been a healthy girl. But when she was 10 years old, she started having a lot of headaches and vomiting. Afterward, she lost her balance easily; she tripped and fell. In class, the teachers noticed she was no longer writing straight.
Her parents took her to the hospital and after several tests she was diagnosed with medulloblastoma, a rapidly growing brain tumor of the cerebellum.
"At that moment our life was gone," Marina said. "You just can't believe it ... it was very painful."
Tina didn't know very much about what the diagnosis meant but had heard about cancer before at school.
"Normally, it's associated with something very sad, people normally associate it with death," she said.
Tina underwent surgery to remove the tumor at a local hospital in Florida, but Carlos and Maria urged them to look at St. Jude. They had read about the work the research hospital did with childhood cancers. Marina had previously donated to St. Jude but hadn't thought of the hospital as a possibility for her daughter.
Days later, after several calls and conversations, they were referred to St. Jude.
"We felt that God sent us to this hospital and the people there took our pain and turned it into hope," Marina said.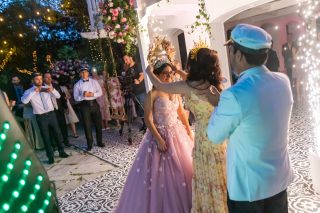 Tina received treatment for eight months, which included chemotherapy and proton radiation, before going into remission. Her parents never received a bill for treatment, travel, housing or food from St. Jude.
"At first, I couldn't believe that Tina had cancer," Vicente recalled. "And to know that there are people who support St. Jude to help families like ours, it's the best thing."
Today, Tina returns to St. Jude regularly for checkups.
"I always think that without St. Jude the story might have been different," Marina said.
Tina's celebration

In Venezuela, as well as in other Latin American countries, the quinceañera symbolizes the transition of a girl into womanhood. Besides the traditional dance of the waltz, the birthday girl, "la Quinceañera," dances with her brothers and other male relatives. The celebration includes a meal and speeches as well. Many of the festivities end with "La Hora Loca" — The Crazy Hour — where guest dance with props such as party hats and glowing lights to inspire others to join in the fun.
The venue was bustling with activity hours before the celebration was set to begin. Marina had chosen the site because of its lush gardens, which she thought would be perfect for an outdoor celebration and pictures.
Aura Molinares, one of the event planners, was busy decorating tables throughout. She placed a pink book on a table near the entrance, which guests would be asked to sign. She then set up tables for the cocktail hour and for dinner. Pink balloons and pink-and-white rose petals could be seen strewn throughout the outdoors, complementing the natural red, pink and yellow flowers in the gardens.
Aura had heard of Tina's cancer battle when her parents hired her for her services a few weeks prior. She and her partner had been supporters of St. Jude and felt an immediate connection to Tina and her story. On this day, she hung a special custom-made sign with Tina's name in lights on the balcony as a surprise gift for the teenager.
"This is a special day for her, and we wanted to make it extra special," Aura said.
Several feet away, indoors, Tina sat happily on a wooden chair as a stylist brushed and curled her hair. Her long, dark tresses were soon styled into a half-up do, something simple so she could dance.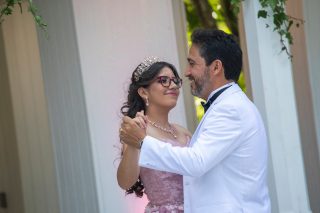 Her mother was nearby, taking in the moment. Years ago, Tina had lost her hair due to chemotherapy. Marina remembered how sad Tina had been when she saw her hair falling out little by little. The only thing she and her husband could do at the time, Marina recalled, was to shave their heads.
"We wanted her to see that people, that human beings, are more than hair, and that we were there by her side," Marina said.
But today, Tina's hair was long and healthy, and it looked beautiful. The hair stylist finished her hair by placing the tiara on her head.
Tina's debut

A few moments later, once her hair and makeup were complete, all eyes were on Tina. Her strapless dress with flowers fit just as she had hoped. Photographers, videographers and some family and friends watched as she posed for a photo shoot before she made her appearance on the balcony.
She knew the importance of the day.
"Not so long ago, I was in a hospital, and I had cancer and it shows I won that battle," Tina said.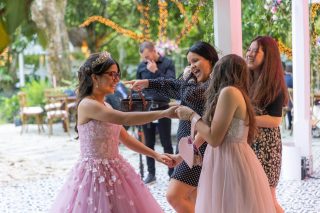 The quinceañera was all she had hoped for. She dined with friends, she hugged her family members, she took pictures with her grandmother who had traveled from Venezuela, and her brother, Brandon, who had arrived for the weekend from Germany. She laughed and she danced. Merengue and salsa and some bachata were on the playlist.
"I like to dance," she said. "I don't know how to dance very much, but whatever comes out will make me happy. I am having a good time."
Among the highlights of Tina's quinceañera for Marina and Vicente was seeing their daughter enjoy herself like any other teenager.
"Seeing her with that look in her eye that illuminates her entire face makes me very happy, especially because we were able to get here," Marina said.