From Singapore to
St. Jude

: Zahaan's Story
'One big miracle' of a journey propelled a sick child and his family nearly 10,000 miles from Southeast Asia to
St. Jude

.

March 21, 2019 • 5 min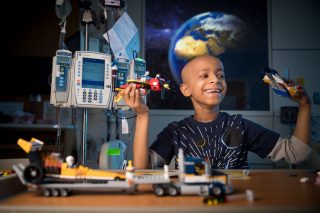 He wore blue-suede shoes as his plane took off from Singapore. And then, true to the lyrics of that classic, GRAMMY®-nominated song, he arrived in Memphis amid pouring rain.
The funny thing is, Zahaan, then a 6-year-old boy from Singapore, knew nothing of the Marc Cohn tune Walking in Memphis when he arrived in the city on a rainy night in 2017. Nor had he given any special thought to the popular name-brand blue-suede footwear he had on.
The fluky story is one of many that Zahaan's dad, Murtuza, likes to recount about his son's journey to St. Jude Children's Research Hospital to receive treatment for brain cancer. And, boy, does he have stories to tell.
"Spooky stories," Murtuza says.
"Spooky in a good way."
Together, the tales weave a narrative of how a series of odd, downright eerie coincidences propelled a sick child and his family nearly 10,000 miles from Southeast Asia to St. Jude. Theirs is a story of healing and hope, as well as the compassion and generosity shown by an entire community.
"This entire journey of ours has been one big miracle," Murtuza says.
A generous "deep thinker"
It's an odyssey Zahaan's parents trace back to several weeks before their son got sick. At an age when most kids would rather play games or mimic superheroes, Zahaan made a bold decision: He would let his hair grow long.
There was nothing rebellious about the plan. He and a classmate wanted to grow their hair out so it could be cut and donated to kids who were bald due to cancer and other medical problems.
The hair-donation plan was one in a long list of acts reflecting Zahaan's almost-relentless generosity. For all of her boy's natural playfulness, his mom, Karishma, had noticed a serious side.
"He's extremely strong-willed," she says. "He's a deep-thinker. He is someone who will think about the situation very deeply, and if it really resonates with him, he will do everything he can to help."
Zahaan is the only child of parents who were born and raised in Mumbai, India, but now live in Singapore, where Murtuza works in the financial industry.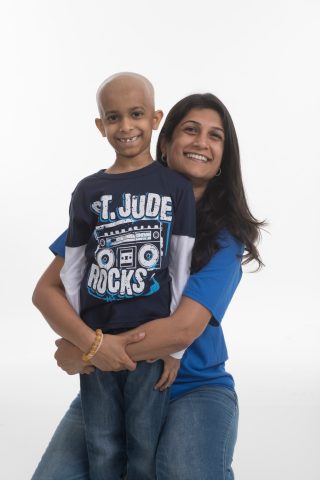 Not long after he started growing his hair, and a few months before his seventh birthday, Zahaan's childhood took a dark turn. He began experiencing headaches so severe they made him scream and cry until he vomited.
After a series of appointments in which doctors ruled out stomach or abdominal problems, Zahaan underwent neurological testing. He failed two parts of the exam, prompting doctors to recommend a magnetic resonance imaging (MRI) scan.
Typical of his generous nature, on the day before the MRI, Zahaan brought food to an orphanage.
The scan the next day revealed the unmistakable image of a tumor caused by medulloblastoma, a type of brain cancer. Although surgeons in Singapore cut out the tumor, they knew radiation would be necessary to eradicate the disease. In the meantime, Zahaan suffered from posterior fossa syndrome, a postoperative condition that temporarily muted his speech and impaired his motor movement.
This is where Zahaan's story starts getting — to use his dad's word — spooky.
His parents decided to do everything they could to get their son treated with proton radiation therapy. Proton beams are much more precise and researchers believe they cause far less damage than conventional photon radiation, which can destroy healthy brain tissue near the tumor.
"We had heard so much about radiation and its side effects," Karishma says, "He has his whole life ahead."
Through some research, Murtuza learned St. Jude had the world's first proton therapy facility built exclusively for children.
And by sheer coincidence, Dr. Amar Gajjar, co-leader of St. Jude's Neurobiology and Brain Tumor Program, happened to be attending a brain-tumor conference in Singapore.
'Let me come and see the patient'
While Zahaan remained hospitalized following the tumor surgery, some of his doctors met with Dr. Gajjar at the conference and told him about the boy's medulloblastoma.
"Let me come and see the patient tomorrow," Dr. Gajjar told them. Zahaan met the requirements for a medulloblastoma clinical trial at St. Jude.
The process of arranging travel from Singapore to the Memphis hospital generated more coincidences. When calling about airline tickets, Murtuza heard some music while on hold on the telephone.
"I did not enter any details of mine…," he recalls. "I just hit zero for operator, and the music starts playing in the background. In your wildest dream, what song do you think was playing?"
It was Walking in Memphis, of course. "And it starts from the very first words…," Murtuza adds, "and it goes on until the chorus," at which point the operator picked up.
He and Karishma weren't thinking of that song, however, when the family landed in Memphis on a rainy night, with Zahaan wearing blue-suede shoes. They were focused on the six weeks of proton radiation and four rounds of chemotherapy awaiting their son at St. Jude.
During that treatment, the youngster showed he has resilience to go along with his generosity.
One day, upon returning to the Target House, where the family visited during the treatment period, Zahaan saw other kids pulling wagons up a slope and then riding down in them. Although he was weary from radiation and hadn't eaten all day, he wanted to join in.
Karishma watched him struggle to pull the wagon up the slope, and she noticed he was mumbling something to himself. She asked him about it.
"I just said to myself, 'Forget what's behind and focus on what's in front,'" Zahaan told her.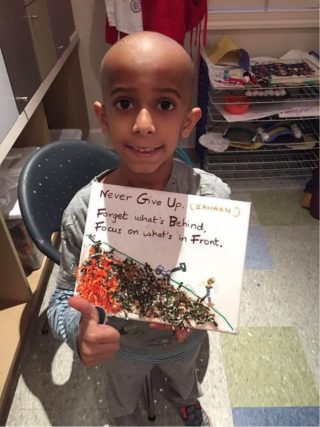 On a tranquil evening several weeks into treatment, Karishma and Murtuza settled into the ninth-floor apartment — wouldn't you know it, they wound up in Room 901, the same number as the city's area code — that St. Jude provided for them later in their stay. As Zahaan slept, they watched the sun sink behind St. Jude and other Downtown buildings a couple miles to the west.
"There's something magical about Memphis sunsets," Karishma says.
The couple relaxed with a cup of tea, still admiring the view. At that point, Murtuza suggested they play Walking in Memphis, a song that was no longer just background music for them. This time they listened closely to the words, noticing the similarities with their journey.
They also came to notice how the entire community, not just St. Jude, had embraced them. They recalled how local residents, seeing Zahaan and recognizing him as a St. Jude patient, insisted on paying their tabs at restaurants. They remembered the countless acts of kindness and generosity by the hospital staff.
The embrace between family and community is mutual, and it continues even though Zahaan finished his treatment in October 2017. Now a personable 8-year-old who likes to show off his dance moves, the boy returns to St. Jude only for regular scans and checkups. During each visit, he makes a point of dropping money in ALSAC donation boxes.
Back in Singapore, Zahaan, inspired by the St. Jude "Happy Carts" that deliver refreshments and sundry items to patient families, made one for a children's hospital there. He remembered how much joy the carts brought him during treatment, his mom says.
"That's one of his biggest inspirations that he has probably taken back from St. Jude … the gift of giving and the gift of spreading happiness."
The couple readily talk about how the entire experience has changed them, even restored their faith in humanity.
"I'm a skeptic, to be honest. I'm a very big skeptic, you know?" Murtuza says. "Or was."
Or was. Two words that speak to the transformative power of compassion, faith and hope.
"What this entire episode in our lives has done is made us believe that there is a force, or there is something that is looking after you," Murtuza says.
"You can call it God, you can call it Allah, you can give it any name you want, but there is someone looking after you."