In Honor of Alexis, a Family Comes Together as Runners
Six weeks ago, 15-year-old Alexis passed away. Her family, including her 80-year-old grandfather, will honor her by running during the
St. Jude

Memphis Marathon Weekend.

December 06, 2019 • 2 min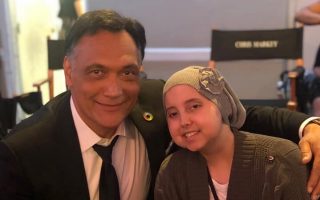 Six weeks after she succumbed to cancer at age 15, Alexis will be the inspiration for a heart-rending family reunion during the St. Jude Memphis Marathon Weekend races, where her 80-year-old grandfather, along with several cousins and aunts and uncles, likely will take their most difficult steps passing the institution where the teenager died.
"I think it will be hard," said Alexis' mom, April. "But I feel like Alexis will very much be with all of us this weekend. She loved her family, so knowing we're all together, I know, would make her very happy."
Few families, indeed, will be better represented at Saturday's event than the one running for Alexis. Two 6-year-old cousins will run the Kids Marathon, while two other relatives will run the 5K, including Gene, the grandfather who hopes to honor his granddaughter by finishing in an even faster time than the 36-minute, 46-second clip that won him first place in his age group last year. Another family member will compete in the 10K, while two others run the half-marathon and one participates in the full marathon.
Alexis' parents, April and Bradley, won't be running, but they'll cheer on their relatives. They expect the event to prove especially emotional for the family's runners as they pass through the campus of St. Jude Children's Research Hospital, where Alexis received treatment over a two-and-a-half-year period before passing away in late October.
Alexis, who lived in Iowa, was a typical teenage girl who loved competing in gymnastics before she was diagnosed with medulloblastoma, a type of brain cancer, in March 2017. She eventually was referred to St. Jude, where she underwent seven rounds of chemotherapy and 30 days of radiation therapy.
Her treatment ended in January 2018, but later, after months of clear scans, Alexis developed Leptomeningeal Disease, which occurs when cancer cells migrate to cerebrospinal fluid. Although further treatment at St. Jude temporarily stabilized the disease, it eventually spread and became terminal.
Just two months before her death, Alexis got to visit the set of the Memphis-based television show "Bluff City Law" as a scene was shot at The Peabody hotel. She met the show's star, Jimmy Smits, and other members of the cast and crew, in a moment that was widely shared by local media.
"Everybody was very nice. They all came up to introduce themselves to Alexis," April said.
"It was a fun day. She really enjoyed it. It just gave her just kind of a break outside of the day-to-day of dealing with cancer and living with it."
The family has worked hard to help the institution that cared for Alexis. Through a memorial fund, and money raised by participating runners, the family has generated more than $30,000 for St. Jude.
April said she and her relatives want to help advance research so no other family has to endure what theirs has. She also was grateful for the all the assistance St. Jude provides for patients and families.
"It's just such a special place," she said. "The ways they support families that you don't even know or hear about – it's just amazing."