Training for Kona: 140.6 miles for
St. Jude
Triathlete Scott Sandlin has just weeks to prepare for his biggest fitness feat thus far: Representing the kids of
St. Jude

at IRONMAN Kona, one of the most prestigious endurance races in the world.

September 27, 2019 • 6 min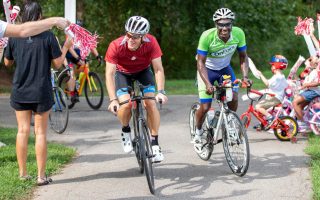 Scott Sandlin had to admit there was something vaguely familiar about the way those other runners started following him. The longer he ran, the larger the group trailing him grew. It was almost as if he were some mystical leader. It was almost as if he had assumed the title role in an iconic movie.
"I do feel like Forrest Gump," Sandlin says, mid-stride.
It's a late-summer day in Memphis, overcast and mild, and Sandlin has more urgent matters than a 25-year-old movie on his mind — namely a daunting training regimen. He's immersed in it when the other runners surprise him by tagging along in a show of support. Like him, they all wear red "St. Jude Hero" jerseys. Like him, they all have competed in marathons, half-marathons and other events while raising money for St. Jude Children's Research Hospital.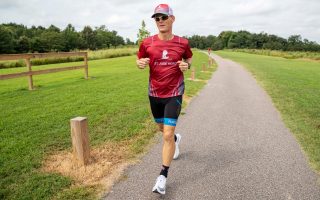 None of them, however, has accomplished what the 55-year-old Sandlin is about to attempt. Come October 12, he'll represent St. Jude, raising funds as a St. Jude Hero, while competing in the 140.6-mile Vega IRONMAN® World Championship race in Kailua-Kona, Hawaii.
Kona is one of the most prestigious endurance events in the world — the dream of elite triathletes everywhere — and Sandlin's path to it has been anything but ordinary. He's endured just two full IRONMAN races and by his own admission is merely a "decent" athlete. But St. Jude, looking to expand its presence in the fitness world, secured an entry in the race and asked Sandlin one of the easiest questions he's fielded in a long time: Would he accept it?
"Asking me to go to Kona," he said later, "would be like calling a golfer up that golfs on the weekends and asking him to play in the Masters."
Despite his enthusiasm for an event that will combine two of his passions – triathlons and St. Jude – Sandlin is laboring under a highly compressed training schedule. By race day he'll have had just 15 weeks or so to prepare to swim 2.4 miles, bicycle 112 and then run a full 26.2-mile marathon under Kona's famously harsh conditions.
"The mission is to come across that finish line smiling, with that St. Jude Hero logo on my chest," he says.
As a veteran of several triathlons, Sandlin knows the importance of smooth transitions – from the swimming to bicycle phases of the race, and from bicycle portion to the run.
But there are other types of transitions he must navigate. Trickiest of all is the one between his work and family life and his rigorous training regimen, which he says consumes "north of 25 hours" weekly when you count travel time and packing.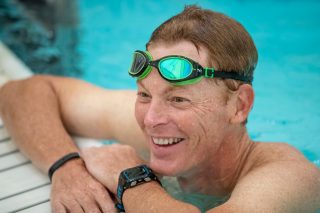 A married father of two, Sandlin is senior vice president of sales for Shaw Floors, a Dalton, Georgia, firm that is a St. Jude partner and has donated more than $10 million to the hospital over the past seven years. His is a demanding job that in addition to the long hours requires extensive travel.
The resulting time crunch often finds Sandlin finishing training runs long after dark. On the road, he's been known to squeeze in an early morning run in Central Park before a sales meeting in Manhattan and take a quick swim before a business dinner in Jackson, Wyoming. "You really have to become almost obsessive about it," he says.
Before each trip, an associate of Sandlin's helps locate pools for him. Even that kind of preparation, however, can produce comical results, such as the time Sandlin emerged onto a Laguna Beach, California, pool deck donning his triathlon "jammer" only to confront the confused stares of scores of kids and moms at a swim meet.
Sandlin says the challenge of preparing for an IRONMAN event, difficult as it is, would be impossible without the support of his family: Cara, his wife of 31 years, along with his son Sam, 27, and daughter Scottie, 20.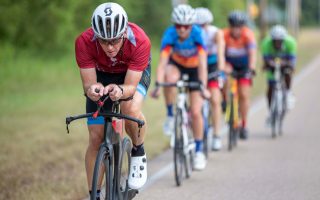 "It's tough on you. It's tough on you emotionally. The physical part of it is one thing, but you know, you're traveling, you're working hard — I mean, you've got all kinds of stuff going on. You're finding pools and places to run, so it's a grind."
For inspiration, Sandlin focuses on some of the childhood cancer patients he's known. "You think about folks who have had stuff a little tougher than you, and suffering through an IRONMAN training is no big deal."
As recently as seven years ago, Sandlin would have been hard-pressed to finish a 5K, let alone an IRONMAN event. "I couldn't even run to the front of the neighborhood." As for swimming, he equates his skills to those displayed by Seinfeld character Kramer splashing around in the East River.
Things began to change in May 2012, when the daughter of a close friend passed away from leukemia. Sandlin started participating in races benefiting a foundation in her name. That same year, Shaw Floors began its partnership with the St. Jude Dream Home Giveaway program, after which he toured the hospital.
Shaw Floors deepened its ties to St. Jude, becoming a major sponsor of the St. Jude Memphis Marathon and launching other initiatives benefiting the hospital. The company also has had patient family members speak at its annual convention, including an appearance this past year by an Arizona family with whom Sandlin has become close.
"If you ever become engaged with St. Jude, or if you ever see the hospital and you ever see what they do for families or these children, it'll become part of who you are," he says.
Sandlin has run as a Hero in St. Jude marathons, and he got serious about swimming four years ago while rehabbing from shoulder surgery.
Never one to do anything in small steps, Sandlin signed up for a full IRONMAN as his first triathlon. In addition to his two full IRONMAN races – both in his hometown of Chattanooga -- he has completed four half (70.3-mile) IRONMAN events.
Kona will be his greatest challenge, by far. Held on the west coast of the Big Island of Hawaii, where black fields of hardened lava dominate the landscape, the race subjects participants to scorching 90-plus-degree heat and crosswinds that often reach 45 mph during the bike and run phases. The opening swim portion is a mostly out-and-back course through the treacherous currents and chop of the Pacific.
To help prepare Sandlin for the event, St. Jude connected him with a triathlon coach, Lloyd Henry, who has completed several IRONMAN races, including Kona. The two met in person for the first time on a late-August weekend for a bike-run-swim training session in Memphis.
To show support for Sandlin's efforts, ALSAC, the fundraising and awareness organization for St. Jude, gathered several other Heroes and St. Jude Trike-a-Thon kids who surprised him by following, in Gump-like style, along his training route. The run ended in memorable fashion for Sandlin and the other Heroes as they passed through a "Mission Mile" containing 10-foot-tall banners with photos of St. Jude patients and heard an emotional testimonial from Paula Head, a senior adviser in gift planning for ALSAC whose daughter Carson succumbed to cancer at St. Jude. "God bless you," he told her.
Sandlin then traveled to a local pool where another Hero — a former St. Jude patient — joined him for a swim.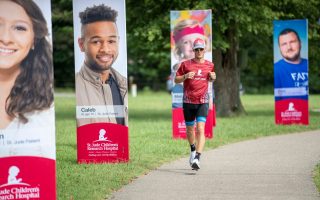 Henry, 44, helped Sandlin adapt to a new bike and worked on his swim stroke. He has no doubt Sandlin will be ready for Kona, especially since he has already experienced other 140.6-mile competitions.
"Physically, he's there," Henry says.
"The goal is to just make sure he gets to the race without any injuries, without over-training, being exhausted, and then just have a good day all around."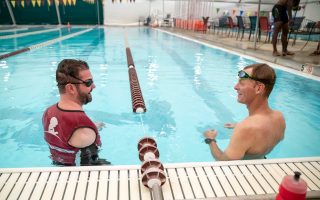 A pivotal factor in Kona is the weather, which can create a "hard day for everyone," Henry says. It's especially true during the swim.
"If the waves are just over your head every time you breathe, then it becomes a challenge."
While some 100,000 triathletes seek to compete in Kona, only 2 percent or so qualify. That makes Sandlin "probably the envy of every triathlete around the globe," Henry says.
Henry expects emotions to run high on race day, with tears flowing as Sandlin reaches the finish line. The coach says that as he cheers Sandlin on, he'll almost feel every swim stroke, every pedal turn on the bicycle, every step of the run.
And when Sandlin reaches the home stretch of the marathon, Henry and other supporters might even borrow a "Forrest Gump" line: Run, Scott, run!
Join Scott on his journey to support St. Jude at stjude.org/ironmanscott