Kansas minister pushes to do more for
St. Jude

patients with a light-hearted approach to fundraising
Joe Skillen has run the
St. Jude

Memphis Marathon in a suit and believes fundraising should include a bit of fun.

November 17, 2022 • 3 min
Joe Skillen, like thousands of other runners and supporters, has no personal relationship to St. Jude Children's Research Hospital.
But each year, as a participant in the St. Jude Memphis Marathon®, Skillen challenges himself to do more, to raise more money to better support the research hospital's mission: Finding Cures. Saving Children.®
The St. Jude Memphis Marathon® is the research hospital's largest single-day fundraising event. This year, the fundraising goal for the marathon has been increased from $12.5 million to $14 million. Skillen has followed suit for this year's marathon, raising his personal goal from $5,000 to $7,500.
If Skillen sticks the landing on his $7,500 goal, he'll run the half marathon dressed as the Apple TV character Ted Lasso. (The fictional Lasso is an American football coach who was hired to manage a British soccer team.)
"I think he's very fun and he's very kind, which I think are two wonderful attributes," Skillen said.
And for him, those qualities capture the very essence of the St. Jude Memphis Marathon® Weekend.
The entire weekend is "a blast," he said, but race day is one of the best days of his year.
"I think that weekend is one of the kindest settings I've ever been in. I feel like a great tidal wave of kindness happens on St. Jude weekend," Skillen said. "I just think there's this hum of something very holy that happens through St. Jude. And to see that much money raised and everybody having such a fun time doing so is just so awesome. I feel like it embodies Ted Lasso."
Skillen began raising money for this race in April. He promised to do kettlebell swings for every dollar donated by the end of the month and received $560. Skillen did 560 swings with a 20-pound kettlebell, a feat he posted on YouTube.
Raising his fundraising goal was a way to challenge himself, Skillen said.
As a St. Jude Hero, he attended special events last year, like the St. Jude Heroes® Pasta Party the night before the race, that were inspiring.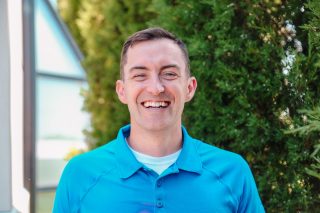 "I actually got to sit at a table, as luck would have it, with someone who has run every year. It was neat to hear his story and to see people who had surviving and also those who had lost children," he said. "The weight of it all, I think, is important to take in."
Skillen is married, has a 13-year-old daughter and an 11-year-old son. He is the teaching and discipleship pastor at Ridgepoint Church in Wichita, Kansas. The Kansas native worked for three years at a church in Memphis. That's when he ran his first St. Jude marathon.
This year he'll run his fifth race. It's his fourth half marathon.
"I did run the full marathon one year. It was still meaningful, but it was way too far. So, I'm sticking with the half marathon," Skillen said.
He ran last year in a suit, after hearing about a St. Jude patient from Kansas who wore a suit when he went in for treatments.
"My first response was 'man, that is so punk rock'," Skillen said.
He posted a video announcing his intent to run in a suit if he hit his goal and got almost instant results.
"My fundraising went from very minimal to nearly covered in like 10 days. It didn't take very long," Skillen said.
He doesn't minimize the gravity of St. Jude's mission. But he also believes in fundraising with a bit of humor.
"I think finding a way to make it fun and lighthearted is good. Even though the situation is very serious, child cancers, I think people embrace when someone brings a bit of levity to a situation," Skillen said.
And folks are always moved by the individual family stories.
"The overall stats are compelling, but the individual family stories, I think, are the stories people want to hear," he said. "It all matters and it all adds up."