St. Jude

patient Katherin caps off big year with a first-time run in the

St. Jude

Memphis Marathon® Weekend
Her run in the half marathon will support the hospital she loves.

December 03, 2022 • 3 min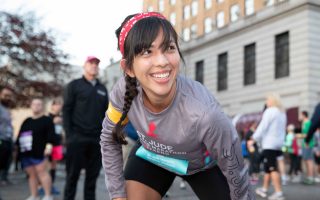 As the half-marathon route took her through the St. Jude campus, the cancer survivor was flooded with memories of her treatment there.
"I kind of like teared up a little bit, just because I saw the great emotion from families that were standing there and just saw the support. I don't know them, but you could feel the love and encouragement from each one of them," Katherin said.
Swept away by the energy and the intensity of the race, she was also in awe of the people who ran, walked and pushed babies in strollers in what is the research hospital's largest single-day fundraising event. Since its inception, the St. Jude Memphis Marathon® Weekend has raised more than $100 million for the lifesaving mission of St. Jude.
"As a St. Jude patient and survivor, their support just means the world to us. Because St. Jude brings hope to all of the patients and families," Katherin said.
Now 27, Katherin was in her second year of college when she first felt pain in her chest. Her college soccer team had recently started weight training, which was new for her. The coaches and trainers thought she may have overdone it with the weights and suggested she go lighter.
But the pain didn't go away. And shortly afterwards, she found a lump on her sternum, the bone at the center of her chest. Doctors confirmed it was cancer and she was referred to St. Jude.
At St. Jude, she immediately found peace.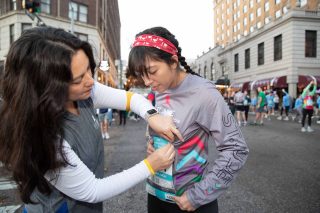 "I hadn't even had my first biopsy yet, but the first moment that I stepped in St. Jude I just had this sense of peace. Even with all these questions running through my mind and my parents' minds as well. It was just that peace," Katherin said.
Even before her big half-marathon debut, Katherin has had an exhilarating year of firsts.
In March, she got a cryptic phone call from St. Jude.
The ask?
To share her St. Jude story with a visiting guest. As someone who never refuses an opportunity to be an ardent advocate for St. Jude, Katherine naturally said yes.
And without a clue as to the identity of this mystery visitor, she and her mother packed their bags and drove from Arkansas to Memphis.
She arrived to find herself meeting First Lady Dr. Jill Biden, who was visiting St. Jude to meet with Ukrainian evacuees receiving cancer treatment at St. Jude. Meeting Dr. Biden was an "unforgettable" experience, she said.
Then, in October, Katherin got another call from St. Jude. This time, the Guatemala native was asked to be part of a panel discussion with other patients at the Promesa y Esperanza Seminar. She was interviewed by Hispanic journalists from all over the United States.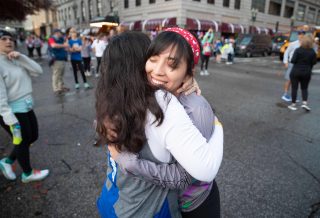 Now, as she approaches the seventh anniversary of being cancer-free, Katherin has her first half St. Jude Memphis Marathon® Weekend under her belt.
As a St. Jude patient, Katherin understands the financial commitment of St. Jude: Patients never receive a bill from St. Jude for treatment, travel, housing or food – so they can focus on helping their child live. And it's all because of the donors who give so generously to St. Jude through the marathon and throughout the year.
Back at college, Katherin resumed her collegiate soccer career. She graduated with a degree in biochemistry and molecular biology.
Her checkups at St. Jude are now yearly. Eventually, they will end. But not her commitment to St. Jude.
"I will always love St. Jude," Katherin said.