Running is this
St. Jude

Hero's passion and

St. Jude

is her mission
Te'Retta Hall: 'I am still at it and don't plan to stop.'

November 17, 2023 • 3 min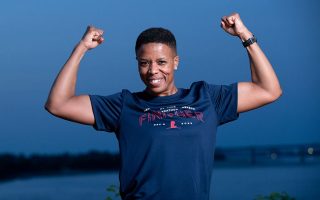 Te'Retta Hall was not always a runner. The certified personal trainer, wellness coach and ordained elder played volleyball and softball in high school. There was zero track and field. 
About 12 years ago, when a friend suggested that they run a mile, her response was: "why?"  
But that mile turned into three miles, eventually a 5K and she's still running.  
"I found a love for it and the pavement loved me back," said Hall, who's added certified running coach to her fitness resume.  
In 2014, a couple of the men she ran with encouraged her to sign up with them for the St. Jude Memphis Marathon Weekend®.  
It was an inspirational experience.  
Today, Hall is a St. Jude Hero and a St. Jude ambassador, a passionate supporter and fundraiser who wants to bring awareness to a mission that she believes — that no child should die in the dawn of life.
Hall runs annually in the marathon, volunteers during the St. Jude Memphis Marathon Weekend® and has raised money each year to support the work of St. Jude Children's Research Hospital®.  St. Jude Heroes are passionate supporters who use their platform to bring awareness to a mission that is real and true, no child should die in the dawn of life.   
It is her dedication to St. Jude and her knowledge about the work that inspires others to give.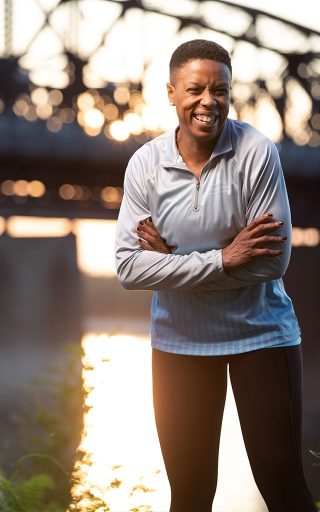 People are generous when they see that you "practice what you preach," she said.  
Hall has seen the work at St. Jude up close. A college friend's daughter was a St. Jude patient. She is also the volunteer coordinator for Chris Hope Foundation, a St. Jude supporter organization, and runs with that marathon team each year.  
She regularly volunteers for the St. Jude Memphis Marathon Weekend Health & Fitness Expo where she meets patients and their families. That experience has helped her share the St. Jude story as she travels to races around the nation and abroad.  
Hall has nine states to go to complete her 50-state half marathon goal. And wherever she goes, she wears her St. Jude swag — her St. Jude Heroes singlet or a St. Jude pin or button.  
"I feel like my role as a volunteer and especially as a Heroes Ambassador is to share with others what goes on at St. Jude and what St. Jude is really all about," she said.  
Hall also helps runners train for the race, held each year on the first Saturday in December. This year, race day is Dec. 2. The marathon is the largest single-day fundraiser for St. Jude.  
When Hall went on vacation, training didn't take a holiday. She packed her running shoes and workout clothes.   
Hall started running as a way to heal from a domestic violence relationship. For other runners looking for motivation, Hall tells them to remember the St. Jude mission.  
"Let that be your motivating force," she said. "When you get tired. When you just don't feel like running. When you think it's too hot. When you see that the weather is bad, keep your why in the forefront."  
Running brought Hall community and pushed her into a place she didn't know she needed. For her, running is a ministry.  
"Now, 10 marathons later, about 65 official half marathons and countless 5Ks, 10Ks, 15Ks, I am still at it and don't plan to stop," Hall said.