St. Jude

supporter walks for the children who survive – and the ones who don't
Heidi Guest worried about what she would feel the first time she visited
St. Jude

. What she saw made her want to be a part of the mission.

September 21, 2022 • 3 min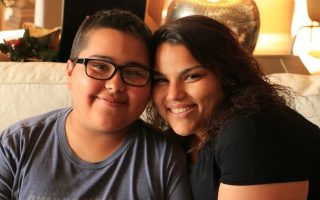 Heidi Guest went to St. Jude Children's Research Hospital for the first time in 2009 to give a keynote speech to 150 volunteer fundraisers.
The leadership consultant wasn't worried about the public speaking, though a vast majority of people rank it as their No. 1 fear. She does it all the time.
But just before her speech, she was scheduled to tour the hospital. Would she be able to talk about it in front of an audience?
"I was worried that my voice might crack," Heidi said. That she might break down after what she would see.
Instead, what she saw on the tour filled her with hope.
Heidi saw families, just like hers, in the most challenging circumstances. She met hospital staff, volunteers and even the chef in Kay Kafe.
"Every need of every family was attended to with an exceptional level of care, compassion and love," said Heidi, who is now an on-air regular on the shopping channel QVC. "It was the best example of what we are capable of as human beings."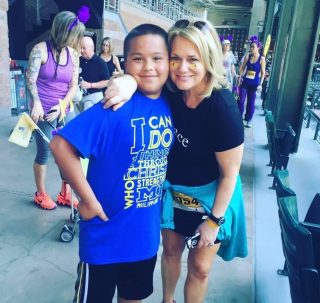 She wanted to be a part of it.
Heidi began fundraising for St. Jude, volunteered as a corporate leader for the St. Jude Walk/Run in Phoenix, Arizona, enlisting her colleagues in the beauty industry to help and as an alumni of Tri Delta sorority, a long-time supporter of St. Jude. Her name is on a plaque on a room at Tri Delta Place, a housing facility for St. Jude families.
Over the years, Heidi met many children and their families who were helped by St. Jude.
She's close to the niece of a close friend, Emily Hines, who was 16 in 2016 when she was diagnosed with acute promyelocytic leukemia, or APL, and treated at St. Jude.
Emily is grown now, a musician and college graduate, and works at ALSAC, the fundraising and awareness organization for St. Jude.
Heidi saw first-hand the good that happens at St. Jude. The cutting-edge research and new treatments. How no family ever receives a bill from St. Jude for treatment, travel, housing or food.
And then Heidi met another child who would teach her how much work still needs to be done.
Heidi met 11-year-old Juan Salas in 2014 at a rally for St. Jude Walk/Run at a Phoenix bowling alley.
"Of all the people who spoke that day, Juan had the greatest level of grace," Heidi remembered. Watching him, she thought, "This kid is going to be a star."
Juan had been diagnosed with a rare brain tumor when he was 9.
"He talked about his St. Jude journey with reverence and respect, but it was not his life — it was his circumstances," Heidi said. "He refused to let those circumstances define him."
Juan loved books, especially Greek mythology, video games and math. Above all else, he loved his mom and little brother. He was devoted to his family — and his definition of family was broad.
Juan made Heidi part of his family. Theirs was an unlikely friendship, an 11-year-old boy and beauty industry executive 41 years his senior. "We were kindred spirits," Heidi said, "and we both knew it." Instantly.
The two families spent time together. Heidi's husband promised to teach Juan to drive. Her son, Nick, tutored Juan, though more often the boys went for burgers and to the movies.
With treatment at St. Jude, Juan lived until he was 15.
When Heidi spoke at Juan's memorial service in 2018, she talked about all the things he had taught her. Not to complain (Juan never did.) Cherish family and friends. Don't let your circumstances, however dire, define you.
And then, there in the packed church, Heidi made a promise. She wouldn't stop raising money for St. Jude until no child dies from cancer.
It's why Heidi participates in St. Jude Walk/Run every year. She pulls together a team, donates, asks family, friends and colleagues to give, and then asks again. She raises about $10,000 every year.
Heidi thinks about Juan often. "I do feel that little boy's spirit all the time," she said.
In a wonderful coincidence, Emily and Juan were in treatment at St. Jude at the same time. They became friends, and their families, too.
So, Heidi continues to raise money for St. Jude and participates in St. Jude Walk/Run every year, for Emily and for Juan, for the children who make it and for the ones who don't.