There's no better way to celebrate 50 years of life than at the
St. Jude

Memphis Marathon
Runner Daniel Butler is hoping to get 50 half marathons under his belt in time for his 50th birthday

November 30, 2022 • 2 min
Daniel Butler hasn't always been a runner. Growing up in Tupelo, Mississippi, Butler played on his high school golf team.
He started running more than a decade later, in 2004, after relocating to Arkansas ahead of his family. New in town and without his family, he was bored. Also, his father had had some trouble with his heart, and Butler decided he needed to stay healthy. Butler ran his first 10K in 2006 and from there added longer races. He stopped running in 2018 in part because of injuries and work obligations.
But this spring, while browsing through his stats, old race bibs and photographs, Butler did a count and realized he'd run 49 half marathons. Butler will turn 50 on Dec. 5 and decided there could be no better way to celebrate that momentous milestone than to run on behalf of St. Jude Children's Research Hospital in the St. Jude Memphis Marathon® on December 3.
"I just thought it would be really cool to finish number 50 before I turn 50," Butler said.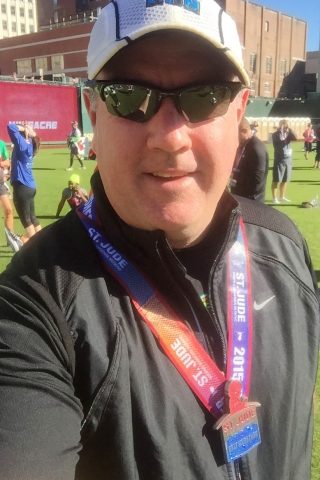 The St. Jude Memphis Marathon® is the largest single-day fundraising event for the research hospital. Butler has run in Memphis six times.
He first ran the half St. Jude Memphis Marathon in 2010 while he was helping a friend train. He didn't know what to expect, other than a "good tour of Memphis," Butler said. Instead, his first run through the hospital campus was an emotional experience.
"It's so moving. If you're a healthy person like me, you've got a healthy family, healthy kids, then you've got a lot to be thankful for.
"You see these kids, they didn't deserve it," said Butler, who is married and has daughters 14 and 18. "They didn't do anything to deserve the fight that they've got. It's just special to be able to help out because St. Jude is such a great organization."
He was so touched after that first race, that he registered the next year to fundraise as a St. Jude Hero.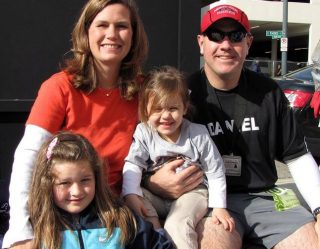 In total, he's run six full marathons and 49 half marathons across the country, including through the Las Vegas Strip at night.
But he truly believes the St. Jude Memphis Marathon is special.
"It's always overwhelming, it's hard to hold back tears. For me it is, anyway," Butler said.
Although, he admits he wouldn't mind if the run through the campus wasn't so early in the race. Getting emotional throws off his running pace.
"I really wish it were later in the race because you get such a high from running through there. It's at mile five, mile six, and you get this rush of adrenaline, of feelings," he said. "After you go through there, you look down at your running watch and realize I still have half of the race to go. It's such an incredible feeling."
But nothing compares to this one race.
"It's hard to beat helping St. Jude," Butler said.