Uncle of
St. Jude

brain cancer survivor realizes when you run for

St. Jude,

you're never alone
There's a harmony in running in the
St. Jude

Walk/Run event that makes Zach Kepsel feel connected to others – even in the middle of the vast Utah desert.

September 07, 2022 • 3 min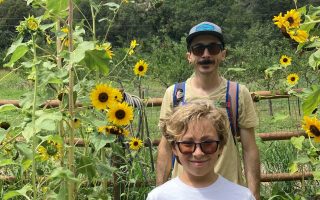 To hear Zach Kepsel tell it, he's not the kind of guy who gets articles written about him.
He's an introvert and a family man in small-town Utah who works on a crew with 10 other guys. He's not too savvy with social media, and he geeks out over his love of rocks.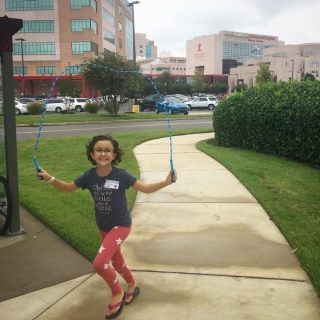 Rocks, you say? That's right, rocks.
Chalk that up to living near the incredible sandstone arches of southern Utah, maybe.
"I live just north of Moab, close to Arches National Park," said Zach. "It's on our license plate. That's my realm."
A few years ago, he began running to raise money for St. Jude Children's Research Hospital. He participates in the St. Jude Walk/Run event in honor of his niece Claire, who underwent treatment at St. Jude for brain cancer. She's his older brother's little girl.
Zach describes himself as being not particularly religious, but said, "Whatever is going on at St. Jude is, by any definition, so miraculous. So I can look at it and be grateful for it and appreciate what happens there."
Up until this year, he's run on a team with his dad and his extroverted sister, who served as the family's St. Jude Walk/Run team ringleader. They would plot out their running route, and on the appointed day, his mom would drop them off, smack dab in the middle of the desert.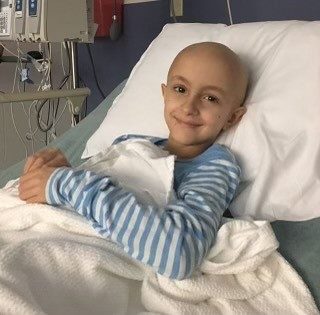 They'd run wearing their St. Jude t-shirts. It's funny how a person could be in the middle of a desert in southern Utah and, even there, people will see the St. Jude child logo and know exactly what it means.
"It seems like almost everyone we encounter also knows someone from St. Jude personally, like, 'Oh, my cousin.' 'Oh, my brother-in-law.' 'Oh, we know families,' and this and that. There are people in the community who are affected by it, and they relate to us."
It's a conversation starter, right there in that moonscape.
But things have changed for Zach's family since last year's event. His extroverted sister moved to Oregon, and his other running partner — his dad — got a bad tear in his shoulder that will probably keep him from participating. Zach realized if he wanted to run in the desert for St. Jude again, he'd be running alone.
A person standing alone in a desert can feel pretty small. Against a foe like cancer, that person might think: What difference can I make? Is it even worth it?
Zach confesses he felt that way for a moment. Then he thought about Claire and a special gift she had sent to him recently: a rock.
"I'm kind of one of these nerdy naturalist types, and so it was really touching for me to know that in this strange kind of way, I had some kind of influence, and she was like, 'Look at this crazy rock. Who cares about this rock? Zach does.' So now I'm on the lookout for a rock to send back her way."
He also thought about the people he hadn't even met yet — the strangers he might encounter in the desert who would see his St. Jude T-shirt on race day and feel moved to share their own St. Jude stories.
He realized if you think about a St. Jude team that way — as a group of people, across the U.S. and around the world, all bearing witness to each other and supporting each other for this good cause, with everyone contributing just a little bit — imagine the good it could do for kids like Claire.
So, he committed himself to running alone, only to find out a few days ago he won't have to. Zach's son, William, plans to run beside him.