A teenager in El Salvador honors her friend by fundraising for
St. Jude
As the first international participant in the
St. Jude

Leadership Society, Isabella Ramos-Berdugo wants to encourage other teens around the world to spread the word of

St. Jude

and its lifesaving mission.

December 12, 2022 • 5 min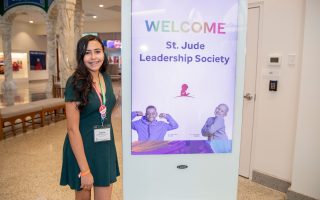 English | Español
Isabella Ramos-Berdugo has used her voice for years to entertain, but also to bring awareness to issues close to her heart.
When she was only 9 years old, the now 15-year-old made her debut in a children's show on Radio Upa in her home country of El Salvador. Years later, during the COVID-19 pandemic, she developed her own podcast, "Conéctate conmigo, El podcast de Isa Ramos," which was broadcast on a local radio station.
During the two- to four-minute audio pieces, Isabella talked about a variety of topics of interest to youngsters and teenagers, including how to make friends, how to practice humility and how to improve relationships with parents.
Recently, she has used her voice and boundless energy to raise awareness and funds for St. Jude Children's Research Hospital as a member of the St. Jude Leadership Society. She is the first international member of the program, which brings high school and college students together who share a commitment to giving back through service and leadership by promoting and supporting the mission of St. Jude.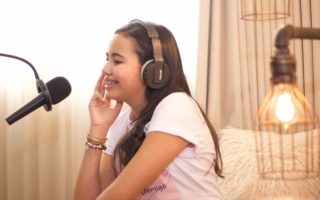 Isabella's motivation is her close childhood friend, Diego, who was diagnosed with acute lymphoblastic leukemia. Diego was treated at St. Jude before he died on New Year's Day in 2019.
"I wanted to give back to St. Jude for the difference that it made in the life of Diego," she said.
Isabella had first learned of the St. Jude Leadership Society from Diego's mom, Grethel. Isabella wasn't sure that she would be accepted if she applied because she lived in El Salvador, but wanted to try anyway.
As she learned more about the work of the hospital — and that families never receive a bill from St. Jude for treatment, travel, housing or food — Isabella became more committed to applying. She wanted to tell the people of El Salvador what St. Jude had done for Diego.
"I just knew that I needed to be part of this," she said.
Isabella was accepted to the program at the start of 2022, and she quickly went to work.
She did interviews for media outlets in El Salvador, including radio and a newspaper. She spoke of St. Jude, and how the research hospital helped Diego and what he meant to her. She also spoke about the events she was organizing and welcomed listeners to attend.
The first fundraiser was a breakfast at a hotel owned by her parents. The event, where attendees dined on typical Salvadoran food, raised more than $800.
A few weeks later, she asked the owners of a farm called "La Tierra," located about a 45-minute drive from the capital of San Salvador, to donate all its admission fees for one day. The owners agreed and they chose a day in April. Isabella encouraged family and friends to visit the farm on that day and reached out to others using her social media accounts. The third event was a health conference titled "Healing Wounds."
In total, Isabella has raised $2,800 for St. Jude. She visited the St. Jude campus in Memphis as part of the St. Jude Leadership Society and said it was an amazing experience.
"I know St. Jude is a hospital, but it was a home for Diego and so many children and families, and I know it's a place of love," she said.
A "primo" in a friend
Isabella had known Diego all her life.
Their parents were close friends who worked at the same hotel in a town called Sonsonate near the beach. Isabella's parents had moved from Colombia to El Salvador for the job, while Diego's mother had also moved from Nicaragua to work at the same hotel.
Isabella was born in El Salvador after the families met. They called themselves family and Isabella referred to Diego as her cousin — her primo.
Isabella looked up to Diego who was four years older. They would talk for hours and laugh and sometimes quarrel like cousins. On some days, they, along with other children, would roam the halls of the hotel and spend time swimming in the hotel pool. They spent birthdays and holidays together, including Christmas and New Year's Eve, where they would sing and open gifts together.
At 8 years old, Diego was diagnosed with leukemia. It was found after the family was involved in a car accident. At the hospital, doctors said Diego needed more tests, and then the family was told the devastating news.
Diego underwent months of grueling chemotherapy treatment in El Salvador.
Isabella was too young to understand what Diego was facing, but she saw how strong he was and how valiantly he faced his illness.
"He was not afraid of cancer and enjoyed life, and that inspired me as a child and still today," she said.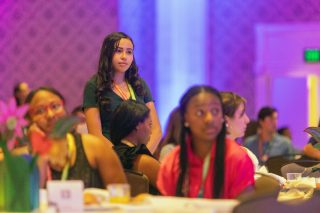 Diego was free of leukemia for three years before it returned. He was referred to St. Jude in February 2018. He received chemotherapy treatment there for several months.
Even though Isabella and her parents could not be with him in Memphis, they were often in communication with Grethel, who told them about St. Jude and the treatment and services they offered Diego.
"Those difficult times made us closer. That helped us form stronger bonds," said Isabella's mom, Sugey. "They told us what they experienced and their testimony day by day. During those 10 months we lived them, even though we weren't there physically."
The chemotherapy treatment that Diego received at St. Jude worked, Grethel said, and tests showed the leukemia was gone by October 2018. But Diego soon developed pulmonary fibrosis and was in intensive care for two months before he died. He was 14.
After Diego's death, Isabella wanted to support Grethel in any way she could. Since then, their relationship has evolved and become stronger.
"When Diego died, for Isabella it was a shock because no one expected it, but the grief was not only for me, but for her,'' Grethel said. "Isabella said to me, 'I will be your niece forever,' and she always shows me love. She writes me notes. And she has taken on the St. Jude Leadership Society as her own. It is her own commitment, and she wants to spread everything about St. Jude that I told her."
Grethel now lives in Texas and served as Isabella's mentor for the St. Jude Leadership Society. She volunteers for ALSAC, the fundraising and awareness organization for St. Jude. She said she always felt that Isabella would do well in the St. Jude Leadership Society because of her energy and enthusiasm for helping others. She's also proud that Isabella's efforts are in memory of Diego.
"I see the legacy of love my son has left behind that has been transmitted to her, and in turn can help more families," she said. "That is a beautiful thing. My son's memory will be helping others through her."
While Isabella was the first international participant in the St. Jude Leadership Society, she doesn't plan to be the last.
"I am the first person from El Salvador but want to be able to share this program with others and encourage them to participate not only in El Salvador, but other countries like Argentina, Colombia, Guatemala where people may want to help," she said.