Unconventional path launched
St. Jude

advocate Sian Proctor into space
As a child, her parents encouraged her dream of becoming an astronaut. They never told her it might be difficult for a young Black girl.

September 28, 2022 • 7 min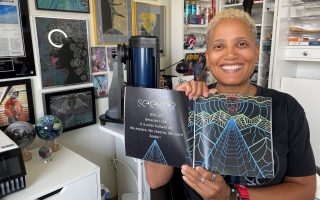 Sian Proctor had accepted that her life-long dream of becoming an astronaut probably wouldn't happen and settled contently into the great life she was living on Earth.
She'd done all the work. Proctor earned three degrees in environmental science and geology and taught classes in geology, sustainability and planetary science at South Mountain Community College in Phoenix, Arizona.
She got scuba-certified and a private pilot's license, served in Civil Air patrol, and became an analog astronaut, completing four missions, including one funded by NASA. She studied climate change in Alaska, astronomy in Chile and ocean currents around Antarctica.
She traveled worldwide to speak about striving for a just, equitable, diverse and inclusive space — what she calls "J.E.D.I. space" — not only for space exploration but in all spaces.
Her need for glasses in high school had dashed her plans to fly fighter jets, a practical precursor to space flight. She applied for NASA's 2009 astronaut class and made it to the final 47 of more than 3,500 applicants before being cut.
Still, Proctor said, "I never gave up hope."
A year ago, at age 51, Proctor finally launched into space in the most unconventional way.
Not through her knowledge of space navigation, planetary systems, or sustainability but through St. Jude Children's Research Hospital — and her art.
Her unique collages. Bright lines of metallic markers. Powerful messages of equity.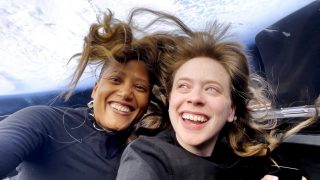 Proctor was chosen for Inspiration4, the first all-civilian orbital mission to space, which raised an astronomical $250 million for St. Jude. Proctor became the first Black woman to pilot a spacecraft — and the first Black person to paint with watercolors in orbit.
Proctor only took up art during the pandemic in 2020, surprising herself that she was good at it.
"I found my authentic voice through this creative means," Proctor said.
It's how she got heard.
Growing up with space
Proctor was born in Guam, where her dad, Edward Proctor, Jr., worked as a senior computer engineer at the NASA tracking station for seven Apollo missions, including Apollo 11 in 1969, during which astronaut Neil Armstrong became the first person to walk on the Moon.
Proctor grew up marveling at astronaut Armstrong's hand-written note thanking her father for his help that hung framed on his office wall.
She collected Star Wars comic books and watched endless episodes of "Baa Baa Black Sheep," a comedy-drama about a squadron of fighter pilots. Her dad bought her model airplane kits and gave her binoculars so she could watch planes at the nearby airport. When she was 13, he signed her up for Civil Air Patrol, a voluntary civilian auxiliary of the U.S. Air Force.
Later Proctor would realize there were few people who looked like him in the NASA archives from that time. Like the women mathematicians portrayed in the movie "Hidden Figures," her dad was a hidden figure, a self-trained mathematician who never attended college. Nor did her mother.
But they encouraged their daughter's dreams of flying fighter jets and becoming an astronaut. They never told her it might be difficult for a young Black girl.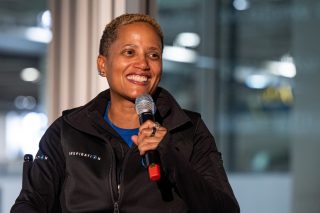 Disappointed but not deterred
In high school, Proctor pivoted her plans when her need for glasses thwarted flying fighter jets. Her dad was diagnosed with cancer and died when she was 19, gutting her.
Proctor studied environmental science and geology at Pennsylvania's Edinboro University and then got a master's degree in geology and a Ph.D. in science education at Arizona State University.
She took a job teaching geology, sustainability, and planetary science at South Mountain Community College in Phoenix. The student population is diverse, majority-minority, and the acceptance rate is 100 percent, meaning everyone got a chance.
"When I walked across the campus, I knew that I wanted to teach there," Proctor said. "It was a calling for me."
In 2009, when Proctor didn't make the cut at NASA, she was disappointed but not deterred. She kept exploring.
As an analog astronaut, Proctor completed four simulation missions, including a 4-month Mars simulation in 2013 in a 1,200-square-foot dome on the Mauna Loa volcano in Hawaii. She researched climate and sustainability around the world.
Proctor said what's learned in space can improve life on Earth — for example, efficiencies with food, water, shelter and energy: "If we solve for space, we solve for Earth."
'New world of exploration'
Even when her travels were thwarted by the pandemic, Proctor kept exploring.
"The world is kind of crumbling," she thought. She was stuck at home, teaching online, grappling with a divorce and approaching her 50th birthday.
"How do I spread cheer and inspiration out into the world?"
After her mother's death in 2018, Proctor found among her belongings a box filled with postcards from Proctor, sent over 30 years and signed with a heart and her name.
"I was so moved by that, that my mom had taken that much joy in receiving those postcards that she saved them all," Proctor said.
She decided she would send that same joy around the world. She made the offer on social media, and recipients told her the postcards made them feel connected.
Proctor sent science-themed postcards but then made her own. She started with collages and wrote poems on the back. She experimented with markers and paints.
"I started small because I didn't have confidence in myself as an artist," Proctor said. She'd never done anything like it before.
"It opened up this new world of exploration," Proctor said.
She wanted her art, which features elements of the environment and Black culture, to encourage conversations about diversity, equity and inclusion in space — and all spaces.
"We all need to be inspired to use our unique talents and passion to go out and make a difference in our world," Proctor said.
No 'hidden figure'
In January 2021, Proctor was named an "Explorers Club 50: Fifty People Changing the World," by The Explorers Club, an international society that promotes scientific exploration.
When the club's president, Richard Garriott, announced he would plunge into the Mariana Trench, the deepest location on Earth, in March 2021, and wanted art to take with him, Proctor created a piece for him with metallic markers on a black background.
She called it "Seeker," featuring AfroGaia, her version of Mother Earth, and colorful lines representing the collision of two tectonic plates, creating a pathway into the ocean.
By the time Garriott returned, Proctor had learned she would go to space. She would take "Seeker" with her — and then donate it to St. Jude.
"It is art that goes on an adventure," Proctor said. It would do more than that.
For the Inspiration4 mission, Jared Isaacman, the tech entrepreneur who funded the trip, named the four available seats to reflect positive aspects of humanity.
As commander, Isaacman filled the "leadership" seat. Hayley Arceneaux, a St. Jude physician assistant and former St. Jude patient, represented "hope."
The third seat, "generosity," was raffled off, raising another $13 million for St. Jude. Engineer Chris Sembroski filled that seat.
That left the "prosperity" seat. Proctor won it in a contest run by Isaacman's company, Shift4 Payments, by creating MySpace2inspire.com to promote her art and encourage others to use their passions to make a difference.
Isaacman chose Proctor for her artistic entrepreneurship, but with her experience, he named her the mission's pilot. Her dream come true.
When Inspiration4 launched on Sept. 15, 2021, along with "Seeker," Star Wars trading cards and art supplies, Proctor tucked her dad's thank-you note from Neil Armstrong into her duffle bag.
She wanted to honor her dad's legacy but not as a hidden figure. As a teacher, she knows representation matters.
It is important kids see people who look like them doing seemingly impossible things — and even more important for St. Jude patients whose journeys to achieve their dreams may be unconventional. Like hers.
'We are one'
In her studio at home in Arizona, where the walls are covered with her artwork, Proctor pointed to a half dozen postcard-sized pieces in a glass frame. "These all went to space," she said.
Proctor donated "Seeker," which went to the deepest depths of the ocean and 367 miles into space, to St. Jude. In a heated bidding war, Isaacman bought it for $100,000.
She's still teaching, planetary science this semester. "I became a teacher to inspire," Proctor said. Now she does it in other ways, too.
Proctor published a book, "Space2inspire: The Art of Inspiration," featuring her poetry and art. She organizes artist events to benefit St. Jude.
At speaking events, Proctor talks about her mission to space — and for St. Jude.
"Inspiration4 bonded me to my crew and our cause in a way that's indescribable," she said. "It's now a part of me to my core."
Seeing Earth from space, with no borders or differing races, religions, or political parties, reinforced something for Proctor: "We are one."
It's why she relates to St. Jude founder Danny Thomas' audacious dream of a fully integrated hospital to help all children. Families never receive a bill from St. Jude for treatment, travel, housing or food. St. Jude shares its research around the world.
"My perspective has changed in that I know that I will never have kids of my own but now I have St. Jude and a mission to help kids in a way I didn't have before," Proctor said. "That fills me with so much gratitude for Inspiration4 for creating this connection that will be with me for the rest of my life."
Proctor will be honored at St. Jude Spirit of the Dream, which celebrates the achievements of African Americans who embody the mission of St. Jude. Honorees also include pioneering hematologist Patricia Adams Graves and Emily Greer, long-time executive at ALSAC, the fundraising and awareness organization for St. Jude.
Given the opportunity to go back to space — to the Moon or Mars, Proctor said she would jump at the chance.
If she could talk to herself as that young girl enamored by Armstrong's thank-you note to her dad, watching planes through binoculars, and dreaming of going to space, "I'd tell myself to be patient and enjoy the journey. All the twists and turns I'm about to face will pay off in the end."