Singing the Praises of
St. Jude
Darius Rucker puts his big heart, soulful voice and fundraising muscle into his favorite cause — helping kids.

June 07, 2019 • 5 min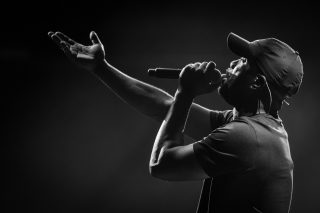 And so Dierks said to Darius …
Some of the great moments in country music history don't take place on an arena stage or in a recording studio. Some of the best collaborations don't involve a song.
So it was, more than a decade ago, when Darius Rucker was just a newcomer to country music after selling some 25 million albums with pop-rock stars Hootie & the Blowfish.
"I had finished a Hootie tour and I was a baby act on a Brad Paisley-Dierks Bentley tour. I was the first act," Rucker says. "I was hanging out with Dierks and Brad, and Dierks said he was going to St. Jude. He asked if I wanted to go. I said, 'Yeah, I'd love to go.'
"And we went, and I was moved."
Now, Rucker's not only a bonafide country star with four No. 1 albums, but a leading light of country music's bounteous support of St. Jude Children's Research Hospital. His annual Darius and Friends benefit concert has raised more than $2 million, and this year's 10th edition — held June 3 at Nashville's Ryman Auditorium — sold out even before the guest lineup was announced.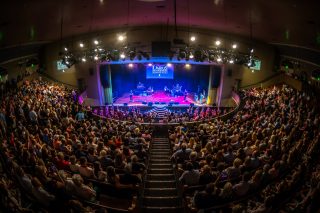 "I always say, once I visited St. Jude, I wanted to do something," Rucker says, "and I've been doing something ever since."
And so Mom said to Darius ...
Long before he climbed the pop charts and sang lead on one of the best-selling albums in history, long before he crossed over to country and Dierks Bentley invited him to St. Jude, Rucker was a poor kid in South Carolina who already knew about giving back.
"Oh, yeah. My mom raised me that way," he says. "We didn't have much, we were poor growing up. She was a nurse, and trying to raise these kids. But she always instilled in us that if we could help somebody, we should."
The music business spins many a cautionary tale — singers who come from nothing and suddenly have it all, only to lose themselves along the way, to fame and other drugs.
Rucker's an exception. As he said in a Rolling Stone interview in 1995, when Hootie & the Blowfish's debut album Cracked Rear View was on its way to sales of 21 million, putting it in the company of Pink Floyd's The Wall and Fleetwood Mac's Rumours:
"There was one point where we had my mom and her two sisters, my grandmother and fourteen kids living in a three-bedroom place. We had a lot of hard times, but I loved it."
He grew up, worked hard, got famous, and never forgot what his mother told him. Or his grandmother, for that matter.
"Danny Thomas was one of my grandmother's favorite actors," Rucker says, "so I knew about the hospital and all the great things (St. Jude founder) Danny Thomas and (his daughter) Marlo Thomas were doing."
Rucker has become one of the music business's most giving performers, no matter the genre. This spring he received the Harry Chapin Memorial Humanitarian Award, which cited his "exemplary and heartfelt work on behalf of children," from his hometown of Charleston to a certain hospital in Memphis.
His affinity for St. Jude began with that first visit.
More than a decade on, he's made return visits, raised millions — and even recorded a song inspired by St. Jude patient Brennan and co-written by the boy's dad, Turner. That was "Possibilities," released around Christmas 2014 and accompanied by a video featuring St. Jude patients singing the chorus.
Brennan is 17 and his cancer is in remission now, but the song was written during an especially tough time in his treatment, after his third bone marrow transplant. Turner says his friend and co-writer Joe Stevenson had the idea of "an uplifting song about cancer, as strange as that sounds."
With a version recorded, there was one of those "how cool would it be" moments — what if a country artist cut the song, with proceeds supporting St. Jude?
Nothing came of early attempts to pitch the song, but then one day Turner found himself in the company of Rucker, thanks to a mutual friend.
"I was talking to Darius about stuff, about St. Jude and all that," Turner says. "I think he was aware of Brennan because of our mutual friend. I told him about the song."
It must be one of the great hazards for a country singer talking to a fan — those chilling words, I've written a song — but what happened next seems right in character for Rucker.
"He said, 'Well, send it to me. I'll take a look,"' says Turner. "A couple of months later we got a call back that he wanted to do it. And the whole idea was it would be for St. Jude."
The result is pure Darius Rucker — soulful and uplifting — but when Turner talks about Rucker, it's not about the superstar who sang his song.
"If you're one on one with him, you'd think you were just hanging out with a good, down-to-earth, solid guy that you've known all your life," Turner says.
"He could sit down and engage with Brennan or his little brother and immediately start talking about Xbox. Or about golf. He can adapt and adjust to anybody. When he talks to someone, he's truly interested and engaged, whether that's a kid or the president of the United States."
And so Darius said to himself ...
Rucker marvels at the science of St. Jude, the research breakthroughs that save lives once considered lost. But he seems an even bigger fan of the hospital's secret weapon against cancer — the spirit of St. Jude patients.
"You talk to the doctors and the parents, and you find out what's wrong with them," he says. "Then you're laughing and talking with this kid. And I'm saying to myself, 'Could I be this strong if I was in the same situation? Could I be laughing and talking right now?'"
This we do know: Year after year, Rucker puts his time and money, his heart and soulful singing, into helping the kids of St. Jude. It's why in 2017 he received the Randy Owen Angels Among Us Award, named for the founder of Country Cares for St. Jude Kids®, one of the most successful fundraising campaigns in radio history at $800 million and counting.
It's why so many country stars join him for the Darius and Friends benefit concert — the likes of Brad Paisley, Luke Bryan and Brooks & Dunn. The latter duo were surprise performers in 2017, leaving Nashville's NHL Stanley Cup playoff game being played across the street to take the Ryman stage and sing "Boot Scootin' Boogie."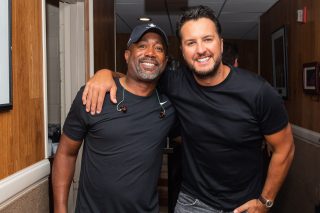 "It's such an amazing thing," Rucker says. "We don't announce who's going to be there until two weeks out or something. And we sell out in minutes, every time.
"Then all these big names come. Everybody we've ever asked has said yes."
They're saying yes to St. Jude, but also to Rucker, whose enthusiasm for the place is as contagious as one of his hit songs.
Asked how he explains St. Jude to people, he talks about how patient families are never sent a bill for treatment, travel, housing or food. Then he says, "The other thing I tell people is, every time St. Jude comes up with something that works, they don't hoard it. They tell the world, this is what we're doing, this is working."
After this rush of words he stops for a beat.
"I get chills," he says, "just talking about it."