Epsilon Sigma Alpha introduced Dotti Hunkele to the
St. Jude

mission. Then she heard Danny Thomas speak and was 'hooked for life'
A visit to
St. Jude

Children's Research Hospital with her ESA sisters sparked four decades of devotion.

December 23, 2021 • 5 min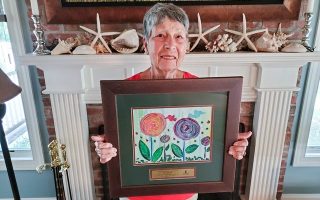 Dotti Hunkele loves gardening, quilting, her miniature schnauzer named Cooper, the Dallas Cowboys, her sisters in Epsilon Sigma Alpha, her husband Cal and their kids and grandkids, and all the kids of St. Jude Children's Research Hospital.
That's a lot of love to spread around, but that's Dotti.
"She'll do anything for anybody," Cal said. "Sometimes I have to tell her to slow down. She doesn't listen."
Dotti loves for keeps. She and Cal have been married for 56 years, two New Jersey kids who grew up 10 miles apart, she in a small town and he in the countryside nearby. They didn't get together until late in their senior year of high school — "almost graduation," Cal said — but they've been together ever since.
Eternal flames, you might say, Dotti and Cal.
"We were one of those naïve people who got married not long after high school," said Cal, and what better description of a perfectly matched couple than those first three words: We were one.
"We didn't have big expectations," he said. "We just knew we wanted to be together."
Things were lean but they worked hard, stuck together and everything worked out. Dotti studied and became a nurse, including on a hospital surgical floor and in a senior rest home. Cal went to business school and into banking. And in the late 1970s, a few years after they moved from New Jersey to North Carolina, Dotti joined the local chapter of ESA, an international service and leadership organization that supports a variety of charitable causes, including St. Jude.
ESA officially recognized St. Jude as a national project in 1972 and will celebrate 50 years of partnership in 2022. Over the years, its members have exceeded $300 million in cash and pledges for St. Jude. Drawing on the reach of its 800 chapters, ESA raises money through everything from Bunco for St. Jude to bowlathons to participation in the St. Jude Memphis Marathon Weekend.
"What really turned Dotti on was, not long after she joined, there was a convention in Memphis," Cal said. "She and the sisters went down, and she got a chance to tour the hospital, and that evening meet (St. Jude founder) Danny Thomas.
"She was just enthralled by hearing him speak, and then actually meeting him personally that night.
"She was hooked for life."
That was some 40 years ago, and Dotti's devotion to St. Jude has continued through multiple moves — from North Carolina to Texas and back again — and through telethons, walks and working the concession stand on race weekends at Charlotte Motor Speedway. It was always something, Cal said. He and the other husbands got involved, too. It was one for all and all for the cause.

Shirley Fowler, a friend and fellow ESA sister of 30 years, recalls walks and radiothons and "hundreds of small projects" — yard sales, car washes ("in our younger days") and selling pecans. She also remembers numerous local and out-of-town meetings.
"Once Dotti and I were in a mall on one of our out-of-town trips and as we roamed the ladies' clothing aisle a salesperson asked if we were sisters," Shirley said. "Dotti and I looked at each other, smiled and said 'Yes!' We have the same hair color and at that time had a similar hair style, but no other resemblance. I believe it was our togetherness that made us look like family."
So this story is for Dotti, as a thank you for four decades of ESA-style devotion to the kids of St. Jude. Also, ALSAC, the fundraising and awareness organization for St. Jude, presented Dotti with a framed picture featuring the art of a St. Jude patient. And, Dotti's name will be added to the St. Jude Supporters Wall, located in the hallway that connects the Patient Care and Research Centers, after a recent significant donation made by the couple.
But this is about more than marking an anniversary. It's important to Cal that this recognition happen now. Because Dotti, a caretaker for her mother through 15 years of Alzheimer's, has herself been diagnosed with the disease. It's been two years and Dotti's Alzheimer's is progressing as anticipated.
"That got me thinking," Cal said, "well, if we're going to do this, I'd like to do it while she can still understand and appreciate it."
In any organization there are those who have great ideas and those who do the hard work of bringing them to life. The best organizations are blessed to have both attributes in a single person — a person who also puts the organization first and herself last.
There's a name for such a person. Well, in ESA there is.
Dotti.
"I use the word humble, and I don't mean meek," said Margaret Grant, another friend and fellow ESA sister of almost 30 years. "But she does not want recognition for anything she does or she leads in. She wants celebration for the success of whatever it was.
"I guess, thinking about it, that's probably one of the reasons Cal would like her to get some recognition for all the efforts she has given."
Dotti has been an ESA chapter officer, a state officer and a state chairperson for ESA's St. Jude fundraising in two states, Texas and North Carolina.
"Dotti has been a leader," Margaret said. "And a very strong leader."
But not just a leader. Whatever needed to be done, she did. She answered phones at radiothons. And if a town without an ESA chapter needed manpower for a St. Jude fundraising event, Dotti was there, hands-on and heart full.
How to put it, exactly? Maybe it's that helping people isn't what Dotti does, but who she is.
"She has always been a devoted wife, mother and daughter to her family," said Anthe Tyndell, another long-time friend and ESA sister. "She took such good care of her mom during her many years of struggling with Alzheimer's, and making sure she was close to her and Cal and family."
Maybe that's one secret to a long marriage for Dotti and Cal Hunkele (pronounced _Hunk-lee_). They believe that giving back is more important than getting back.
"They're very supportive of the activities each of them is involved in," Margaret said. "But neither of them are braggarts, if I would use that word. They both do good, are caring and sharing — quietly."
Another way to describe Dotti: She plants seeds of love. That's literally true.
After she studied, tested and achieved Master Gardener status in North Carolina, she and another gardener spent two years creating a local children's garden that's become a go-to spot for school groups. "That was a _lot_ of work," Cal said. "That's another example — if she could do something that would benefit somebody, she would be the first to volunteer."
No wonder Dotti felt so deeply toward the children of St. Jude — children whose chances to grow and bloom are threatened — especially after touring the institution and meeting Danny Thomas.
"We have no experience in our family with any child with cancer. But that just made her a believer," Cal said. "She had never seen anything like that. She had a deep feeling of sorrow. But on the other hand, she had a lot of happiness that St. Jude was there not only for the children, but for the families.
"You get the good and the bad when you tour the hospital. You feel the pain of the children, but they're in a situation where there's huge hope and success."
Behind all that hope and success are volunteers, supporters and donors. People who fund the research that fuels the cures. People who don't need a personal connection to make the cause their own. People who believe, like Danny, that no child should die in the dawn of life.
People like Dotti.