With her Sichuan sauce and her support for
St. Jude,

Fly by Jing's founder is bringing people into the fold
Jing Gao uses her wildly popular brand to change how the world views Chinese food

February 16, 2022 • 4 min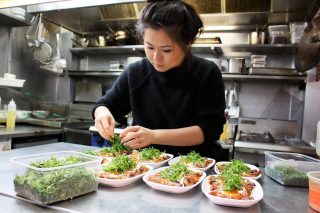 When she created her eponymous sauce brand, Jing Gao was on a mission. Not just to stock western pantries with fiery new flavors, but to change the way people viewed Chinese food.
She wanted the world to see Chinese food the way she saw it, for its spicy, earthy, pungent and sweet complexity. Since she started her sauce brand Fly by Jing in 2018, her business has taken off, becoming a top-selling hot sauce on Amazon and making its way onto the shelves of major national retailers including Target and Costco.
"I think we're popular because people identify with our mission. Our mission and values were very clear from the start, this was about more than hot sauce," Jing said.
So, it's not surprising she recently became a supporter of St. Jude Children's Research Hospital, which opened its doors 60 years ago with its own bold mission to cure childhood cancer.
Jing curated a special Lunar New Year taste box featuring her popular chile crisp and spice mixes, and is donating to St. Jude based on sales of the special mix during the month of February.
"The ethos of St. Jude, of caring for children with cancer, no matter what their means or where they're from, is something that resonates with me deeply," she said. "Lunar New Year is about togetherness, is about showing up for another, being there for each other. I see those values reflected in St. Jude."
It's reflected in the way Jing built and runs her company, too.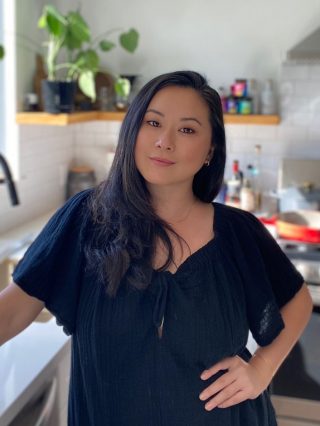 Born in Chengdu in the Sichuan province of China, Jing moved around a lot as a child, spending time in Europe and growing up in Canada. In 2010, when she was in her 20s, work brought her back to China, and it turned out also to be a critical time to reconnect with her roots.
She had gone by "Jenny" to help her blend into the western cultures where she'd spent most of her life, but returning to China helped her embrace her birth name: Jing. She reconnected with family and the people of her hometown over food. She learned about how the food in Sichuan is not just spicy but intricately flavorful and healing. She trained with a master chef who taught her techniques developed over centuries to create dishes with Umami, a savory depth and earthiness achieved with a blend of mushrooms, garlic, ginger and different types of peppercorns full of flavor and agents to boost immunity, energy and longevity.
On menus in most Chinese-American restaurants, Szechuan food is marked with a red star denoting its potent spiciness, but the dishes often miss the complex citrusy, musky notes in the peppery berries grown in Sichuan province. Jing felt diners were ready for that flavor.
In 2015, she opened an underground restaurant that operated like a roaming supper club fueled completely by word of mouth and social media buzz in New Zealand, Canada and the U.S. At her tables, she saw diners excited by the authentic flavors featured in her Mapo Tofu, noodles and dumplings.
In 2018, she launched her online company bottling the authentic Sichuan flavors and sauces she used as bases in her cooking. She named it Fly by Jing – fly to refer to the roadside eateries in her Chengdu hometown that were so popular they attracted diners like flies, and Jing for the birth name and heritage she had reclaimed.
In the beginning it was about $250,000 from a Kickstarter campaign, 3,000 customers and her. The sauces were produced using organically sourced premium ingredients in Chengdu, but then Jing packaged and marketed them from her rental home in Los Angeles. She kept up with customer emails, handled her own advertising and built her own website and social media campaign.
In two years, her company had grown ten-fold mostly through word of mouth, and then a spread in the New York Times highlighting her chile crisp as a "secret weapon in the war on bland" made her sales skyrocket. She sold out of six months of inventory overnight.
Ingenious and determined, Jing found ways to keep her existing customers while bringing in new ones even as she struggled with crumbling supply chains in the midst of a surging pandemic. Her message to her customers was simple: You don't have to cook Chinese food to enjoy these flavors. You can make it your own. Try this hot sauce on your eggs or your avocado toast. Even ice cream, a flavor combination she describes as "surprising and delightful."
Along the way, this company with its line of spicy broth and sauce bases removed rules, removed boundaries, Jing said.
"We are changing the culture, changing the conversation, lowering barriers and allowing for greater understanding," Jing said.
When she stops to think about it, her mission isn't unlike that of St. Jude, whose uniquely inclusive and collaborative model of cancer care and research works to improve outcomes for children around the world.
"My job is to bring more people into the fold," she said.