Illinois teenager's "Streetside Serenades" raise funds for
St. Jude
COVID-19 forced high schooler Nathan Rastovac to pivot from organizing an indoor musical benefit to hosting mobile outdoor performances.

October 05, 2022 • 4 min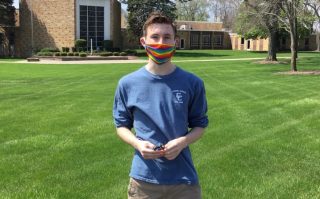 Meme Baynes was recovering from her second round of chemotherapy.
She was stuck in her home in suburban Chicago not only because of her recent ovarian cancer diagnosis, but also because the COVID-19 pandemic had forced worldwide shutdowns of schools and businesses prompting many to stay indoors on this spring afternoon in 2020.
Baynes had signed up for a Streetside Serenade that Nathan Rastovac, a high school classmate of her daughter, had organized to raise funds for St. Jude Children's Research Hospital in Memphis. After the teenagers pulled up in front of her house, each getting out of separate cars with masks covering their faces, she walked onto her front porch, excited about the upcoming performance. As she stood there, Nathan and his friends sang three different songs.
The teenagers' rendition of "Bridge Over Troubled Water" moved Baynes to tears.
"It cheered me up, and I loved it," Baynes said. "They sounded so good, and it was so sweet, and of course I cried, but I always cry when I see kids sing. And they knew what I was going through, so it was a really nice thing to do."
Nathan raised $3,500 for St. Jude with the Streetside Serenades. But the fundraising was thwarted several times by the pandemic.
"We were definitely time pressured,'' Nathan recalled. "Looking back on it now, it's amazing that we came — my mom and I — came together and we were like, 'OK, we can do this,' and then we brainstormed and we did it."
Before the mobile Streetside Serenade, Nathan had spent hours at the start of 2020 organizing an a cappella concert at his high school in Illinois to raise funds for St. Jude. He had been recently accepted as a member of the St. Jude Leadership Society, an organization that allows high school and college-aged students with a passion for community service to use their leadership skills to raise awareness and funds for the children's research hospital.
A high school sophomore at the time, Nathan thought the "Acappellooza" event was a perfect match for him. He liked to sing and was part of several singing groups at his school, and he had been involved in helping with the event the previous year, which had raised thousands for the hospital.
He made calls, sent out emails and as the day of the concert approached, he garnered more interest from performers and the public who wanted to attend.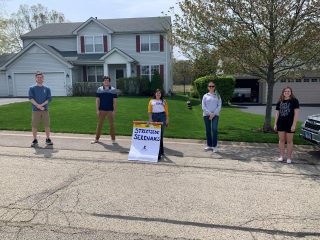 But then the pandemic forced Nathan and his mother, Peggy, who was his mentor for the project, to immediately pivot.
"We were kind of bummed that we could not do Acappellooza … and my mom was like, 'What if we bring the singing to them?' And we thought how could we do that safely with COVID happening and people were worried and scared," he said. "And that is when we decided we could bring the music to them."
Nathan sent emails and sign-up sheets to school leaders, alumni, parents and others who had expressed interest in attending the concert.
Four friends joined in the singing and practicing three songs over several days. Their music teacher made a practice track on the piano so they could play it while they sang.
When the weekend arrived for their first performance, the teenagers drove to each home separately and stood several feet apart. They also wore masks and removed them only during their performances.
They sang for residents in 20 houses, but their singing drew neighbors who heard the melodies through their windows or while they took a stroll.
"We got many applauses and one time we got a whole entire block, and that is what showed us that what we did had a bigger impact on more people than we thought we were truly going to have," Nathan said.
Peggy said several members of the audience, many who were senior citizens, sported large smiles with each lyric, while others shed tears.
"It was interesting to watch their emotional reaction because they had been so isolated," she said.
Helping out a friend turns into much more
Nathan first came across the St. Jude Leadership Society a year earlier when two of his friends were participants of the program. He had helped one friend with that year's "Acappellooza" event and was hooked on the idea of giving back to St. Jude and its mission of helping children with cancer. He also felt it would be a good way to expand his leadership skills.
"It's a phenomenal leadership program, but beyond just the leadership program or leadership aspect, you are part of something greater than yourself," he said.
Nathan's experience with the St. Jude Leadership Society was rewarding for his mother to see as well.
"He has become a more aware person with a big heart who wants to give back, and I saw that throughout this whole journey," she said.
Nathan graduated high school in the spring and spent a few days at St. Jude Children's Research Hospital during the summer, where he was able to tour some of the campus and meet others participating in the leadership program.
He also began his first semester at Hillsdale College in Michigan, where he plans to take classes in economics, finance, chemistry and history. He said his experiences with St. Jude Leadership Society will serve him well in his future.
"It has really taught me how to be more compassionate,'' he said. "I'm not worried about myself anymore, I'm worried about those in my community. That is what I really learned and that's something that is going to stick with me for the rest of my life."