Supporters of
St. Jude

Memphis to Peoria Run have raised more than $25 million
For 31 years, Kevin Pautler has run this relay in memory of his son, Dusty, and to fight the cancer that took him away. 

September 21, 2023 • 3 min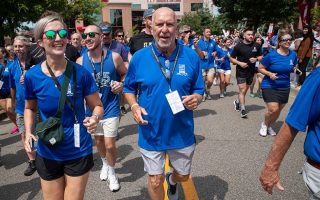 One day in the summer of 1989, Kevin Pautler, still stunned and processing the awful news that his young son had cancer, sat down at a table in the cafeteria of St. Jude Children's Research Hospital®. 
Surprised, he saw two guys from his hometown in Illinois. They were in Memphis for the annual St. Jude Memphis to Peoria Run, a relay established in 1982 to raise money for the hospital. 
Kevin had never heard of it. 
Fast forward to 2023 and he's now in his 31st year as a relay runner.  
Back in 1989, Dusty was diagnosed with acute lymphoblastic leukemia. He was 12 when he passed away in 1991. Survival rates for his cancer were significantly lower then. 
Today, about 94% of ALL patients survive. And if Dusty were diagnosed today, Kevin believes his son would be one of them.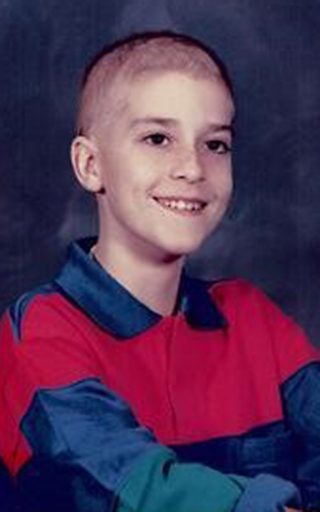 "We're in it because we don't want other parents to go through it. I also have a vendetta against the disease. So, I'm here to get the disease that got my son," he said. 
Each year, runners caravan down from Peoria, Illinois to Memphis and the St. Jude campus, where the run begins. Over the course of four days, the relay travels 465 miles back to Peoria. Kevin can't handle the long distances anymore, but he puts in his share of miles. 
Kevin jokes that he doesn't train as often as he used to, but when he does, he's almost always alone. Except for Dusty. 
"It is my time with him. Life goes on, but it's always with you. Your life changes forever," he said. "So, it's my time when I'm running that I can chat with him about how things are going." 
Kevin runs the relay with his daughter, Jeri. Her mom, Joy, was pregnant with Jeri when Dusty was diagnosed. Jeri was only a year old when he passed.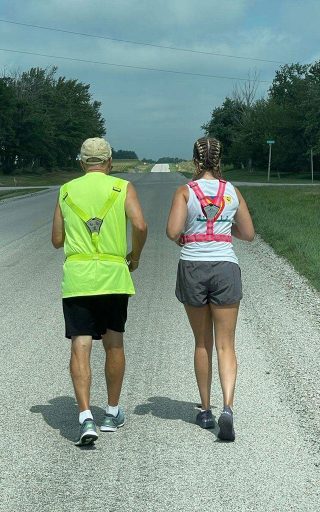 "So, while I never really have a memory of him, I hear stories. Everyone tells me that I actually am a lot like him in many ways," Jeri said. "I know he's watching over me and he's very, very proud of us." 
The Pautlers are from the tiny Dunlap community, in Peoria County, Illinois. So is Dr. Beth Stewart, a pediatric oncologist and physician scientist at St. Jude, where she's been for 13 years. She's run the relay for 20 years. 
Dr. Stewart was a few years younger than Dusty and their families were great friends.  
"I grew up knowing about St. Jude through the Pautler family. Our families are really good friends. Dusty and I were in the same grade school," Dr. Stewart explained before she left Memphis as part of this year's relay. 
As a child, she would watch Kevin and the other runners as they returned to town.  She babysat Jeri while watching the telethon that follows the run. 
"I grew up hearing about Dusty and his experience and their family's experience down here at the hospital and just how much Dusty fell in love with his doctors and nurses," Dr. Stewart said. 
It was Dusty's dream to be a doctor at St. Jude. 
"Somehow, even at that young age, it got laid on my heart that his dream sort of morphed into mine," Dr. Stewart said.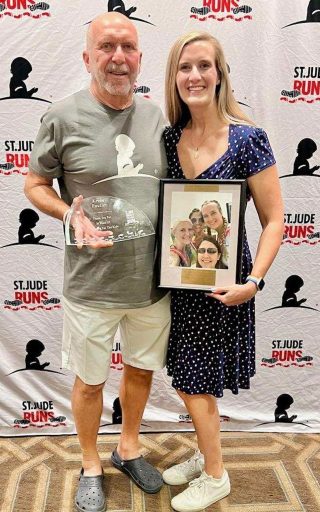 Every day she wears a St. Jude pendant engraved with Dusty's name, a gift from the Pautler family when she graduated from medical school. 
Every day she sees first-hand how donor dollars support the St. Jude mission. 
Families will never receive a bill from St. Jude for treatment, travel, housing or food – so they can focus on helping their child live. When donors give to St. Jude, they help give children with cancer around the world the chance to live their best lives. 
Run supporters have donated more than $25 million to St. Jude. 
The Pautlers no longer live in the Peoria area. Kevin and Joy have retired to Florida. Jeri lives in Chicago. 
But each year, the father and daughter end the St. Jude Memphis to Peoria Run the same way, with a special tribute to Dusty. 
They run side by side – just the two of them. As they reach Peoria, the streets are lined with people who remember Dusty. Some are family members or kids who went to school with him. Some are St. Jude patients. 
They cheer on Kevin and Jeri. And Kevin has named this stretch of the Memphis to Peoria route, "Dusty's Run."