What a mom learned during son's cancer treatment at
St. Jude

pushed her to top of Mount Kilimanjaro
Every year, Sam's gratitude spurs her to raise money for
St. Jude

Children's Research Hospital.  

September 11, 2023 • 7 min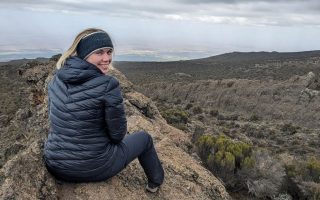 On the sixth day of her ascent of Mount Kilimanjaro in February, Sam stopped on the rocky trail, out of breath and exhausted.
In the final push to the summit, the temperature in the arctic zone, an almost lunar landscape, dropped to a bitter cold. The air thinned, making it difficult to breathe.
No way could she make it to the top.
But this wasn't the first time Sam had faced a seemingly insurmountable challenge.
Six years earlier, in 2017, she, husband, Jonathan, and son, Nate, had been on a plane to St. Jude Children's Research Hospital®, flying for 36 hours from Singapore to Hong Kong, Hong Kong to Chicago, and Chicago to Memphis.
Sam didn't sleep, but kept vigil over her son, just 5 at the time, and never let go of her handbag. Inside was the tumor surgeons in Singapore had removed from Nate's brain, frozen now inside a 15-by-15-centimeter Styrofoam container.
Compared to what Sam faced then, Mount Kilimanjaro — the highest mountain in Africa and largest free-standing mountain in the world, rising an imposing 19,340 feet into the skies above northern Tanzania — was a cinch.
Coming up behind Sam on the trail was her friend, Syaz, who hadn't hesitated when Sam proposed this audacious idea five months earlier. "Let's do it," Syaz said.
They followed the Rongai route, among the wildest and least traveled, zigzagging to lessen the altitude sickness. The 49-mile trail traverses Kilimanjaro's distinct ecological zones, from rain forest of moss-covered trees and seas of ferns, through moorlands dotted with giant otherworldly groundsels, and into alpine desert littered with volcanic rock.,
"Every day you wake up and you're in a whole new place," Sam said. It was beautiful.
This was the most brutal part of the ascent, an eight- or nine-hour hike up 4,000 feet on a rocky trail. "It was like walking on the moon," Sam said.
Two hours earlier, at 18,700 feet, it was Syaz who floundered, calling to Sam: "I can't do this — I'm really struggling."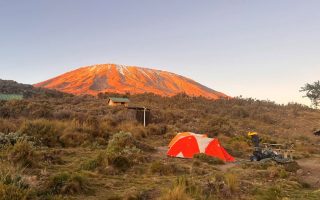 Sam chided her.
"If Nate was here and he could be doing this, what do you think he would be saying to you right now?"
Nate, now 12, was the reason the women were climbing Mount Kilimanjaro. Every year since Nate was diagnosed, Sam has raised money for St. Jude, either running the St. Jude Memphis Marathon or doing other physical feats. Last year, she ran 31 miles across Singapore, from the west to east coast.
Syaz had pushed on.
Now Sam was calling it quits. "I'm done," she said.
"Oh my God, no, you're not," Syaz said. And then the clincher: "Nate has never given up on you. Are you going to give up on him?"
It was the tough talk Sam needed. Looking up, she could see the summit, Uhuru Peak, about 165 feet above them. It seemed miles away.
She suddenly recalled how she would sing "Ain't No Mountain High Enough" to Nate to help him through six weeks of proton radiation therapy and eight months of chemotherapy.
Sam spotted a big rock up ahead on the trail, not far from where they had stopped. She pointed it out to Syaz.
"See that rock?" Sam said. "Let's get there."
They got to the rock, cheered and did a celebratory dance. Then Sam picked out the next big rock.
"It's not that far," she told herself. "It's just to that rock."
It was a tactic Sam learned from a chaplain at St. Jude, to focus only on 15 minutes at a time, not the harrowing months ahead, and it had kept her from being overwhelmed by the fear and uncertainty.
Now it would take her to the top of Mount Kilimanjaro. One rock at a time.
World turned upside down
Nate was an energetic 5-year-old who loved the water, swimming and surfing, horses and riding his scooter. He was eager to try new foods and a great traveler, visiting 17 countries with his parents.
"Anything anyone else was doing," his dad said, "Nate wanted to give it a go."
So, it was weird when Nate slowed down. He vomited off and on for a month before the last of five pediatricians his parents consulted ordered the MRI that revealed medulloblastoma, a rare cancerous brain tumor. The pressure of it on his brain triggered the vomiting.
"It was like the world just turned upside down," Sam said.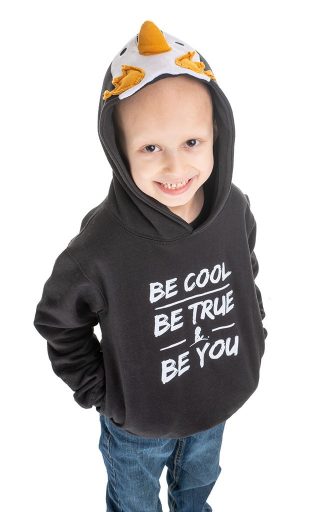 His doctors in Singapore had only seen a few cases like Nate's, while the St. Jude Brain Tumor Program is a worldwide leader in medulloblastoma therapy and research, offering clinical trials using the most advanced treatments available.
Sam and Jonathan had moved from her native Johannesburg, South Africa, to Singapore a few years before for work. They would travel halfway across the world to save their son.
At St. Jude, Nate charmed everyone he met, chatting up adults and asking children to play. He loved meeting new people, calling, "Group hug!" at unexpected times.
Nate turned 6 as he started proton radiation therapy.
He practiced being a gentleman, standing aside by the elevator, saying, "After you," and opening doors with a flourish, startling those inclined to let the bald boy with a port in his chest go first.
His parents felt warmly welcomed, got reassuring answers to every question and a carefully explained comprehensive treatment plan. His doctors were hopeful.
But Sam struggled with the uncertainty of it all. She's a planner by nature. "I can plan like no one's business," Sam said. "I have a Plan A and a Plan B and a Plan C."
Cancer ruins every plan.
"It was such a shock to my system that I wasn't in control," Sam said. "I couldn't be in control." She was anxious, experiencing panic attacks for the first time.
With the chaplain's advice, Sam coped by not focusing on the uncertainty of the months ahead, the ups and downs and unknowns of treatment, but only on the present. A manageable 15 minutes at a time. It eased her panic, slowing the rapid beating of her heart.
"You are so much more present in the moment," Sam said. "You are not thinking about everything else. You are just thinking about now."
At night, the family curled up in bed together and took turns listing three things they each found to be thankful for that day.
It was easiest for Nate. He always had a list: Mummy and Daddy; the facility dogs at St. Jude; his registered nurse practitioner, Miss Ginger; Legos in the waiting room; a good bowl of ramen.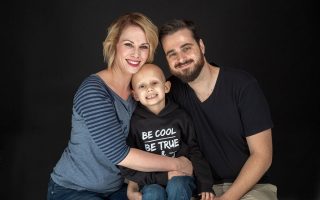 For Sam, it was the dedication and kindness of the medical staff, the friendship of other families and the support of donors.
"If we stop and are intentional about it, and stop feeling sorry for ourselves, it is quite remarkable," Sam said. "Talking about those things helped so much."
Running helped Sam, too. She got up early to run, across the railroad tracks and into quiet neighborhoods.
That year, Sam signed up for the St. Jude Memphis Marathon Weekend, running the half marathon her first time, to raise money for St. Jude. She wanted to give back for all St. Jude had done for her family.
Training for the half -marathon worked like meditation, clearing her head, building her muscles and increasing her endurance, so she could be strong for Nate. One step at a time.
'Everything changed'
After 11 months of treatment, in March 2018, the family returned home to Singapore. Nate's hair grew back. His long eyelashes, too. He started a new school. He celebrated his birthday with a Mario Brothers-themed party.
Life for the family took on its regular routines of school, swimming in the pool and family dinners. Then, in July of that year, Nate began stumbling and slurring his words.
Sam suspected seizures, but Nate's scans were clear. While hospitalized for observation in August 2018, Nate had a massive stroke.
"Like a flick of a switch, everything changed," Sam said. Again.
The stroke, caused by an infection particularly dangerous for people with weakened immune systems, damaged 60 percent of Nate's brain, leaving him unable to talk or move.
For Sam and Jonathan, it was unbelievable. They didn't lose Nate to cancer. He is cancer-free, still part of a clinical trial and monitored by doctors at St. Jude in conjunction with his doctors in Singapore.
"We always thought the cancer was going to be the hardest journey for us," Sam said. This is harder.
Nate needs round-the-clock care, with two nurses working in shifts. He uses a wheelchair and standing frame. If Sam asks a yes-or-no question, gives him time to process, and pays close attention, she can detect a response.
"He's definitely still in there," Sam said. "The fighter he was still is in there."
Sam and Jonathan grieved for the child Nate was before and embraced who he is now. They still practice what they learned at St. Jude, cherishing every moment, and finding things every day for which they are thankful.
"Nate is a lot to live up to," Sam said. "I look at him every day, and I think he is the bravest human being I know." So, she has to be brave, too.
'We're here!"

As Sam and Syaz pushed toward the summit of Mountain Kilimanjaro, what Sam learned at St. Jude kept her focused. One rock at a time.
"Had I climbed this mountain before St. Jude, I would have just been fixated on the end," Sam said. She'd have missed things to be thankful for. The clear skies. The beauty of the terrain. Time with Syaz.
Finally, a sign made of wooden planks came into view. "Congratulations," it read. "You are now at Uhuru Peak, Tanzania, 5895m/19341ft."
Sam burst into tears, thankful to have made it.
She recorded a video message for her supporters who donated more than $9,000 to St. Jude.
"Hey, guys, so I made it to the sky of Africa, and you can see behind me the beautiful, picturesque views," she said breathlessly. "It's absolutely stunning. And it's the only time in my life that I think I'm using 'breathtaking' non-ironically."
Climbing Mount Kilimanjaro had been her dream since she was pregnant with Nate.
"It's been really special to be able to do this and also take him with me spiritually on this journey since he'll never be able to get to do this, and it's definitely something he would have got a kick out of," Sam said.
"The reason we've done this, the reason we've used this as an opportunity to raise funds for St. Jude is because research hospitals like St. Jude ensure that other children get to have their bucket dreams and their wishes come true."
That's something to be thankful for. One child at a time.