Inspired by his namesake, Minnesota's Danny Thomas donates to
St. Jude
The generous gift was on behalf of Thomas & Sons Construction, the family business his Lebanese immigrant dad built.

June 25, 2021 • 3 min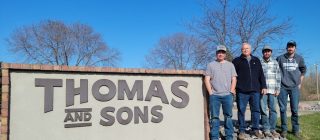 Danny Thomas of Rogers, Minnesota, and his wife, Linda, had been enjoying gumbo for breakfast, or was it jambalaya? They can't remember because it's been more than two years now. But they do remember their waitress telling them they needed to take a walk down Beale Street before they left Memphis because of the history there.
She was right.
They'd stopped through Memphis on their long drive home from vacation in Florida. The couple was strolling on Beale Street when they saw the sign.
Thomas had been preoccupied about a business deal, wondering if Thomas & Sons Construction, his family business, might lose out on a big job.
But seeing the plaque commemorating entertainer Danny Thomas made him remember Thomas' connection to Memphis as the founder of St. Jude Children's Research Hospital.
"St. Jude was right there, and there was everything Danny Thomas, and it wasn't a coincidence, I guess," said Thomas.
And it made him think about his own connection to Danny Thomas through a fateful decision another great man – his dad Steven Thomas – had made on the day of his birth.
"My dad did name me after Danny Thomas," he said.
So Minnesota's Danny Thomas, "feeling emotional," made a pledge to his wife that day on Beale Street: As a family, they'd been blessed, he told her. If the big construction job went through, they would donate the money they earned to St. Jude on behalf of their family and employees.
Linda was on board. "Oh, 100 percent," said Linda. "We have children, and to help children with cancer is an honor."
Thomas let his worries go and had faith.
They won the bid, and once the job was completed in late 2020, Minnesota's Danny Thomas donated the money they made to St. Jude, just like he'd promised.
"It's somewhat unique, I guess"
When you share the name of a famous person, you grow accustomed to some ribbing.
"People would ask, 'How's your daughter Marlo?'" Thomas said, referring to Danny Thomas' daughter, the actor and author Marlo Thomas.
"You'd get little quips from people. But anyway, it's somewhat unique, I guess."
Thomas' dad, Steven, had come to the U.S. from Lebanon at 7, moving to Northeast Minneapolis. The elder Thomas had served in the Coast Guard, endured two wars, won a Purple Heart.
Did his dad ever watch Danny Thomas' long-running hit TV show "The Danny Thomas Show"?
"Oh yeah," Thomas said. "My dad, he was, oh my, he was a favorite of my dad's. They're both Lebanese, so really, he would light up. Anything Danny Thomas, and he would definitely, you know, he'd light up, and he was the Lebanese guy that was the big celebrity."
Steven Thomas had built Thomas & Sons Construction from the ground up.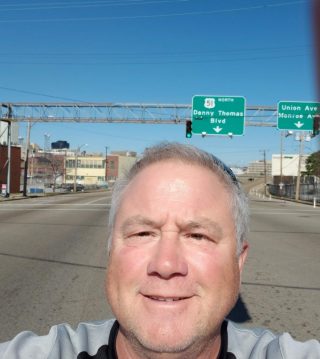 "Took a lot of persistence and determination to keep the company moving through good times and mostly through more tough than whatnot, but it's hard to get something established, you bet," said Thomas. "I was with dad right from the first day here at Thomas & Sons, and I know what it took, and I watched, and we worked together."
Now, Dan Thomas and his three sons run the business his dad started. They build highway projects and infrastructure throughout the Twin Cities.
His dad had worked long hours and didn't take much time off, so the memory of him rounding up the family to go to see Danny Thomas at the old Carlton Celebrity Room in Bloomington, Minnesota, in October 1979 stands out. Located where the Mall of America sits today, the Carlton attracted entertainers of national renown in its effort to bring Las Vegas-style entertainment to the Twin Cities. The Minneapolis Star paper wrote of Danny Thomas' weeklong stint of standing-ovation performances: "Audiences feel that they're watching this big star perform, but he's actually like the guy next door – opinionated, hard working and likeable."
Parents give their children names imbued with the qualities we hope they'll have one day.
So let's think about that when it comes to Danny Thomas, who was a comedian, a hard worker, an entrepreneur, a good dad. A man who honored his Lebanese heritage and took the blessings he'd been given and passed them on.
There he was onstage that night, the man himself, who represented the best a person could be to Steven Thomas.
He gestured to where Danny Thomas stood onstage, looked at his son and said: "Whelp, there's your namesake."
There's your role model.
There's the kind of man you should be.
Steven Thomas passed away in 2008, and when Minnesota's Danny Thomas says he's giving in honor of his family and the people who've worked so hard for Thomas & Sons Construction, he means his dad, too.
"We wanted (our donation to St. Jude) to be somewhat significant just because it's such a good cause," said Thomas, "and there's a little bit of history there."