Polaris Dawn takes
St. Jude

back to space, boosting efforts to save more children worldwide
Tech entrepreneur and adventurer Jared Isaacman is commanding the new space mission, just as he led Inspiration4 that raised more than $250 million for
St. Jude

last year.

July 27, 2022 • 4 min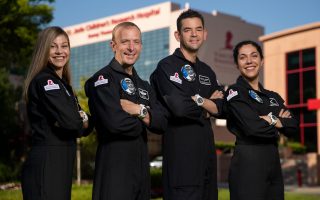 The crew of Polaris Dawn is endeavoring to fly higher than any Dragon spacecraft and farther than humans have traveled since the end of the Apollo program in 1972 to unlock some of the mysteries of the universe. The mission — set to launch later this year — pushes the boundaries of commercial space travel while benefitting the research and global efforts of St. Jude Children's Research Hospital.
Researchers at St. Jude told the crew visiting the campus in Memphis recently that as they train to look for answers beyond our planet, scientists at St. Jude spend their days looking within. Their universe is the human body, full of mystery and promise. The visit allowed them to tour the research facilities funded in part by the Inspiration4 mission and underscored an important parallel for the missions of Polaris Dawn and St. Jude.

"As little as we understand about the worlds beyond ours, there's so much we still don't understand about our bodies," said mission commander, philanthropist and St. Jude partner Jared Isaacman. "Walking through the Inspiration4 Advanced Research Center really reinforced for me the importance of St. Jude and the mission and everything they're trying to accomplish."

Touring the labs in the 625,000-square-foot collaborative space devoted to cell and molecular biology and immunology, Isaacman, along with fellow crew members Scott "Kidd" Poteet, Sarah Gillis and Anna Menon, saw firsthand the work St. Jude researchers are doing to understand how tumors grow and behave while testing new treatments.

The visit was an important reminder of "how much work is underway and how cutting-edge it is," Isaacman said.

In a particularly touching moment, crew members met with four former patients who were curious about how space exploration feels. They chatted while painting rockets in bright blues, oranges and yellows. Isaacman excitedly told former patient Tyler how zero gravity "feels like you're hanging upside down from your bed." Poteet told the patients "you are an inspiration to us," and gave the kids Polaris Dawn patches as keepsakes to mark the special afternoon.

SpaceX's Falcon 9 will launch Dragon and the Polaris Dawn crew from the Kennedy Space Center in Florida no earlier than the fourth quarter of 2022. In fact, the crew will fly to space in the same Dragon spacecraft Isaacman helmed during the Inspiration4 mission last fall that raised more than $250 million for St. Jude.

Richard C. Shadyac Jr., President and Chief Executive Officer of ALSAC, the fundraising and awareness organization for St. Jude, called Isaacman "a selfless leader and humanitarian" for combining his work in space exploration and philanthropy.

Talking with the crew, Shadyac shared the story of the research hospital's opening in February 1962. How founder Danny Thomas had been told operating an inclusive facility in the South offering healthcare for children regardless of race, religion or ethnicity at a time of segregation was foolish, even impossible. Thomas did it anyway. Six decades later, St. Jude is responsible for pioneering care for sickle cell disease and improving survival rates for acute lymphoblastic leukemia (ALL), the most common type of childhood cancer, from 4 percent to 94 percent at St. Jude.

"This is the mission that you help carry on today. You push boundaries. That's what we do here, too," Shadyac told the crew.

It's just that kind of impact that makes the goals of this mission exciting for Polaris Dawn pilot Poteet.

"We are trying to figure out how we can leverage this partnership with St. Jude and do more for all," he said.

Meet the Polaris Dawn crew
Scott "Kidd" Poteet, Mission Pilot
He spent 20 years in the Air Force flying F-16 fighter jets, and said he didn't expect to go to space in his lifetime. He grew up in the 1980s when the original Top Gun movie came out and sparked a fascination with flight in him.

"But I never thought I had the aptitude to become one of those elite astronauts, so I had 20 years in the Air Force and thought that was the end of it," he said. "But, you know, things happen for a reason. I'm going to make every moment count."

Sarah Gillis, Mission Specialist

Gillis remembers spending evenings as a young girl on her front porch looking out at the stars. She trained as an aerospace engineer, became a Lead Space Operations Engineer at SpaceX and has been responsible for overseeing the astronaut training program for human spaceflight missions.
"There are little girls that might not have ever imagined themselves doing something like going into space," Gillis said. "I hope I'm a role model to many little girls who are looking up at the stars."

Anna Menon, Mission Specialist and Medical Officer

She is a close friend and colleague of Gillis. She remembers wanting to be an astronaut ever since a field trip she took to the NASA Johnson Space Center when she was 9 years old. She remembers having Star Trek-themed Klingon parties at home with her parents, celebrating an imaginary world of extraterrestrial life from the television series. At SpaceX, she manages the development of crew operations and serves in mission control as both a Mission Director and crew communicator.
"I have two children of my own, so it's critically important to me that we not just further technology and innovation as we seek to understand the stars better, but to also help out on Earth while doing so," Menon said of Polaris Dawn's dual mission to improve space travel while supporting St. Jude.

The crew members have spent the last few months bonding and training, which included scuba diving and hiking the Cotopaxi volcano in Ecuador together.

"The activities immersed the team in an austere environment with some risk, too," Poteet said. "Not unlike what they might face in space, forcing the members who come from disparate backgrounds and careers to work together as a team."

The newly forged team dynamic, along with the intersection of possibility and purpose — of space travel and the determined work of curing children of cancer and other catastrophic diseases — has the group excitedly anticipating the launch later this year.

"We are aligned with our global initiative to improve life here on Earth as well as venture among the stars," Poteet said. "That true passion we see at St. Jude inspires us."