Quilt made with fabric featuring artwork of
St. Jude

patients tells a story
Specialty fabrics offer more than something to snuggle under. They benefit the lifesaving mission of
St. Jude

Children's Research Hospital.

January 03, 2023 • 4 min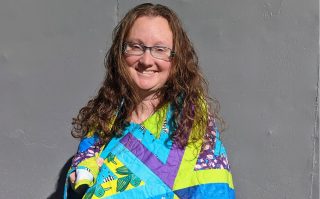 As Laura Piland pieced together the quilt — one strip of brightly colored fabric at a time — it told a story. One of heartache, resiliency and hope.
The fabrics Piland was using, a mix of mostly blue, lime green and purple printed with rockets, zebras and butterflies, feature artwork by patients of St. Jude Children's Research Hospital.
She'd ordered them online from JOANN, which donates to St. Jude as part of a partnership that has raised more than $4 million since 2017.
The online listings for the specialty fabrics include a picture of the patient who created the artwork and a snippet about what they're doing now.
"I loved reading the stories behind each of the fabrics," Piland said.
She cut the lime-green fabric printed with blue birds created by Tayde, and her thoughts were about how Tayde was diagnosed with leukemia at 7 and relapsed twice. Now, Tayde is a cancer survivor with children of her own.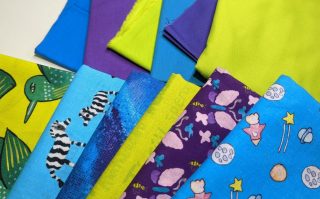 Piland marvels that Tayde got to grow up at all.
Unfolding a blue fabric scattered with black-and-white zebras created by Coraliz, she tried to imagine what it was like for her, treated for bone cancer at St. Jude when she was 10 and losing part of her left leg. Coraliz went on to college with plans to be a pediatric oncologist.
To Piland, the brightly colored fabrics felt like a celebration. "A celebration that they are doing well," she said.
Craft supports lifesaving mission
Piland is a quilter and pattern designer in Kansas City, Missouri, and the mother of three boys — 9-year-old Jeremiah, 7-year-old Micah and Elijah, who's 4.
She sewed for the first time when she was 7, making a tank top and pair of shorts for a 4-H project. It was tedious and the result wasn't like store-bought clothes. She swore off sewing.
But Piland took it up again to make a quilt for a friend's baby in 2010, using a hand-me-down sewing machine from her mom. Her mom and grandmothers quilted, so she called them with questions and watched tutorials online.
She started a blog called "Slice of Pi Quilts," an online journal of her quilting. She got so many requests for her patterns that she started Slice of Pi Quilts in 2016, opening an Etsy online shop and selling patterns around the world.
Piland has a robust online following and travels several times a month to quilt shops and shows. Now she sews on machines with names that sound like fast cars.
Piland snapped pictures of each of the seven St. Jude fabrics she was using and uploaded them into her computer to create a pattern. Not many quilters make their own patterns. "They don't like to do the math," Piland said. She's a former math teacher.
The design is the hardest part. "Like most artists, we stew about it," Piland said. It took weeks before she was happy with the design.
On her blog, she encouraged followers to purchase St. Jude fabrics and reminded them they can donate to St. Jude at their local JOANN store. It is donors and corporate partners like JOANN that help ensure families never receive a bill from St. Jude for treatment, travel, housing or food.
Finding 'hope' in fabric — and stories
Making a quilt doesn't take Piland long, maybe 12 to 15 hours to cut the fabric, piece it together, sew and quilt it. She makes more than 50 quilts a year.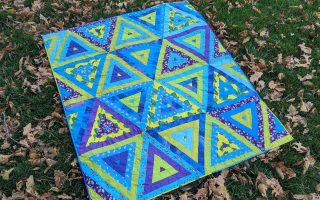 Piland cut triangles from fabric featuring an abstract of squares and hearts in blues and purples painted by Stella, who was diagnosed at 4 with a rare leukemia. She's 10 now, cancer-free and loves to sew.
Piland sewed the pieces of fabric together.
The lime green swatch of fabric, printed with the word "hope" in different languages, was created by Hillary, who came to St. Jude in 2008 as a teenager and was treated for two different cancers. She's pursuing a doctorate in biomedical modeling with plans to work in drug development.
The blue and purple watercolor fabric was designed by Faith, who was 10 in 2019 when she was diagnosed with bone cancer. She's 13, in advanced classes at school and playing basketball and volleyball. Like her name, she never gave up.
Piland thought about what adults could learn from children who create such bright, happy artwork at the worst time of their lives.
Once she pieced the design together, Piland padded it with batting and backed it with a speckled gray and white material. She used blue thread to quilt it with a swirl pattern.
All their stories were a part of it. Tayde. Coraliz. Hillary. Faith. Stella.
Piland hopes the stories embedded within the fabric of the quilt will bring strength and hope to its recipient. She says a prayer over each quilt before she gives it away.
"You're very connected to a quilt when you make it and very connected to the person you give it to, even if you don't know their name," Piland said. She thinks that's why people hang on to handmade quilts. "It feels like we're hanging on to each other."