New York volunteer gives 100% to
St. Jude
Regina Allen-Maxwell: 'You don't have to have a child with cancer to be involved.'  

March 24, 2023 • 3 min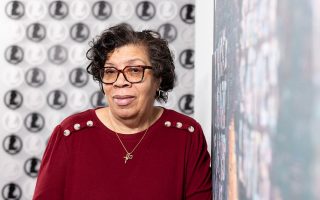 When Regina Allen-Maxwell, was recruited to volunteer on behalf of St. Jude Children's Research Hospital®, she knew she needed to learn more about St. Jude and its mission.
The New York retiree was familiar with the work being done at St. Jude to save the lives of children. But as she learned more about the research hospital's history, including its founder, Danny Thomas, and his commitment to treat children of all races with compassion, her passion for St. Jude took root and blossomed.
Now, four years later, she's taken on a new leadership role as a St. Jude Volunteer Crew Captain. Allen-Maxwell will recruit and coordinate the work of St. Jude Volunteer Crew members, who commit to work at least 24 hours a year at fundraising programs and events.
In keeping with Danny's ideals, Allen-Maxwell has a personal goal to seek out and grow a diverse pool of new volunteers. When St. Jude opened in 1962 in Memphis, it was the only pediatric hospital in the segregated South that treated patients regardless of race, religion or ability to pay.
The original hospital building was designed by Paul Williams, an African-American architect. After the hospital opened, doctors, researchers and other staff members represented many races and nationalities.
St. Jude hasn't wavered in its commitment to diversity, and neither will Allen-Maxwell. Today, in her multicultural Bronx neighborhood, she says St. Jude isn't very well known. She plans to change that.
"Diversity is very important. It's like anything else, we need to see people like us volunteering," Allen-Maxwell said. "One of the things I'm seeking to do is to bring St. Jude into the Bronx."
Allen-Maxwell has her elevator pitch at the ready. She simply references the St. Jude patients and their families featured in the fundraising campaigns. 
"You see the kids on TV? It breaks your heart. Wouldn't you like to be a part of that? Wouldn't you like to know that you had a hand in helping a child?" Allen-Maxwell asks potential volunteers. "It works."

Like so many volunteers and donors, Allen-Maxwell has no direct connection to St. Jude. She's grateful her two adult children and her grown grandson were never diagnosed with a childhood cancer or any of the other life-threatening diseases St. Jude researchers work to cure.

"You don't have to have a child with cancer to be involved. You don't have to know a child with cancer to be involved," she said. 

Allen-Maxwell recently visited the St. Jude campus. That first visit reaffirmed her dedication to the cause.

Walking through the doors for the first time was uplifting, she said, knowing the dollars she helped raise in New York contributed to the ever-expanding research efforts to cure childhood cancer and other devasting diseases, like sickle cell disease, around the world. The first research grant ever received by St. Jude was for the study of sickle cell disease, which disproportionally impacts the African American community.

No family ever receives a bill from St. Jude for treatment, travel, housing or food — so they can focus on helping their child live. And when donors give to St. Jude, they help give children with cancer around the world the chance to live their best lives.

It's volunteer work that anyone can do.

"All you need is the passion to do it," Allen-Maxwell said.