Romero Britto creates "happy art" for
St. Jude
Romero Britto, described as 'the most licensed artist in history,' has made St. Jude the beneficiary of a new print celebrating healthcare workers.

October 23, 2020 • 3 min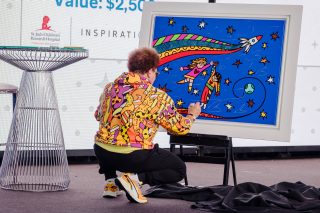 Take a quick peek at Romero Britto's new artwork honoring healthcare workers and you'll instantly recognize that classic symbol of medicine — a winged staff with two snakes coiled around it — as the centerpiece.
Take a closer look, however, and some slight variations become evident. For one, the snakes appear to be smiling at each other.
Leave it to Britto to put happy faces on reptiles — and then surround them with hearts and clouds and cheery colors.
Miami-based Britto is founder of the Happy Art Movement, which he defines as a "visual language of love, hope and happiness." And now, with his limited-edition print entitled One World, he hopes to put smiles on the faces of patients of St. Jude Children's Research Hospital, which will receive 5 percent from retail sales of the artwork.
"It's an incredible organization," Britto said of St. Jude. "It's wonderful that St. Jude is there, and they're at the frontline of everything. Anything I can do to help, I definitely love to help."
At 56, Britto speaks with the same joy and optimism he infuses into his art — and that's saying something. He learned to draw sitting under a guava tree after school in his native Brazil, later becoming a fan of pop art icons like Andy Warhol. He's created a vibrant, readily accessible style — the New York Times called it "art without angst" — that mixes elements of pop art and cubism and lights them up with an explosion of color.
"Colors bring some sort of beautiful vibe to our lives," he said. "I do respect black, I do respect white, I do respect gray, those colors. But I do think multiple colors is so much more fun. I think colors are so important in our lives."
Britto's feel-good style clearly works. Even if you've never heard his name, you no doubt have seen his art. A CNN profile called him "the most licensed artist in history," reeling off a who's-who list of international brands that have used his prints to help sell everything from luggage to luxury cars to vodka. His art brightens public spaces like train stations and plazas, and it's been showcased at the World Cup, Super Bowl and Olympics.
Beyond his staggering commercial success, however, Britto is an ardent supporter of numerous charities, including St. Jude. It's a reflection of not just his generosity, but his belief that art can help bring about social change.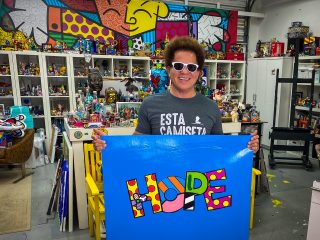 Britto's ties to St. Jude date back to just after his arrival in Miami some three decades ago. That's when he got to know Thomas Abraham, son of Anthony R. Abraham, a highly successful Lebanese-American businessman who was a friend and colleague of St. Jude founder Danny Thomas. Abraham, who died at age 100 in 2011, was a founding board member of St. Jude. His son is an Emeritus member of the St. Jude board.
One of the first sights greeting patients and families in the Patient Care Center lobby of St. Jude is a mural painted by Britto called Seasons of Miracles. Unveiled in 1994 by First Lady Hillary Clinton, it was commissioned by Thomas Abraham's Star Art Foundation in honor of his mother, Genevieve Abraham.
Britto has done much more for St. Jude over the years — volunteering, selling Christmas ornaments and making other donations.
"It's been a real true privilege to learn and be able to participate with such a beautiful organization," he said.
The latest artwork Britto created to benefit St. Jude pays homage to the frontline healthcare workers who have borne so much of the burden of the COVID-19 pandemic.
Britto named the piece One World because, he said, "we're all under one sky, we're all in this together, basically."
In keeping with the year, there are 2,020 of the 9-by-7-inch prints available, priced beginning at $310 for unframed pictures. Britto hopes they all sell, producing a windfall for St. Jude.
His own life, he said, has been "almost like a dream." Britto wants to use his good fortune to help kids at St. Jude.
More than that, he wants to give them happy faces.