Teen Formal: A Night of Fun for
St. Jude

Patients
Patients take a break from treatment to experience a true
St. Jude

tradition

May 20, 2019 • 3 min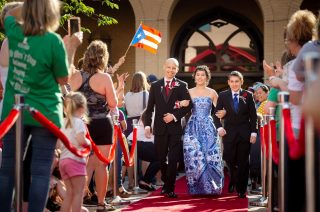 No glitz or glamour was spared as some 130 teens in tuxes and elegant dresses walked the red carpet, cheered by hundreds lining the red velvet ropes. After an enthusiastic reception by some of their biggest fans, they were whisked away in stretch limos.
After a spin through the city, they returned for an evening of food, pictures, performances — and dancing to music from Miami-based DJ Irie, whose gigs have included the MTV Video Music Awards and NBA All-Star Weekend.

But this was no Hollywood awards ceremony, and the VIPs receiving the royal treatment deserved it far more than any celebrity. The young people at the center of all the attention were current and former patients at St. Jude Children's Research Hospital, some still in the midst of years-long treatment. And the adoring crowd? Their friends and family, and the doctors, nurses and fundraisers who have supported them at St. Jude.
Groundbreaking research and lifesaving treatment are the hospital's hallmarks, but its holistic approach to patient care takes the spotlight at the annual Teen Formal. The Teen Formal is hosted by Child Life, the hospital program designed to reduce the stress and anxiety of patients by allowing them to play and express themselves.
Teens are a particular focus of Child Life — there's a Teen Room with video games, computers, pool table and more; it's open to patients, siblings and friends 13 or older. There's also St. Jude Teens, a private social networking site for teen patients, as well as such annual events as the Teen Art Show and Teen Formal.
It's all designed to bring a sense of normalcy to the lives of young people whose normal was upended by a catastrophic disease.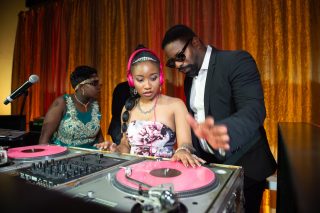 Among this year's Teen Formal crowd was 15-year-old Paishence, just a few months removed from her fifth major surgery since being diagnosed with osteosarcoma in 2012. She planned to dance, but when asked what she was most looking forward to, said, "Definitely the DJ. I'm really interested in that stuff."
Said her mom Nanette, "She's an aspiring DJ. She listens to blues, jazz, pop, rock, you name it."
For 18-year-old Diana, attending her third Teen Formal, it was all about, well …
"Everything, really," she said. "I love the red carpet and going in the limo with my friends." And she said the Domino's Event Center, where the formal is held, will be "really decorated and beautiful, depending on the theme that they pick each year." This year's theme was circus-inspired: "A Night Under the Big Top."
Diana was diagnosed with acute lymphoblastic leukemia, the most common type of childhood cancer. It generally requires two-and-a-half years of treatment. Her treatment was successful, but a relapse in 2017 meant more chemotherapy and radiation, and a bone marrow transplant.
Now she's in remission, and able to fully focus on being a teenager without worrying about her next treatment.
For Paishence, the teen rite of passage that is Teen Formal came just months after a major milestone in her treatment. After she was diagnosed in 2012 with osteosarcoma, a type of bone cancer, the affected bone was removed and replaced with a rod that could be adjusted as she grew. In February, the adjustable rod was replaced with a permanent one.
"Everything is great," she said. "So now I'm doing physical therapy twice a week to practice walking."
She's still walking with crutches, but she's making progress toward walking without them.
It's been a difficult journey — including what Nanette described as "five of those major surgeries and umpteen minor" — but in so many ways a fulfilling one, Paishence and her mom say, because of their St. Jude experience.
More than just the treatment she received, Paishence said St. Jude helped her grow as a person, and gave her opportunities she'd otherwise have never had — from the confidence she gained telling her St. Jude story at fundraising events, to walking the red carpet and appearing on stage at the Gospel Music Association Dove Awards with gospel star Anthony Brown.
On this night, it was the glitz, glamour and music of Teen Formal.
"It's just been a blessing," Nanette said, "all the way around."