Music Strikes Joyful Chord With Patients
As a music therapist at
St. Jude,

Amy Love brings smiles and healing to children at the hospital.

January 17, 2019 • 2 min
For Amy Love, music is medicine and more.
As a music therapist at St. Jude Children's Research Hospital, she'll tell you it's not only a necessary part of treatment. It's a learning tool, a coping mechanism, a creative outlet, and a sure-fire way to spark that sweetest of sounds — children laughing, playing, having fun.

"Music captures what it's like to be a kid and what it's like to do something fun and positive," Love said. "There is no reason that music shouldn't be a large part of somebody's hospital experience, because it really captures who we are as people."
And so, as one of two full-time music therapists at St. Jude, Love is something of a troubadour among the more traditional medical staff, but serving the same purpose — helping young patients with catastrophic illnesses get better.
The music therapy program, which Love has seen grow from "a small cart of some small instruments to our own music therapy clinical space," can help young children with developmental, social and motor skills.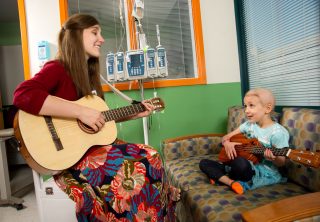 Older patients might learn how to play an instrument and write songs — a way of articulating the doubts and fears that come with cancer.

"Learning how to play an instrument that they've always wanted to learn to play makes them feel successful," Love said, "and that they're using this time in a way that is supporting their growth and they're not just here waiting."
Life goes on, even during cancer. It's a core belief at St. Jude, which has numerous programs meant to restore normalcy to patients' lives — from kindergarten graduation to Teen Formal.
Music therapy, Love said, can be a means of "celebrating big accomplishments and making the hard days better." It can build self-confidence at a time when the patient hardly recognizes the face in the mirror. Or maybe it's anger the patient is feeling, and what better way to release it than to "make loud music"?
But it's more than coping. It's creating, too. Love said she's had patients who are "amazing at piano or who have written their own scores to movies."
The music therapy program may even launch a career or two. Nick, who completed treatment for acute lymphoblastic leukemia (ALL) in 2017, began writing rap songs as a patient. Now he's released an album based on his St. Jude story, through such songs as "Beanie," about how his self-image suffered when chemotherapy took his hair.
Music as learning tool. Music as coping mechanism. Music as creative outlet.
For Love, it's a case of music's benefits being in tune — in harmony — with the needs of patients whose childhoods have been interrupted.
"Music can be such a healing thing in the hospital," she said. "There is no better setting to have music."