Big Horn Radio sings the praises of
St. Jude

across northern Wyoming

July 06, 2021 • 6 min
CODY, Wyoming — When it's crunch time, Larry Patrick flies from the cowboy town of Cody, Wyoming, over the mountains of the Bighorn National Forest, to the eastern town of Gillette.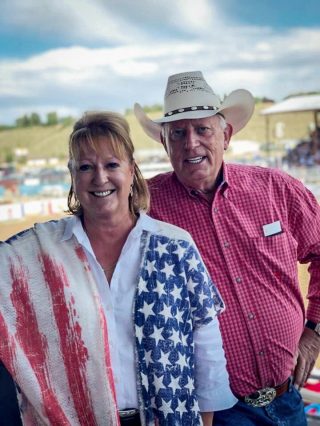 Below his plane, tucked among the state's small towns, farms and ranches, are plenty of tiny streams — the kind he knows add up to make a great river. And that's just what he has in mind.
Every spring, Larry — former broadcaster turned radio-industry pro — rushes between his Big Horn Radio Network country stations to get behind the microphone during an annual, two-day radiothon for St. Jude Children's Research Hospital.
Many listeners, spread across Northern Wyoming, are of modest means. But like the state's many streams, their generosity and heart add up to something significant.
This year, he was sharing on the air a story about an 11-year-old cancer patient who he met during a visit to St. Jude.
The boy was strongly gripping the sides of his bed rails as he greeted Larry, who asked how he was able to be so stoic. "'I don't want to scare the littler kids,'" the boy told him.
"I pretty much lost it. I was blown away by the strength. He was being the bravest little boy I'd ever met," Larry said.
At the country music station, the phones lit up. A man who lived 40 miles away called in, ready to donate a small monthly amount. "When I heard that story, I just sat here crying like crazy. I thought about my own children," the man said.
The moment crystallized the impact that Larry and his wife, Susan, have had in spreading support and awareness for St. Jude across Wyoming — helping raise nearly $1.8 million for St. Jude over more than a decade.
A big part of it comes during the annual St. Jude Radiothon at country stations in Cody, Buffalo and Gillette, reflecting the long-running Country Cares for St. Jude Kids®, which raises money through country music for St. Jude.
Each year, the Big Horn Radio Network's radiothon is kicked off by a raucous, fun-filled charity dinner at Cassie's Supper Club in Cody, a historic wood-sided Old West restaurant dating back to the 1920s. For more than a decade, the St. Jude Celebrity Dinner fundraiser has drawn local luminaries to act as servers, guests who dress up as their favorite celebrities and enjoy karaoke, arm wrestling and egg-smash contests.
But the couple who live in Cody have also raised money for St. Jude through events such as a free Clint Black benefit concert around the Cody Stampede, as well as personal giving that has named rooms at the St. Jude Advanced Research Center honoring researchers and nurses.
It all happens in a stretch of the American West where, even when incomes are lean, hearts are big.
"We're small-town Wyoming. But over the years we've tried to help make the people realize what a great resource St. Jude is, and how we can all pitch in and help support it," he said.
The seeds of the couple's status as Wyoming champions for St. Jude were planted when Larry was just a child.
At age 11, Larry's pediatrician who was a friend of his father announced he was leaving his practice to go work for St. Jude in Memphis. There, the physician said, he could not just treat disease but help develop research toward therapies and cures.
That was in the 1960s, when only about 4% of pediatric leukemia patients survived.
Over the years, his father — who owned car dealerships, banks and insurance companies in Kentucky and Tennessee — often visited his friend at St. Jude and would return full of stories. Before he died, he urged Larry to find ways to raise money and give back.
"He sat down with my older brother and I and said, 'Look, I don't care what you do. But when you grow up... you need to pick one or two charities that are very important to you. And you need to get involved. You need to raise money for them,'" Larry said. "He died a few months later. But I always remember that. And I always remembered that St. Jude connection."
Larry kept that promise.
But first, Larry began a career that started in TV broadcast news and has grown. Larry and Susan, who married in the 1990s, are partners in a media brokerage company and a 25-station Wyoming radio group whose stations play country, classic rock, news and oldies.
Larry, who has also worked as a university professor and trade association executive, has led multiple philanthropic efforts — from aiding a Wyoming food bank and hospital to helping build a dental and medical clinic at an orphanage in Swaziland and a school in Kenya.
Connected in part through Country Cares, a long-running country music campaign, the couple started doing radiothons about 12 years ago.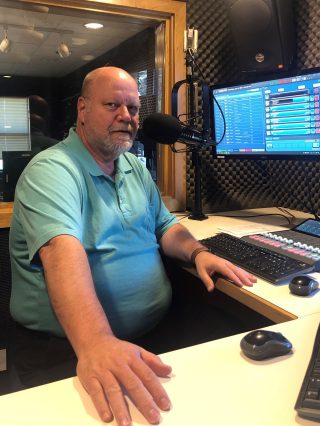 To inspire his network employees, he took them to visit St. Jude in Memphis. They met researchers, doctors and children. They came away deeply moved by what they saw.
"There wasn't a dry eye in the place," recalled Paulette Bagnell, a senior account executive for the Big Horn Network who attended.
Larry seized the moment.
"Over dinner that night, I said, 'If I were to tell you that St. Jude has a thing called the radiothon, where for two days a year, we stop the music between 6 a.m. and 6 p.m., and we play vignettes about St. Jude... Are you people prepared to do this? And not just for one year. I mean, if we do this, we're doing this for life,'" he said. "And, of course, they were all saying, yes!"
On stations such as KZMQ The Country Superstation and 92.1 (The Cowboy), DJs and guests ask listeners to become a Partner in Hope by agreeing to a modest monthly donation. On air, they conduct giveaways of items like guitars signed by country music stars, host guest visits and play testimonial patient stories spliced into country songs.
In the case of Chris Stapleton's song "Living," for example, a father of a patient tells his story, saying, "My daughter came in here with cancer, and she's going to walk out of here without it. I'm not doubting that at all."
"I hate to see kids hurting. And I think that resonates with anybody," said Terry Michael, a Big Horn Network manager and a key part of the annual radiothon. "They hear those vignettes. And they hear us talking about the staggering figures of survival, how rates have gone up. People say, 'You know what? I gotta help out. I've got to be a part of this.'"
Their most recent event raised more than $150,000, and Larry said that's impressive given that 95,000 people live in the stations' coverage area, which ranges from the oil and mining industries of Gillette to the farms and ranches near Cody and Buffalo.
"The bulk of the giving every year is the monthly partners. These are not big-ticket donors. And yet year after year, our little radiothon consistently raises about $100,000. And I've been so impressed that the people of Wyoming have been so generous," Susan said. "They're clearly being touched by the message and responding."
Indeed, every little bit helps. And it doesn't always come after heart-wrenching stories. Some of it arrives amid the straight-up, rollicking good time of the celebrity dinner.
Inside Cassie's, outrageously dressed local doctors, car dealers, restaurant owners and officials become celebrity waiters. Once, a doctor came dressed as a belly dancer, and a real estate agent came dressed as Lady Gaga.
About 150 diners buy strands of Mardi Gras beads to trade for everything from food and napkins, but also to encourage arm wrestling competitions or get a toughened cattle rancher to sing "Dancing Queen" by the disco group ABBA.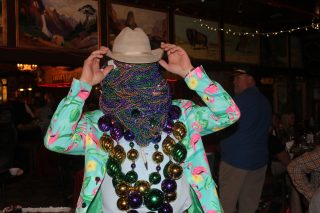 "This one guy, he came dressed as Popeye, complete with a pipe, and his wife came dressed as Olive Oyl," Larry said, recalling a dinner that can include a "crack an egg" contest between Miss Wyoming and a DJ, where each slammed an unknown mix of raw and hard-boiled eggs on heads until one cracked.
"People are laughing, it's hilarious," Larry said. "We raised $8,000. For a town of 10,000 people, that is huge for us."
Their efforts are spreading word of a critical mission — from the fact that no family ever receives a bill from St. Jude to how research discoveries made at St. Jude are changing care around the world.
For Larry, it circles back to his philosophy that has fit so well in Northern Wyoming.
"It really does take many small streams to make a great river," he said.