Proud Lebanese roots tie aptly named Pennsylvania cone maker to
St. Jude

July 06, 2021 • 5 min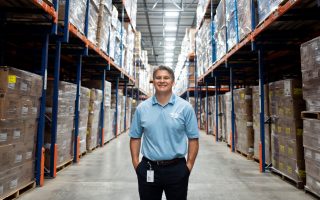 HERMITAGE, Pennsylvania — When you get down to it — when you really break the recipe down to its most basic ingredients — the two dreams are remarkably similar, each ensuring more kids go through life with smiles on their faces and joy in their hearts.
The similarities don't end there. Both are dreams born from Lebanese-Americans with scant formal educations. Two dreams infused with the purpose, passion and tenacity of the early-20th century immigrant.
One is a specialty children's research hospital in Memphis. An oasis of equality opened in a place and time of divisive segregation. Its focus on tackling the most devastating of pediatric diseases — most notably, leukemia.
The other is a global manufacturer of ice cream cones founded in Western Pennsylvania with a single, hand-operated oven. A company that would see its ups and downs, but would ultimately be known by the apt name of Joy.
This is the story of how a shared heritage — and a like-minded willingness to share in success — unites two seemingly disparate organizations more than 700 miles apart.
"Standing proudly with our heads held high"
There is a place on the campus of St. Jude Children's Research Hospital that is hallowed ground to patients, employees and supporters alike. It is equal parts heart and institutional memory. A living, breathing museum. It was in the ALSAC/Danny Thomas Pavilion that David George, president and CEO of Joy Cone Co., came to a true understanding of the connectivity heritage plays between his company and St. Jude.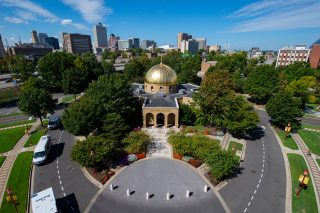 "We always had this connection with heritage, but then reading it and the timelines were so similar and it just hit me, really strengthened the connections for me with my family and the St. Jude story. It was very moving for me," David said.
We, at long, long, last, shall take our rightful place in this community of nationalities — standing proudly with our heads held high in the knowledge that we have earned the right to perpetuate the name of our heritage and maintain our reputation as unquestioned good American Citizens.
Emblazoned in the Pavilion's entrance, Danny Thomas' words laid the foundation for American Lebanese Syrian Associated Charities (ALSAC), its sole purpose to this day to build and maintain St. Jude Children's Research Hospital.
But more than that, those words gave Arab Americans across the country a cause to unite around, to be a part of and to take to heart as their own.
The Georges are part of that crusade of care. Three generations removed from his grandfather and that hand-operated oven, David held his head high that day in the Pavilion and breathed in the resolute air of legacy.
"I learned about St. Jude early on from my dad, he would always like to point out Lebanese people that have done well," David said. "As a kid he'd point out that Danny Thomas is Lebanese and he has created this wonderful St. Jude Children's Research Hospital and they're doing amazing things there. He would send me articles on things that he'd seen about Danny Thomas or what they're doing, so I always kind of kept tabs on it."
In 2018, to celebrate its centennial year, Joy Cone Co. spread some of its joy to St. Jude in the form of a $100,000 donation, and has made the same donation each year subsequently.
"We were thinking of how we wanted to celebrate it," David said. "Someone said let's celebrate by making a major donation to a well-known [charity]. Right away we settled on St. Jude, it was a natural fit. It's recognized by everybody, they do absolutely wonderful things."
As a company, the thousand-plus employees of Joy are united behind the lifesaving mission and global outreach of St. Jude. "One of the things I've absolutely loved is how our employees have contributed to St. Jude," David said. "They added over $50,000 each year to our $100,000, so the employees clearly felt the connection. A lot of employees really took it to heart."
As a third-generation Lebanese-American, David is personally drawn to a shared heritage and Danny's desire "just to do something purely for others. It's so wonderful and it's the perfect example, really, of how a human should live their life. They become successful and they give back."
One hundred and one years ago, our people began a migration to the blessed shores of these United States of America, seeking the freedoms and opportunities won for us by our founding fathers. – Preamble to the ALSAC Constitution
On the night of April 14, 1912, according to family lore, 22-year-old Shaniini Whabee Abi-Saab Jirjis boarded the last lifeboat off the RMS Titanic. One more reason to give thanks among a lifetime of reasons as two years later her son, Albert, would join her in America. And four years after that, one hand-operated oven was fired up as the original George & Thomas Cone Co., as it was known then, opened for business.
Woven into the George family legend is the grit and determination we hear in so many stories of early 20th century immigrant families. Danny Thomas — born Amos Muzyad Yaqoob Kairouz — was a struggling entertainer with a 10th grade education and newborn daughter when he wandered into a Detroit church and asked St. Jude Thaddeus to show him the way to success.
Albert George, founder of Joy Cone Co.

Joy Cone Co. first plant.

Johnny Appod pouring batter into cup machine during World War II.
More than luck, it took tenacity and fortitude for dreamers like Danny and Albert to get ahead at a time when many first-generation immigrants were looked down upon. Shaniini Jirjis went door to door in this country asking to clean homes for money. Her son, with only a fourth grade education, would open a grocery store and a bowling alley before landing on ice cream cones.
Success wasn't easy — the most coveted rewards never are — and the Georges would have to overcome the hurdles of fires, economic hardships and, at one low point, a solitary customer. Eventually, however, the foundation Albert laid would become a global operation with facilities in Pennsylvania, Iowa, Arizona and Mexico.
Danny Thomas famously said, "Success has nothing to do with what you gain in life or accomplish for yourself. It's what you do for others."
David takes his cue from that sentiment and, more intimately, from his dad and the example he set not just for success, but "a desire to share in success not just with your employees, but with your community. When you give to your community, your community is strengthened, it's a better place to live, a place people want to be."
In a sense, the 100th anniversary donation to St. Jude was not only Joy Cones' opportunity to support kids and families in need around the world, but also David's chance to honor his heritage.
Just as important as that heritage is the community Joy Cone has kindled. It's a family-owned company, though maybe not in the way we typically think of family. Through the efforts of David and his dad, it's an employee-owned business. Today, there are generations of family members without the last name George who have clocked in every day at Joy to make ice cream cones and cookies and to bring the world a little more, well, joy.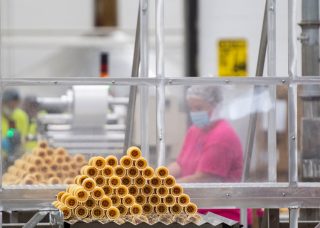 And it's this family feel that informs how and where the company gives back. "You look to the community you're in first, but then from a national perspective there's only a couple that we focus on and St. Jude was always one that we would contribute to," David said.
"I am standing beside you"
In the ALSAC/Danny Thomas Pavilion is a unique piece of artwork by international artist eL Seed. Fashioned from steel in calligraphic Arabic is a quote by Khalil Gibran, another son of Lebanon: I am alive like you, and I am standing beside you. Close your eyes and look around, you will see me in front of you.
As he stood in the Pavilion that day, David George was swaddled in heritage and legacy. Had he closed his eyes, he surely would have sensed the presence of his great-grandmother, his grandfather and his father standing there beside him and in front of him, leading the way. It's the way of success, but also the way of selflessness, and of caring for your community no matter the distance.