The improbable story of an Arizona baseball phenom saved at
St. Jude

July 06, 2021 • 4 min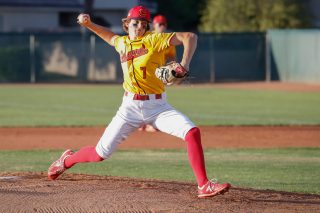 SCOTTSDALE, Arizona — They call him bulldog. Andrew is tough, tenacious and steely eyed every time he steps up onto the pitcher's mound, rolling his fingertips along the stitched seams of a baseball and plotting a diabolical spin to the slider he lets rip off his index finger at 78 miles per hour.
His breaking pitch is quick and unpredictable. Seven years ago, when he was 10, he learned life can be that way too.
It was the spring of 2014 and Andrew and his competitive baseball team had just won a state championship. He was usually a pitcher but also enjoyed catching. His mother, Holly, noticed the catcher's gear gave Andrew a rash and took him to a dermatologist for help.
While they were at the doctor's, she also pointed out the mole on Andrew's back, just below his left shoulder blade. It had nearly doubled in size over the last year and a half. She'd been tracking it through cell phone pictures.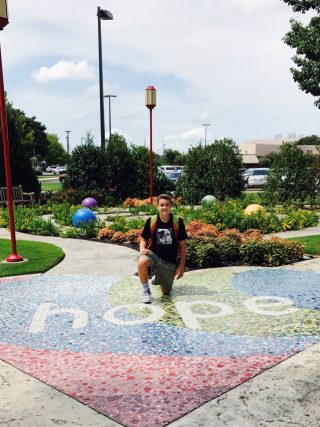 "Look," Holly told the doctor. "I barely notice Andrew growing, but this mole is definitely growing."
And lately, it'd even become tender. "When I put my hand on his back or something, he'd always say 'don't touch my spot,'" Holly said.
The doctor was initially unconcerned and told Holly it was likely an atypical spitz nevus, a benign mole sometimes seen in children, especially active ones who spend lots of time in the sun, like Andrew had. Still, Holly insisted that the dermatologist biopsy it just in case.
It took weeks for results to return, particularly because the labs' findings in Arizona were inconclusive, so Andrew's mole travelled all the way to California to receive a definitive diagnosis.
The news wasn't good. Spitzoid melanoma.
While childhood melanoma is rare, with fewer than 500 children diagnosed with it each year in the U.S., it is the most common skin cancer in pediatric patients. It is difficult to diagnose because it's so often dismissed as a benign mole, and often isn't caught until it has spread to the lymph nodes, or worse, other organs.
His family searched the internet desperately to understand more about the illness and the treatment options available for their son, but there was little information to help them. They spent weeks exploring local options but couldn't get definitive answers for the best path forward for Andrew.
It was a murky, uncertain time, and Andrew's father, Garren, was starting to feel frustrated. He reached out to the California pathologist who initially diagnosed Andrew's cancer to get leads on a good doctor. The pathologist recommended St. Jude Children's Research Hospital, which had just begun to develop novel techniques to find and treat these oft-undermined pediatric skin cancers. His parents didn't waste time acting on the lead. They made a flurry of calls, got the necessary approvals and referrals in place, and were on a flight to St. Jude less than a week later.
Call it the hubris of youth, but Andrew did not feel worried about his diagnosis or the treatment he'd face, even as he saw his mother teary and anxious. He was disappointed that the treatment he'd need in Memphis would force him to miss summer workouts with his team but had his eyes on the larger prize, helping his team secure the title for regional champs. He'd undergo whatever the doctors suggested in Memphis and Andrew was determined to be back in time to join his team for the playoffs in California.
But this was one of those times he learned the curveballs life can throw.
It would not be a quick two weeks in Memphis after all. The doctors at St. Jude found cancer in Andrew's lymph nodes, requiring additional surgeries. He'd have to stay six weeks, making it impossible for him to join his team for regionals. What's more, the surgery would remove the lymph nodes in his left armpit, leaving him sore and severely hampering mobility of his entire left arm. He pitched with his right hand, but hit left-handed. His family worried, Could baseball realistically remain a part of his life after cancer?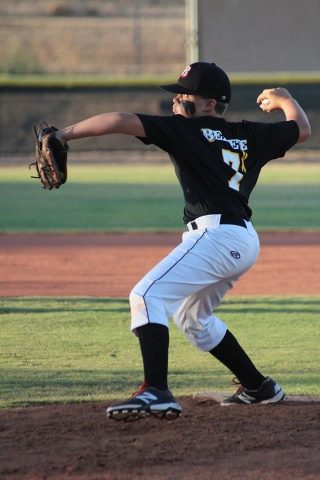 "Baseball means everything to me," Andrew said. "When I got out of surgery I couldn't really lift my left arm. The skin was really tight where the scar was, but I just kept doing my PT (physical therapy). I got to get through it. Not playing baseball was like not an option."
Back in Scottsdale, family, friends and Andrew's teammates radiated support from 1,400 miles away. They wore T-shirts with an image of Andrew's face and a bulldog on it. Andrew's grandparents would see complete strangers at the grocery store wearing that shirt, cheering their grandson on. "Bulldog's Battle," the shirt read. A private social media page was created with the same name. His teammates wore his number, "7," on their backs along with a yellow ribbon and the word "believe."
Andrew was determined not to let cancer steal any more than it already had. He pushed through the physical therapy exercises no matter the pain, and tracked his own progress carefully. He befriended other patients also in St. Jude housing. They played video games and did anything to avoid talking about cancer, because that's what their parents were busy doing. These kids needled each other about gaming prowess and favorite foods and hobbies.
Andrew had to watch video-streamed games of his team in the regional playoffs, and he went to Memphis Redbirds home games, too, even throwing out the first pitch at one game with an IV in his arm.
"When I would watch baseball it was like I was in my own world… I didn't even think about anything else. I forgot I was in Memphis," he said.
That focus continued even after he left Memphis and returned to Scottsdale, where his therapy continued. The next season, he was able to play with his team. He has played every spring since thanks to the quick diagnosis, surgery and therapy he received at St. Jude.
Three years ago, as a sophomore in high school, he was offered a chance to play baseball for the University of Arizona. He heads to Tucson this summer to begin training for the freshman season. He's ultimately hoping to play professionally for his favorite team, the Minnesota Twins.
He dreams big but relishes being in the moment, too.
These days, he's your typical 18-year-old: excited about starting college, socializing with friends, working out, and slaying video games.
Normalcy is bliss when you've conquered cancer.