After Losing Part of Her Leg to Cancer, 8-Year-Old Pedals for
St. Jude
As cyclists in Arizona gathered to support
St. Jude

Children's Research Hospital,

St. Jude

patient Bridget was riding right beside them.

March 16, 2020 • 3 min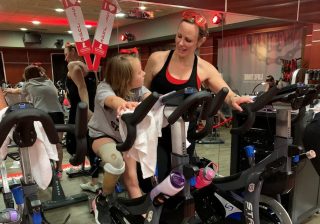 When cyclists at a Life Time® studio in Arizona climbed onto their stationary bikes for this year's Ride for a Reason, they didn't have to look far for inspiration. They found it in the little girl with a leg prosthesis who was furiously pedaling right along with them.
Eight-year-old Bridget, who lost part of her leg to bone cancer, participated with her mom Jamie in the annual indoor cycling fundraiser held at 120 Life Time locations across the nation. It benefits St. Jude Children's Research Hospital and the Life Time Foundation, which promotes healthy food in schools.
To the beat of the bass Jamie counted down three, two, one. The lights dropped down and the beat kicked in. "You've got this! We're doing it for these kids," Jamie told the room full of cyclists.
In the days leading up to the event, Bridget already was busy raising money, including about $20,000 through her Team Bridget and $14,000 personally. But her efforts to help other kids predate her own bout with cancer. Inspired by a friend who suffered a brain tumor, Bridget helped her mom Jamie, a cycling instructor with Life Time, and her club raise more than $20,000 during the 2017 Ride for a Reason.
"Bridget danced and held up a sign saying, 'I want to help all the children with cancer,'" Jamie recalled.
In February 2018, Bridget and her family learned she was one of those kids. After complaining of intense pain where she had been kicked in the shin during soccer practice, she was diagnosed with osteosarcoma in the right distal tibia, a bone in the lower part of the leg.
Bridget became a patient at St. Jude, where she received 10 weeks of chemotherapy and underwent surgeries that included amputation of her right leg below the knee. Thirty more weeks of treatment ensued, but she's been free of cancer now for 16 months.
"The day after her amputation, she announced, 'I can't wait to do Ride for a Reason,'" said Jamie.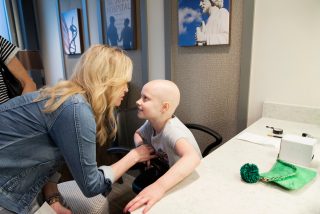 In November 2018, when her leg was still healing and her immunity remained low, Bridget donned a protective face mask and rode in a kickoff event for Ride for a Reason. But shortly before the actual event last March, she suffered a broken femur and was unable to participate.
Jamie describes Ride for a Reason as a fun, lively event. "A lot of our locations have DJs and music and food and just a great time," she said. "But really, in the end, Ride for a Reason is just that – a reason to help children with cancer, and their families, so that they can get better through the journey and not worry about the medical bills and the cost of living, and they can worry about their children."
Since 2016, the event has raised more than $4.2 million.
Bridget is something of a star at the studio where her mom has taught cycling for more than seven years. Cyclists festooned the mirrors of the studio with messages of encouragement and support for the young girl who used to come watch classes before she got sick.
Just a few years ago, Jamie knew almost nothing about St. Jude, other than it was an institution treating cancer-stricken children "somewhere in the middle of the country." Then, in 2017, after her initial fundraising through Ride for a Reason, she toured St. Jude with other Life Time representatives.
Jamie couldn't have predicted that seven months after that visit, "my daughter would be one of those children that would be diagnosed with cancer and would benefit from the amazing work that St. Jude does," she said.
With the cycling event, Jamie and her daughter were seizing the chance to help repay St. Jude.
"Whatever it takes, right Bridget?" Jamie said on a final push. Bridget pedaled a little faster as the the crowd erupted into applause and cheers.
Editor's note 11/23/20: Bridget remains active as ever, taking on basketball and horseback riding during her fourth grade year at school. She returns to St. Jude for regular checkups and her latest scans show no evidence of disease.