Vermont runner eyes 103 marathons, $100K for
St. Jude

July 06, 2021 • 4 min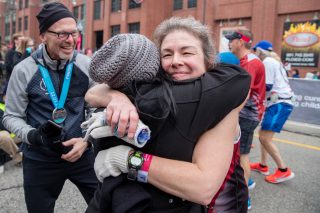 You just never know. I had no intention of running a marathon, until I did.
I had even less intention of running another, until I did. But when I ran my first marathon for St. Jude Children's Research Hospital, I very quickly had every intention of running another, and another and another, and then some more.
— Sue Kessler's Facebook post on January 11
WHITE RIVER JUNCTION, Vermont — Sue Kessler slays goals. Runs right past them.
She'd run a marathon in all 50 states by her 40th birthday and 50 more before she turned 50. She'd already run 80 marathons — that's like running from Chicago to Los Angeles — before signing up to raise money for St. Jude with each stride. That was in 2016.
She'll run her 103rd race in December at the 2021 St. Jude Memphis Marathon.
It explains why her Facebook feed is so full of pictures of numbers. Numbers of dollars she's raised for St. Jude...
They are handwritten on the notepads she receives in the mail as a thank you for donating to St. Jude. Doodles by pediatric cancer patients frame the lists of scratched-out dollar figures as Sue recalculates her ever-growing fundraising total.
"I think she's close to the $100,000 mark," said Sue's older sister, Ann Miller. "I don't know it off the top of my head. I'm sure she will, down to the penny."
Sure enough, Sue keeps a running tab, probably on a notepad from St. Jude.
"We are at exactly $91,434.92 raised for St. Jude since 2016. That makes us exactly $8,565.08 away. Yes!," Sue shared on her fundraising page for the Memphis marathon.
"I know we can make this happen. I know, because we have. Every dollar helps St. Jude develop lifesaving treatments for kids all over the world. This is one rock solid way each of us can literally make the world a better place. Thank you for being with me every step of the way. Here we go!"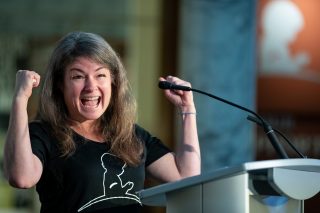 More than just a personal passion, Sue's fundraising for St. Jude has literally changed the trajectory of her professional career: In 2018, she uprooted her life, moving from her longtime home in Chicago to a small town in rural Vermont where the White River flows into the Connecticut River.
She relocated to the rolling hills of White River Junction to take a job with a regional nonprofit theater company. They'd been impressed by the more than $91,000 the career creative had raised since she first signed up as a St. Jude Hero in 2016 and pledged to raise money for the research hospital during fitness events.
"My history as a St. Jude Hero has been instrumental in the direction my life has taken professionally," Sue said. "Prior to that I had no professional experience in fundraising."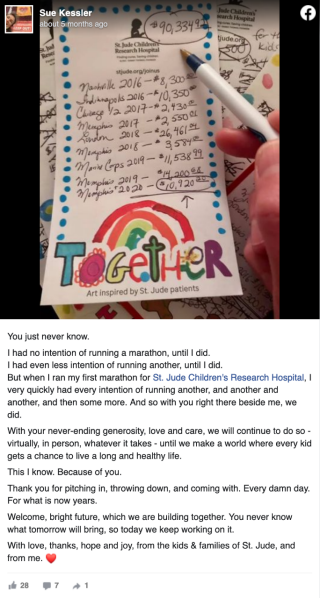 When she first ticked off that box committing to run for St. Jude, Sue was on her 81st marathon, part of a bid to run 100 before she turned 50. She had no immediate connection to St. Jude but was hoping for some good karma on her journey to 100.
"But what I found was the task of fundraising and connecting my own running efforts with this organization — I found it mindboggling how gratifying it was," she said. "I had run 80-something marathons and I'd never felt more proud of what I was able to do."
Sue didn't start running until she was in her mid-20s. She had a boyfriend who was a triathlete at the time. As she was driving him around to events, she realized she, too, could be an athlete.
One day, Sue went on a 4-mile run with him and never stopped. She has run at least a mile every day since. She's had to get creative, one time running around the stands of Wrigley Field during a Cubs game.
Her 4-mile run quickly turned into a half marathon and then a full. Goals were set, goals were trampled. She eventually worked up to eight marathons a year.
"The key to it was, I wasn't married. I didn't have kids. You're footloose and fancy free when you're not driving back and forth to ballet class," Sue said. "With running, you don't need a lot. You just need a road and shoes. I love that minimalism of it."
While Sue does not have children of her own, her strong sense of family is evident in the connection she shares with her parents, sister and two brothers.
Her marathon milestones often double as a family affair. When she received the St. Jude Hero Among Us award after completing her 100th marathon and raising $75,000, family came from several states.
While Sue's family members are among her biggest supporters, much of her fundraising network is made up of what Sue calls "loose connections."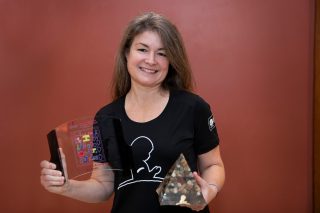 "You want that community that cares about what you are doing. The money will follow," she said. "You have to do something cool and have people pay attention to it."
Naturally, numbers tend to make an appearance in Sue's fundraising pitches.
"She challenges people — We're on day 18. Let's see if 18 people can donate $18," Ann said. "She raises money like $5 at a time. She doesn't have somebody's big trust that donates. It's her friends and acquaintances along the way. She says give what you can, and people do."
It's their way of not just joining a cause, but coming along on a journey — Sue's journey, to help save children's lives, the best way she can: one step at a time.