The heart of Cleburne: How the kindness of a little Texas boy lives on

July 06, 2021 • 10 min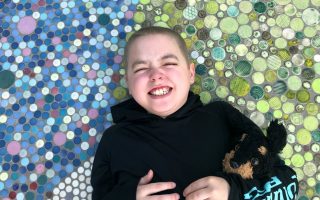 CLEBURNE, Texas — There's a kindness that winds its way through Cleburne, Texas, like a freshwater tributary. It weaves through the families and classrooms of this town of nearly 30,000.
The force of this kindness, let's call it Brody's kindness, is too powerful to be fettered or contained. It flew in an airplane to St. Jude Children's Research Hospital in April 2018 and traveled by mail to North Carolina last October.
And yet it's gentle too, Brody's kindness, because it whispers to Amy Thomas in the MRI machine at the hospital in Ft. Worth:
"Don't be scared."
If it sounds like magic, it is. Brody's kindness has transformed a terrible thing, the death of a 10-year-old boy from cancer, into a smile, a knock-knock joke, a laugh.
It lives on, even though Brody Nelson passed away in August 2019. The only rule: If you're lucky enough to receive Brody's kindness, you must one day pass it on.
Because a kindness like Brody's only lives if you share it.
'This little personality'
Amy Thomas first saw the kindness in 2014 when Brody became a student in her kindergarten class at Coleman Elementary School. He marched up to her on Meet the Teacher Day with his friend Cal. And Cal so quiet and shy, and Brody, the opposite, talking for both of them.
"He was always Cal's little voice," said Amy. "Cal was kind of quiet, kind of nervous, and Brody says, 'This is Cal. He's my best friend. And we're going to be together.'"
Just like that.
"This little personality."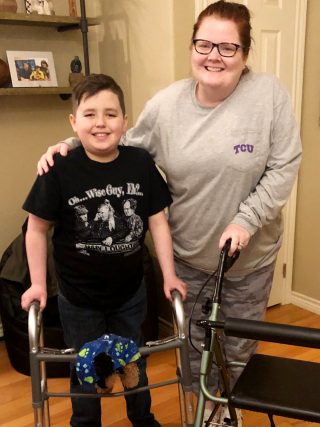 Brody's kindness might explain how Amy bonded so quickly with the kids and their parents that year and why she invited them over for hotdogs and a pool party. She was new in this town where most people had lived their entire lives, but in part through Brody's kindness, it stopped feeling that way.
"God knew just what he was doing when he put us in Cleburne," her husband would say, and she agreed.
When a kid in class had trouble with a project or needed a friend, "Brody would be the first one to walk over and help them, even without me saying a word."
Amy would go on to teach Brody's little cousins, one by one, year after year, until she felt close to the entire extended family.
And on that morning of Jan. 7, 2018, when Brody's parents tried but couldn't wake him, and the news soon spread throughout Cleburne that one of their own had a brain tumor — and not just anyone, Brody — she worried and wanted to help.
They all did.
Once the doctor determined they were dealing with a monster, an aggressive anaplastic ganglioglioma that grew despite surgery and proton radiation, he recommended no further treatment at all, just for Brody's parents to take him home and love him for the next six to eight weeks he might have left.
When his parents got a referral for Brody to go to St. Jude for the first of what would be three trial treatments that gave him a glimmer of a chance, Amy tried to repay Brody's kindness by making green shirts (his favorite color) that said "Fight Like Brody."
People in Cleburne still wear those shirts.
So the kindness moved from one to the other, from Brody to Amy Thomas and back.
Brody's father, Ty Nelson, who grew up in Amarillo, will never forget the way Brody's teachers and classmates, the baseball team, their church family, his daughter's friends, the fire department, the police officers, and on and on — filled the streets that day in April 2018. Many wearing the green shirts Amy had made. Holding signs and hollering their support for Brody in a parade the likes of which he'd never seen.
And Brody, his little boy, smiling, waving out the window to the people of Cleburne, soaking it all in, strengthened by their love.
Their friends had organized this parade as a sendoff to St. Jude for Brody.
Brody's mom, Courtney Nelson, had lived her whole life in "small-town country" Cleburne, where "you don't go to the gas station without seeing someone you know," so the largess of her town didn't surprise her.
In the past, Ty hadn't always felt like he belonged.
"I don't fit here. It's not my place, it's your place," Ty would say to Courtney of Cleburne.
And then Brody got sick, and everyone in town embraced them, and that thing he'd hated so much at times about Cleburne — never feeling truly alone — began to seem like the best thing about it. The thing that might sustain them through this.
After the noise of the parade had faded and their plane to St. Jude lifted from the tarmac, Ty turned to his wife and said four words she never imagined she'd hear from him in her lifetime:
"Cleburne is my home."
"Magical," Amy calls St. Jude.
She only visited once, but the impact reverberates in ways she never could have imagined.
The summer after Brody got sick, her husband needed to drive from Cleburne to Tennessee for work, and she convinced him to bring her along and swing through Memphis so she could visit with Brody and his family at St. Jude. It wasn't particularly close: two hours from his destination, adding four extra hours to an already long trip.
What kindergarten teacher goes so far for one child?
Brody showed her his favorite places, such as the Teen Art Gallery and a play area.
At the check-in desk, "Brody was so proud. He said, 'This is Mrs. Thomas, and she was my kindergarten teacher, and she came to see me at St. Jude because she wanted to see me.'" Just like what he'd done with Cal in kindergarten, only this time it was Amy being introduced.
Whatever she thought she knew about St. Jude from commercials, this was so much more.
"Everybody knew his name, even the ladies in the gift shop."
Brody held court, but so did all the kids at St. Jude, who seemed — How was it possible? — happy.
Brody walked her through a garden with a beautiful mosaic.
Later that day, when Amy's husband came and picked her up, "I remember I just cried, but not because I was sad but because I was, 'Man, what a happy place. What a happy place.' Just, it was remarkable."
'We're chunky and everyone else is skinny'
Sometimes, the sickest kids never lose their hair, and the steroids that help them tolerate treatment make them chubby.
"Are you sure you're sick?" people would ask Brody. "You don't look it."
But of course, he was. The first treatment at St. Jude had made him thin and weak and didn't slow the cancer.
But he'd been doing well and feeling strong again on a second trial of chemo and steroids. He was child number two enrolled in a pioneering St. Jude study.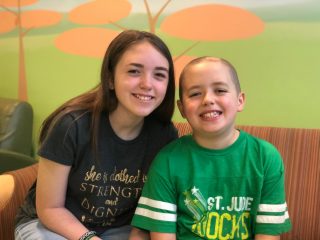 Because it was an oral chemo, he could take it from home, which meant precious time in Cleburne with his sister Emily and his cousins. He got to attend school, play baseball and cheer his favorite hockey team: the Dallas Stars.
Legos had helped him through the early days of treatment, so he organized a Lego drive for kids at his hometown hospital and St. Jude.
On one of his St. Jude checkup visits, he met Cami Green: patient number three on the same trial treatment as Brody.
They bonded over their shared admiration for his stuffed animal Shadow Puppy and, of course, cancer.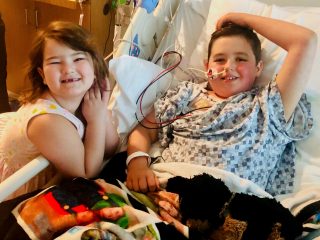 "Brody was that big brother friend who came along and said, 'You know, this is what we're going through, and we're chunky and everyone else is skinny, and we walk different…'" said Brody's mom, Courtney.
The two families had just met, but Cami's family cried right along with Brody's when they heard his MRI showed his tumor was shrinking.
It meant promise for both children.
And Cami, the little tornado, the 4-year-old force of nature, she would not be separated from Brody at St. Jude, nor he from her.
They packed a lifetime of friendship into their monthly St. Jude visits, which, miraculously — it felt like a miracle, at any rate — always synched up.
They took selfies doing "stank face," the silly, scrunched up face Brody made whenever anyone asked him about cancer.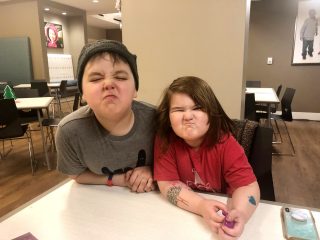 "I don't think either one of them ever let cancer make them sick, you know?" said Courtney.
Cami drew pictures for him. He drew pictures for her. She brought him a balloon. He painted her a rock. They played air hockey and waged thumb wars.
When Cami's family walks through the hallways of St. Jude, they can still hear the laughter.
'I don't want you to be scared'
In February 2019, Amy Thomas learned the backache she'd been tending to for the past three months with painkillers was actually stage IV breast cancer that had spread to her bones.
It was Brody, the 10-year-old, who sought out Amy in the backyard at his cousin's pool party. He had wisdom to impart.
He put his arm around her and said, "Mrs. Thomas can we walk over here for a minute?"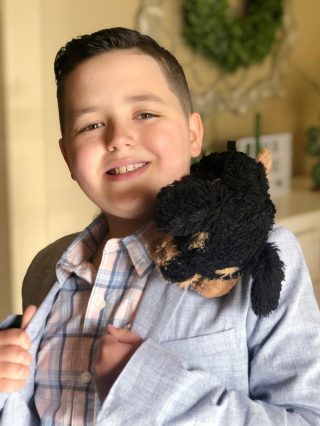 While the other kids swam and played, he led her to a quieter area near the fence and said, "Mrs. Thomas, my mom told me you had cancer."
"Yeah, Brody, I do."
"Well, I just want you to know that I don't want you to be scared," said Brody, "because sometimes the machines and stuff are really loud and make a lot of noise, but they're not going to hurt you, Mrs. Thomas. They don't hurt you."
She told him thank you.
He said: "Yeah, and then sometimes you have to lay very still, but it's not for very long, and then…"
Brody went on, imparting his knowledge.
Brody, the old soul. Brody, the one who always wanted to help.
"I'm thinking, 'What in the world? How is this child giving a grown woman…'
"And I was like, 'Thank you, Brody. Thank you.'"
Brody had surgery for a fracture in February 2019, and had to go off chemo for an extended period. In May, scans revealed the cancer had taken advantage of that time, grown back viciously and mutated so his current chemo wouldn't work anymore. By July, they knew a third trial chemo had failed to help.
When Brody's doctor asked him how he was feeling, Brody said "fine," but also added, "I'm ready to go home."
"I think he was saying a lot, you know, in that moment," said Courtney.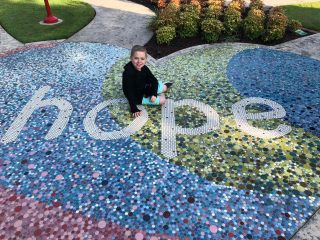 The town threw another parade to welcome Brody home.
One month later, on Aug. 28, 2019, he passed away.
Courtney substitute teaches at Coleman, where the kids know it's always OK to talk about Brody.
So they do.
A little boy shows her a picture he colored "Brody green" and she laughs. A fifth grader asks her if Brody was ever scared, and she cries.
"I can honestly say Brody was never afraid, and I think that was what St. Jude poured into him."
Not long ago, one of Brody's little cousins got in trouble at school and had to go to the principal's office. He saw Courtney and said, "Brody wouldn't be happy with me right now."
No, but Brody would have forgiven the little guy.
He was all about love and second chances.
In Cleburne, it's become a good guide for living: What would Brody do?
Right after Brody died, it was hard for Emily living with all those eyes on her, all those, "Oh, you're Brody's sister?" questions, but's she's OK with it now. She talks about her brother proudly, how good he was, and wears her relationship with him, "like a badge of honor," said Courtney.
Emily requested Legos for sick kids instead of flowers at Brody's funeral. She manages the Varsity baseball team because Brody would have loved the chance. And at 14, she's declared her intention to be a pediatric nurse at St. Jude.
'I just go back to that moment at
St. Jude

'
Amy wears a T-shirt her friends in Cleburne made for her that says "Choose Joy." It's been her mantra throughout all of this. You can't choose your situation, but you can choose your response to it, she believes.
It's a lesson she learned from Brody at St. Jude.
"On those days where I'm laying in my MRI machine, and it's making all that loud noise, and my back is hurting, and I'm laying still, and my mind's moving a million miles an hour, I just go back to that moment at St. Jude. …
"Some of them had better diagnoses than me, some of them did not. But they all had a smile on their face. And their parents might have been faking that smile, but I really do think because you make it such a happy place there that even though they might have been sad, they had some peace and some hope, and I think if they can have hope, this 45-year-old woman can have hope, too, you know?"
So Amy chooses joy, and tries to give hope back.
Last fall, when Amy approached Courtney with the modest idea of sending 18 cards from her kindergarten classroom to St. Jude kids, Courtney had a riff on that plan that felt, if not divinely inspired then Brody inspired:
Let's send all the cards to Cami.
"If you knew Cami, that was one thing that girl loved to do was to go down to the mail room and tell them her medical record number and her name," said Courtney. "I think she learned her medical record number just so she could get her packages."
Amy loved the idea. She spread the word to the other teachers, and the effort began to snowball.
Cami's dad, Steven Green, could barely pull the manila envelope from the mailbox, so he worked with it for a moment. The kids at Brody's school had sent something special for Cami, with love from Cleburne, Texas, and here it was.
He told Cami the gift came from Brody's cousins and schoolmates: hundreds of cards made just for her.
"I don't know why Cami said this, but when she opened it up, she looked at them all, and she said, 'Dad, I want you to pour them over me.'"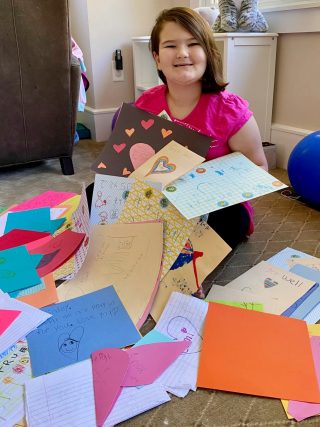 So that's what he did. He lifted the cards up and let them spill on top of his daughter's head.
The room filled with a confetti of kindness.
"I'm rich, I'm rich!" she said.
Rich with cards, rich with love.
The cards came from the students in Amy Thomas' kindergarten class, and all the other classes and grades at Coleman. Some had drawings of unicorns or rainbows. Some had knock-knock jokes, or "I'm writing to you because you were Brody's friend…"
It wasn't so much about Cami being sick, but about, How can we make Cami smile?
In other words, pure Brody.
Her parents wondered: "Would she mention Brody? Would she ask why there wasn't a card from him?"
They hadn't told her yet that he had died.
But she didn't ask, just soaked it in. Touched every card, traced the drawings. Looked at every single one. Carried the cards around in her backpack for weeks and brought some on her next checkup to St. Jude, where her scans indicated her cancer didn't seem to be growing.
She continues on treatment at St. Jude.
'We get to pass on Brody's love'
Amy Thomas, home sick with COVID-19, opened the front door and saw the newspaper Brody's aunt had left on her porch.
She picked it up and turned to the page where Cami's parents had purchased a full-page ad.
"I looked at Cami's precious little picture and the huge thank you for our students and thought, 'Oh my goodness. Thank you, Lord, for the perfect timing.' … Even through the worry of cancer and COVID, I see the blessings."
And she sees Brody everywhere.
"That little boy will live on in Cleburne and probably lots of other places. Because of what he gave us here in town and how he and his parents rallied around for other kids, we get to pass on Brody's love and Brody's joy and Brody's heart."
Brody's kindness comes back to her again and again, as it does for so many.
Helping people at just the right moment. It was here with her now.