Young teacher brings lessons learned as
St. Jude

patient into West Virginia classroom

July 06, 2021 • 7 min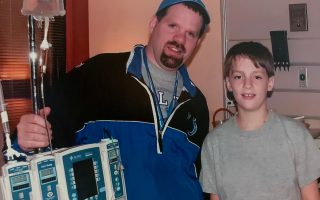 PRINCETON, West Virginia — Zach Meadows stood at the head of the class — all 6-foot-6 of him.
It was his first day as the newest fifth-grade teacher at Lashmeet Matoaka Elementary School. He knew the assignment would be tough.
In his gray polo shirt and khaki pants, Zach clicked through the slides on his PowerPoint presentation — an introduction of himself — for the 10- and 11-year-olds who sat with masks on and in desks six feet apart. That's what happens at the start of a school year during a pandemic.
They were quiet, maybe a little afraid of his size. They could only see his eyes because of his own mask.
Zach grew up in Mercer County, right up the road, he told them. He always loved sports. And at just about their age, he was a patient at St. Jude Children's Research Hospital. They understood that's where really sick kids go to get well.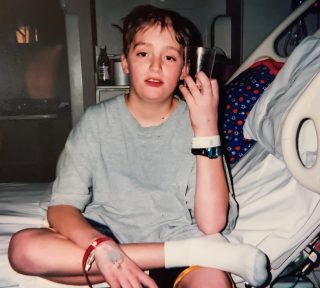 He had a brain tumor, he explained. A craniopharyngioma.
"I told them not to try to spell it."
They had all sorts of questions. What was it? How did doctors treat it? That is, until they found out Zach also has a bee allergy and that they should holler if one was ever buzzing around the classroom.
Zach shared just enough of his St. Jude story so his students understood what he'd been through.
What he didn't say was that his approach to teaching is rooted in his stay at St. Jude.
"St. Jude opened my eyes as far as learning to care for everybody no matter the background," he said. "I want them to feel loved, but I also want them to feel inspired, that they can make it."
When Zach was just 7 years old his parents, Tucker and Salina Meadows, weren't certain he would make it. They had no idea he'd live to celebrate his 26th birthday, get married and make his teaching debut.
"He's one of the success stories," Salina said.
But that wasn't always assured.
A headache that wouldn't go away
It was October 2002, a Saturday, Salina remembered. Right in the middle of football season. Zach walked out to the deck of his Princeton home and yelled to his daddy that he had a headache.
"I said, 'Son, I'll get you something here in a little bit,' " Tucker Meadows remembered. "It's one of them things you don't think nothing serious. And then he came back out probably 20 minutes later holding his head.
"He said: 'Daddy, you gotta get me something. My head's really hurting.'"
Aspirin seemed to ease his pain a bit, but the headache was still there that night, and something didn't seem quite right to Salina. She's chief X-ray tech at their local hospital. So they took him to the emergency room.
That first emergency room trip would mark the beginning of five years of hospital visits, surgeries and aching uncertainty over a relentless diagnosis with that hard-to-spell name. It would eventually land them at the doorstep of St. Jude, 600 miles from home.
But that night, doctors thought Zach might have an ear infection.
The next morning the family didn't go to church because Zach's head still hurt. And when the Indianapolis Colts game came on TV — they always watch the Colts — Zach couldn't focus on the game. He couldn't bring his chin to his chest, either.
They headed back to the emergency room. And this time Salina insisted on a CT scan.
"He didn't have a fever," she said. "There wasn't any other symptoms. And honestly, I told my sister he had a brain tumor before I ever brought him in. I guess you can call that mother's intuition. Don't know how I knew that, but I really did."
In the emergency room doctors thought it might be a pulled muscle in Zach's neck. He'd been playing football with his brothers the past couple nights.
But the scans left no doubt. His mother had been right. Zach was too young to understand what the doctors were saying, but his parents did.
He had a non-cancerous tumor in the middle of his brain — behind his nose, between his ears – that forms near the pituitary gland. That's the kidney bean-sized gland that controls everything from metabolism and growth to reproduction and blood pressure.
Salina doesn't remember what the doctors said about the tumor's size. She just remembers what it looked like on the scan: a backwards 7.
Zach's dad still gets choked up when he thinks about the diagnosis. The family got a referral to a university hospital across the Virginia state line.
They got there at two in the morning.
Brain surgeries and a tumor that kept coming back
Zach had his first brain surgery in October 2002 in Virginia to remove the tumor. It was a relief.
But then he started having stomach pain, and Salina asked for the CT scan to be safe. She just had a feeling something was wrong. She was right again.
The tumor was back.
Zach had his second brain surgery to remove more tumor in October 2003.
"There were times when Zach would look at me when we were going through things, and he would say: 'Mom, am I gonna die?' And you just say: I can't tell you, but if you do, God will take care of you," Salina said. "And there were times he would tell me, 'Mom, I can't go through this surgery ever again.' And I believed him."
Zach cried sometimes, too, though more often from fear than pain.
He was on 10 pills a day that replaced the hormones lost from the removal of part of his pituitary gland. He had missing hair from brain surgeries. He had to wear a hat to school.
Zach looked at his mom one day and asked: "Am I ever going to be normal?"
Normal would have been simple for him: A full head of hair and school every day.
But the tumor reemerged again, and this time Zach hadn't made it a year.
In August 2004, he had Gamma Knife radiation therapy. It wasn't open brain surgery. Instead, doctors put Zach's head in a helmet-like device that focuses narrow beams of gamma radiation into the brain to target the tumor.
That treatment seemed to work.
Zach was clear for another 18 months, but in November 2006, the tumor came back a fourth time.
It never seemed to end.
Tucker and Salina waited until after Christmas to tell him.
"You learn to take life one day at a time," Tucker said. "Whenever it would come back, you know, hey, we work today to get to tomorrow. Then we'll work tomorrow to get to the next day. And then see what we gotta do to help beat this thing."
As a mom, Salina knew Zach couldn't have another brain surgery. She needed a different option.
"Zach had a craniotomy the first time," she said. "That's where they cut the top of the head. The second time he had a posterior fossa approach, which was in the back. So they'd already cut the back and went in that way. Then the third time you're doing Gamma Knife. So you've already treated with radiation.
"Zach already had deficits because they had removed part of the pituitary. So you gotta look at all of the situations."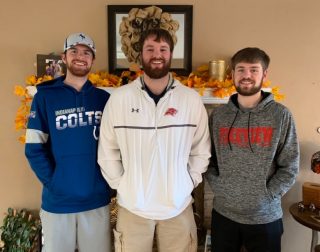 St. Jude

: A different approach and a sign of hope
Salina's sister-in-law had heard about a family whose child had the same type of brain tumor Zach did and was treated at St. Jude. Salina wanted that for Zach.
She was at work when she got the call that St. Jude would treat her son.
"I fell to my knees," she said. "I lost it."
The Meadows family left all that was familiar in Mercer County — where friends mark the seasons with side-by-side ATV runs up the Hatfield and McCoy trails, Mountaineer football, Friday night high school basketball rivalries, and lazy summer Saturdays on deck boats at the lake.
They arrived at St. Jude in January 2007 and stayed until March.
Zach received 30 treatments using intensity-modulated radiation therapy.
He was 11 years old.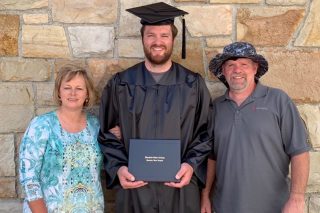 Zach was so far from home and the small town where everyone knew him. But it didn't take long for him to feel at home at St. Jude, too.
"I would say I felt more than cared for," he said. "I felt loved."
Everything looked great so the family traveled back home to the mountains of West Virginia.
But in no time the tumor started swelling again.
St. Jude arranged for Zach to come back to Memphis to have a new procedure done at Le Bonheur Children's Hospital. Doctors put in an Ommaya reservoir — a quarter-sized, soft plastic dome-shaped device that is implanted under the scalp. It allows doctors to drain fluid.
Doctors drew out 10 milliliters of fluid then and another 10 to 12 milliliters a week later, Salina said. And nothing since.
It has been 15 years.
Zach's tumor is a flat piece of tissue now. He has scans every year to make sure it stays that way.
"Hopefully, it's just dead." Salina said. "And so far, it has been."
After that final treatment Zach went back to school, played more baseball and basketball.
"The first time I stepped up to the plate to hit, Dad was callin' the plate," Zach remembered. "And I'll never forget it just because him and mom had tears in their eyes, rollin'. But the first pitch that came in there, I smacked it for a double."
The first year he felt normal was sixth grade, he said. It was the first time he made it through a whole school year without missing days because of his tumor.
Zach still takes a lot of medicine every day, but he has no lingering cognitive effects.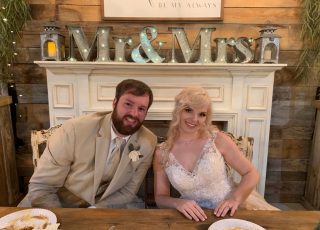 In his fifth-grade classroom this year, Zach taught his students how to add and subtract fractions. They learned adverbs — gently, gladly, generously. They read stories like "Monsters in the Deep" about a giant squid. They worked on spelling and handwriting. They learned to write a complete sentence.
"Zach's the kind of kid, I knew he'd make a great school teacher," his dad Tucker said. "We live in a smaller area, and a lot of kids ain't got the same opportunity as other kids. But Zach, he'll reach out to every kid.
"I think where Zach went to St. Jude, every day at St. Jude — they don't try, they do — they make a kid feel special and make that kid really feel like he's worth a million dollars. And I think that experience Zach had at St. Jude has carried off in his school teaching. He wants to make sure no kid is left behind. He wants to make sure every kid gets the attention they deserve."
Zach wasn't a big hug giver this year, but he often squatted down at the kids' desks and tried to talk to them on their level. About three-quarters of the way through the academic year they joked around but respected him enough to not try anything silly, he said.
Beyond the math and reading, science and social studies, Zach taught them to be better today than they were yesterday.
"It's something I like to remind them of every day," he said. "Everybody has their own battles, but how you respond is whether it'll make you successful or not."
"The main thing," he told them, "is never give up."