Florida teen:
St. Jude

saved my little brother. This is how I say thank you.

July 06, 2021 • 6 min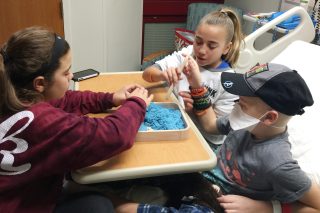 Bianca's little brother Beckett was diagnosed with leukemia and treated at St. Jude when he was 9. The experience inspired her to raise money for the organization that saved his life. It was her thank you. Now 19 and a student at University of Florida, this is her story.
PALM BEACH GARDENS, Florida — It was the summer before my eighth grade year when my brother Beckett got sick. My sister and I had just gotten home from sleepaway camp in the mountains in Roaring Gap, North Carolina — Camp Cheerio, like the cereal. We were back in Florida hanging out at a friend's house along the Intracoastal. We had been jumping off the dock in their backyard and had gone snorkeling. It was a fun day. But I knew something was wrong the minute my mom came to pick us up. She looked like she'd been crying.
I clearly remember I was in my bathing suit and shorts, standing in the Florida heat outside the car, and she told us my brother was very sick and had a disease called leukemia.
We drove to the hospital where Beckett was. I was so scared. His face was washed out, but he was in a good mood. The doctors told him he had leukemia, but my brother didn't know that was cancer because they didn't say the Big C word. Beckett was only 9. I was 13.
But my sister and I knew exactly what leukemia meant. We were looking at each other and looking at him and tearing up because we had no idea what would happen to him.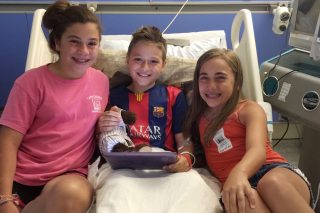 My whole family is athletic. And all three of us kids did triathlons. We started when we were like 6 years old. We traveled across the state — to Sebring, Orlando, Naples — to compete. We swam in lakes and pools and ran in the humid weather past palm trees. My brother was really into his travel soccer team. He played basketball. All the things a young, athletic kid his age liked to do.
I knew, even though I was still young, that all of that was over, at least for a while. He was going to miss out on so much — even if he lived.
When I went into eighth grade my mom and my brother moved to Memphis. My dad worked long hours as a chiropractor so I kind of became my younger sister's stand-in mom for that year. I cooked. I did the chores around the house. I played soccer, and my sister was in competitive cheer so I had to find us rides. I had to take on a lot of new responsibilities at a very young age. I also missed early-morning runs with my mom when we talked about how I did on a school test or how much fun I had with my friends tubing in the ocean. She couldn't go to my soccer games anymore either.
There was so much we missed as a family. We couldn't go to the amusement park together or out on the boat with family friends. We missed our Sunday night pizza dinners or eating out at a restaurant on the Intracoastal with a view of the famous Jupiter lighthouse.
On top of all that, I slowly watched my brother deteriorate. My mom would send us pictures, and we would video chat at night. Beckett would be like: "Hi guys. I love you. I miss you." And he just did not look good. I saw him lose weight. I saw him go bald. I saw him in a wheelchair. It was really hard to watch.
My mom and I weren't talking about grades or what my friends and I were doing anymore. We were talking about my brother's health.
Around Christmas time that year, we packed our winter coats and went to Memphis to visit. It was really cold — not what I am used to. We went as a family to Beale Street to watch the street performers and to Graceland. But it was probably the worst time of my brother's illness. I remember I was sleeping in bed — me, my sister and my brother — and my brother started having a seizure. And I didn't know what to do. So I quickly got my mom, and my brother was rushed to St. Jude. I was terrified. I was like is he going to make it? What are the chances? And my mom told me to say a prayer and to have faith he would come through this. I broke down into tears. There was so much uncertainty.
Eventually, Beckett got better, but he still had to go to St. Jude every month.
For three years, July 2015 to February 2018 — from ages 9 and 12 — my brother was back and forth from the hospital, getting chemo treatments, getting medications. It was great to have them back home, but there was always anxiety surrounding those visits. We always just hoped nothing bad would happen. He had already lost so much.
When Beckett was officially cancer free, I remember my mom and him coming home to Palm Beach International Airport. Friends and family held signs as they walked up towards the end of the terminal. You could see my brother smile as he walked by. He had a little poster of his own that said: "I'm cancer free. No more chemotherapy treatment." It was so amazing. Everyone was clapping for him. And I just started crying.
At that moment, I decided I wanted to do something to help other families going through this same thing. We are so beyond thankful for St. Jude. Without them, I don't think my brother would be here today. At St. Jude, no family ever gets a bill for treatment, travel or housing. Everything is run on donations, and when I discovered that, I knew I needed to raise money on my own. That's when I decided to organize my 5K events. I had one in 2018 and one in 2019, my junior and senior years of high school.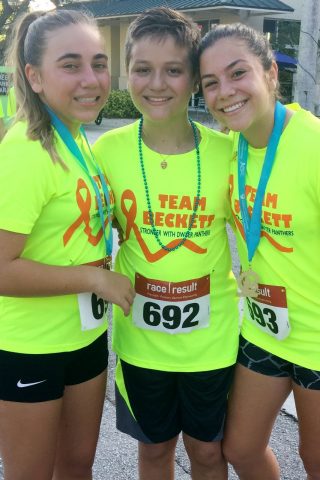 My mom and I organized the 5k together. I knew a local park where I could host it. I did research on how to build a website and worked with a friend to create one. And I walked into corporations at the age of 15, asking if they'd be sponsors. My mom would drive me to these places because I didn't have my license. She made me do all the talking: "Ask if they want to be a sponsor," she told me.
I had a whole packet I made with information about the race and my brother's story, what our family went through and different sponsorship levels the company could pick. And I remember them looking at me like, really? A 15-year-old? How do we trust you with our money? But I did it.
I organized a separate bank account to deposit the money in that I got for the race. People could register on my website or donate if they couldn't participate. I created fliers online. I created T-shirts. I walked into a trophy company and got those designed, too.
The first year I had over 250 runners. I didn't know I was capable of getting so many people together. And a lot of people donated who couldn't be at the race. The next day I went to count all the money, and I remember thinking there's no way this is possible: It was just over $25,000.
Even though it was a great little workout, a great race with awards at the end, there definitely was a bigger purpose than just trying to win the race. The purpose was to give back to this amazing place that saved my brother's life and helped my family get through so much and come out stronger in the end.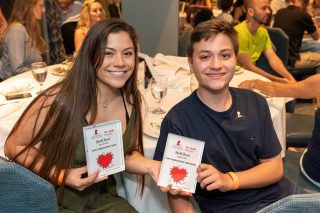 I took a four-month breather and then started organizing a second race. The second year I raised $31,000.
It was such a great moment seeing my brother standing there at the finish line, healthy and happy. He knew I was doing this because I was so incredibly grateful for what this hospital has done for him.
When Beckett was diagnosed with cancer it was hard to see him deteriorate from his fun, goofy personality to someone who was just sick and weak. He was so skinny for a while, so tiny. I was like wow, where is my brother? This isn't who I used to know.
And as he slowly recovered I watched him gain color in his face, gain weight, grow his hair back.
Seeing St. Jude save someone like that is incredible, and I want to help as much as I can.