Despite diminishing vision, longtime volunteer continues to write for
St. Jude
St. Jude volunteer Alice Robinson does all she can to support St. Jude, even now that she's lost her vision.
At least once a month, Alice Robinson goes to the Hallmark store in Colorado Springs and stocks up on cards. Dozens of them. Birthday, anniversary, thinking of you — destined to be filled with handwritten notes of support.
And in many of them, she'll include a mention of a cause that's dear to her heart: St. Jude Children's Research Hospital.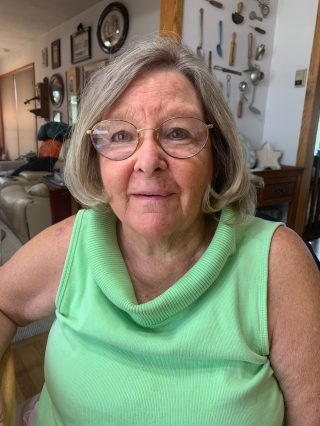 What makes her effort all the more remarkable is Alice was diagnosed with macular degeneration in 2014, and lost sight in her right eye a year later. Two years ago, she lost almost all the sight in her remaining eye.
"She handwrites every single one of those cards," said longtime friend and Epsilon Sigma Alpha sorority sister Dana Bell. "With her vision as it is right now, I know that takes a tremendous amount of time."
Since Alice lost her sight, Dana, a member of Zeta Tau #2064, has come over once a week to help Alice take care of chapter business, most of which revolves around raising money for St. Jude.
Alice became a member of ESA International 45 years ago, working among the volunteers who have helped raise more than $250 million in cash and pledges for St. Jude since founder Danny Thomas came to the collegiate and service organization's national convention in 1972 and asked for the children's research hospital to be their major philanthropic project.
"It is my belief, and I tell people all the time, St. Jude will find a cure for cancer," Alice said.
From bike rides to radiothons, St. Jude Walk/Runs to Dream Homes, Alice has been a constant force for St. Jude over the decades. For years, she served as chair or co-chair for the St. Jude Dream Home, now in its 8th year in Colorado Springs and its 11th year in Denver. When Alice decided it would be best to support the effort through fundraising, organizers had to split her role among three different people.
"She wears St. Jude aprons. She wears the pins. She carries the bags," Dana said. "She is a walking advertisement for St. Jude, which is just wonderful."
Since retiring last January, ESA and St. Jude are what has kept Alice going.
"Especially since I'm not working anymore, it is the highlight of my life working for St. Jude," she said.
In September, Alice set a goal of raising $1,972 for the St. Jude Walk/Run, signifying the year Danny Thomas asked ESA to support St. Jude.
"I sent out letters to everyone on my email list and raised $1,700," Alice said. "I do anything I can to help St. Jude because they have the Dream Home, but they don't have a lot of the fundraisers they rely on because of COVID."
This month, Alice plans to attend the groundbreaking for another St. Jude Dream Home. In the meantime, you can find her filling envelopes with handwritten notes and lots of support for the cause that is so close to her heart.