St. Jude

patient talks cures and quarterbacks on Fantasy Football Today

'Jake from St. Jude' discusses his favorite sport and one of his favorite places — St. Jude Children's Research Hospital — during the livestream show.
They introduced him as "Jake from St. Jude," this affable young man who appeared on CBS Sports HQ's Fantasy Football Today show to offer commentary on two of his greatest passions.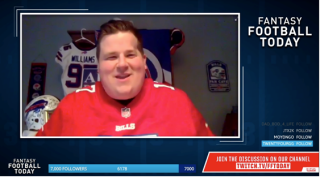 One of Jake Marshall's obsessions is pro football, and more specifically, his beloved Buffalo Bills. He even wore a Bills jersey emblazoned with the No. 17 of quarterback Josh Allen.
His other passion is St. Jude Children's Research Hospital.
Now 23, Jake was just a toddler when doctors discovered he had a type of brain tumor called an ependymoma. Initially given little chance of survival by his hometown doctors, Jake was referred to St. Jude, where he underwent six-and-a-half-weeks of radiation therapy, followed by years of close monitoring.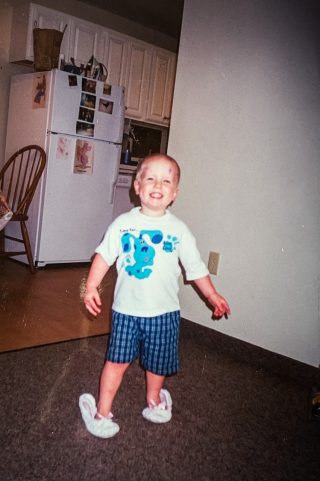 No signs of that long-ago ailment were apparent on the broadcast as Jake spent nearly 25 minutes discussing an upcoming game between the Bills and the Kansas City Chiefs, as well as the minutiae of fantasy football, in which participants draft and manage imaginary teams that compete based on players' on-field stats.
For Jake, who graduated from college with a degree in broadcasting last spring, the appearance on the livestreamed show was his third on CBS, a partner of ALSAC, the fundraising and awareness organization for St. Jude. After introducing Jake, show host Adam Aizer encouraged viewers to donate to the "incredible organization" that is St. Jude.
For his part, Jake had plenty to say on a range of topics.
About the Bills' most recent game, a lopsided loss to the Tennessee Titans that dropped them from the ranks of the unbeaten, he said, "As long as it's limited to just that one game, we'll be alright."
Asked which quarterback fantasy league players should favor, Lamar Jackson of the Baltimore Ravens or the Bills' Allen, he acknowledged a bias. "I'm wearing his jersey, so I think I've gotta go with Josh."
But Jake reserved some of his most ardent commentary for his appeals for support for St. Jude. It's the place, he said, where he "grew up my whole life" as a patient. The place he came to love.
"I say it's kinda like my Disney World, just because whenever I go there I'm just a happier person."