We're grateful for: Cade Watson's family, for uniting southwestern Virginia to support
St. Jude

Children's Research Hospital
A person could drive through Damascus, Virginia, in five minutes, but to know its heart, they'd do well to spend two hours on the Saturday before Valentine's Day at the St. Jude Sweetheart Banquet.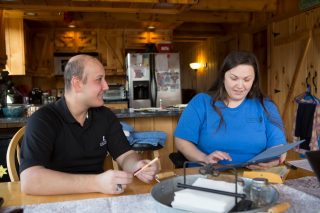 The annual event, held by Cade Watson's family, benefits St. Jude Children's Research Hospital, which saved Cade's life when he had brain cancer.
Guests feast on herb-roasted chicken, roast beef and sides, and they tap their feet to the gospel band.
"Cade is here today because of you," Cade's dad, Jim Watson, tells them.
"It makes me emotional to talk about St. Jude," said event volunteer Roy Rethford. "I love everything they do." His wife passed away a few years ago, and she used to send in the mailers to St. Jude. He's carrying on her legacy because he misses her. It's a way to heal his heart.
The Sweetheart Banquet is one of several fundraisers Team Cade puts on throughout the year to support St. Jude. They hold golf tournaments in summer, sell pumpkin rolls in October, throw bluegrass barbeque events in spring, something nearly every weekend, uniting this part of the Appalachians in support of St. Jude.
Team Cade has raised more than $500,000.
"St. Jude is like our second full-time job," jokes Cade's mom, Jolene.
"This is our God-driven mission," says Jim.