Going bald for a cause: Chicago firm's home-haircut fundraiser generates joy, $63,000 for
St. Jude
Live-stream head shaving unites employees, families of global consultancy Huron to raise $63,000 for St. Jude
Somewhere in the digital time capsule of quarantine belongs the recording of a virtual event in mid-April for employees of Huron, a global consultancy firm based in Chicago.
Because along with the public display of home-barbering by families of Huron managing directors, the livestream captured the power of joy and generosity to sustain connection and community during the pandemic.
On that Friday, 20 Huron managing directors fulfilled the promise of a head-shaving via video to benefit St. Jude Children's Research Hospital – and more than 800 employees witnessed via video conference. At the center of it all was Alexandre Seran and five months of growth gradually sheared away, his wife, Aurelie, and 7-year-old twins wielding clippers and scissors.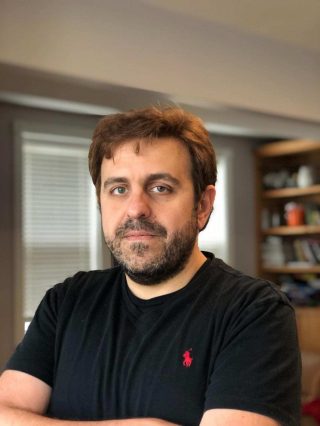 It had all started one week before the event on – what else? – another video conference call.
"There was discussion of how my hair was getting out of control," says Seran, who was raised in Lebanon and educated in France. "I told them I might end up having to shave my head, and people on the team said they would love to see me do it.
"Then a colleague said to me, 'You should do two things – shave your head and raise funds for doing it.'"
When another Huron partner offered to contribute $2,500 and join Seran, the challenge began to spread – virtually – across the company. Huron's "Helping Hands" corporate social responsibility team connected with St. Jude, and a Facebook page began to attract outside interest.
One friend wrote on their Facebook fundraiser page: "Thanks for the opportunity to see you bald! Awesome cause and happy to be included."
Another chimed in: "It's worth it for the front-row seats."
Front row via video call, of course.
Within 72 hours more than $20,000 had been raised – enough to shave heads of eight Huron managing directors.
"They kept upping the ante," says Diane Doherty, senior director of Huron's employee and community experience. "It was grassroots. We saw folks get engaged and get competitive."
To entice his friend and colleague Bill Toebbe, Seran said, "Your blue eyes will look much prettier without all that hair."
It was Toebbe who, just before the shutdown, accompanied Seran to Memphis for a visit to St. Jude. Toebbe was much more familiar than Seran with the St. Jude mission, recounting how, when growing up, a close relative had been a patient at St. Jude.
As Seran explains, the visit provided a close-up view to convert him into an ardent St. Jude supporter.
"Sometimes you see these donation requests and wonder why do they keep asking for money?" Seran says. "I learned that actually St. Jude is a truly free care organization, and that St. Jude relies on donations and contributions to continue. And learning about how advanced the research and the care is, I felt obligated to become part of it."
That St. Jude was founded by the late entertainer Danny Thomas, the son of Lebanese immigrants, only added to his affinity for the cause.
So when the head-shave event took off, Seran felt motivated to help St. Jude, where the pandemic has created additional costs related to protecting vulnerable immuno-compromised children.
The positive fundraising energy also helped Seran deal with the additional anxiety caused by separation from loved ones overseas. His parents, in their 80s, remain in Lebanon, and his sister and brother-in-law are doctors in Italy, where both have been working arduous shifts in intensive care units.
Seran says his brother-in-law, Abed, came down with COVID-19 and spent nearly a month in intensive care – before recovering and going back to treating patients.
"This was the hardest part personally, because on a daily basis I'm trying to check on my sister," Seran says. "By the time she gets home, it's 11 p.m. for her and it's very hard emotionally."
Seran appreciated the tonic of action provided by the impromptu fundraising event. As momentum built, the Huron CFO, John Kelly, offered to sacrifice his hair if pledges exceeded $50,000.
As Doherty says, "The financial and accounting team was going to make sure we hit that $50,000."
By the day of the event, it had been exceeded.
Doherty moderated the livestream event and could barely keep up with the giddy chat stream – more than 800 Huron employees had joined to watch. Many commented on the personalities of the kids, transformed from extras making cameo appearances in virtual business meetings to stars of the head-shave show.
"To be able to get the families involved and engaged, especially as we are working in this remote environment right now, really was super special for us," Doherty says.
For Seran, the event led to a moment he and his wife will carve into their own personal quarantine time capsule.
His son Raphael told him he "looked weird" and asked why he'd done it, so Seran explained to him and his brother, Gabriel, how fundraising worked.
"So we can help vulnerable kids around the world be safe and treated when they are sick," Seran told them.
The next day, Seran says, the kids brought him their banks and said, "Can you give this to the sick kids?"
As Seran says, "That meant a lot, to have them say, 'Can we give that money to these kids who need treatment?' That will always resonate."