Stitch by stitch, teens demonstrate leadership to benefit
St. Jude
Members of the St. Jude Leadership Society can't meet in person now, but by making masks for their communities, with help from JOANN Fabrics, they're becoming leaders anyway.
Keeley Boudreau returns an item to the shelf of the Target where she works near her home in Champlin, Minnesota, and sees a stranger wearing one of her masks.
She doesn't say anything to the woman, but "it's a cool feeling," said Keeley.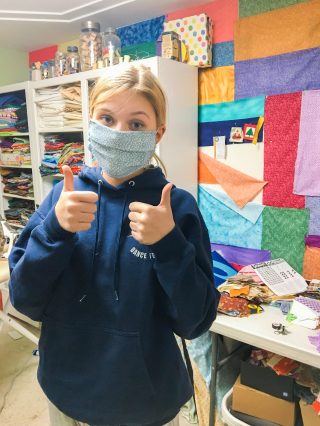 She makes the masks as a service project for the St. Jude Leadership Society (SJLS), a nationwide group of high school students who learn to become leaders while supporting St. Jude.
Last November, the 16-year-old saw an ad for the SJLS pop up as a sponsored Facebook post, and clicked without knowing why exactly. Certainly she wants to be a strong candidate when she applies next year to her college of choice, the University of Wisconsin at Madison.
But there's more to it than that.
Seeing the St. Jude logo on her social feed made her think of cancer and her grandfather. He passed away two years ago, and she saw the financial strain of his long illness.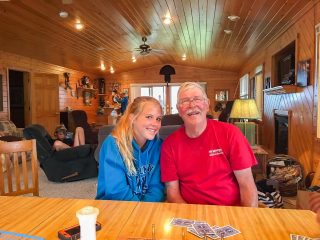 "I really love the rule St. Jude has about not paying," said Keeley. "It makes you want to raise money for them so they can continue to provide care with no charge to the families."
She joined the group and created a St. Jude fundraising page, and her mom helped her solicit donations.
"My mom is big on Facebook posting," said Keeley.
But funds were only trickling in until the pandemic happened, and she thought of the masks as a way to raise money for St. Jude.
"My grandma taught me to sew, and it's something I like to do," said Keeley.
She posted on Champlin community pages with her price set at $5 per mask.
"Some people donate just the money for the masks, and some people donate extra," said Keeley. "I've raised $10,000 for St. Jude as of yesterday. I literally raised the money in a month." [Her total is now more than $11,500.]
Anne Marie Brumley, Louisiana

Bethani Kressman, Louisiana

Izzy Ramnath, Florida
Her fundraiser has now gone national, as SJLS organizers have asked all the teens to consider the project if they can sew, and they now have a partner in JOANN Fabrics.
"JOANN Fabrics found out about what I was doing and they decided to collaborate with us with free stuff to make the masks, which is super nice of them," said Keeley.
Fifty-seven SJLS members from 20 states are now using the fabric JOANN Fabrics donated – enough fabric to make 2,500 masks.
Lauren White, Georgia

Keeley Boudreau, Minnesota

Aarushi Manian, Texas
"I sew for 10 hours at a time at least and do that about three times a week," said the high school junior. "It's a lot, but I enjoy it."
To maintain social distance, she sets the masks out in a box for porch pickup. "I put their name on it and write down the number and label it male, female or kids," said Keeley.
Now Keeley's school is looking into having her make masks as part of care packages for the teachers.
Last December, when Keeley joined the SJLS, she couldn't have imagined any of this.
"The significance of this hasn't hit me yet," said Keeley.
The group can only meet virtually right now, yet through their work protecting communities, Keeley and the other teens of the SJLS have grown into leaders anyway.