Coco Quinn and JD McCrary hit all the right chords with cover for
St. Jude
With 'Stuck with U' cover, social media influencers create instant and Insta-worthy connection to St. Jude.
First, mega-popular influencers Coco Quinn, 12, and 12-year-old JD McCrary jumped on TikTok. Then they moved to YouTube, followed by a video chat with a new friend, Faith, a patient at St. Jude Children's Research Hospital.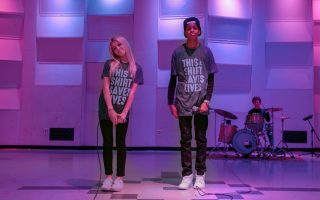 You know, typical teenage stuff, especially in this new environment created by COVID-19.
Coco, a dancer, actress and singer, with more than 1.2 million YouTube subscribers to her channel, and JD, the singer-actor who voiced the young Simba in The Lion King remake, weren't just being social for the sake of being social. They're being socially conscious with their musical duet debut, which is raising awareness — and funds — for St. Jude.
The two artists decided to give back because they realize cancer doesn't go away during a pandemic. They also recognize the power music can have on lifting spirits. Their cover of "Stuck with U" pays homage to the original version by Ariana Grande and Justin Bieber, which helped children of front-line workers of COVID-19.
"We should never stop giving if we have the means to help," said Coco.
Coco and JD's cover, recorded in a Los Angeles studio with an assist from Disney star Jackson Dollinger on drums, features the duo showing off their "This Shirt Saves Lives" T-shirts, worn by artists around the music world in unity for St. Jude.
The St. Jude mission is one Coco and JD feel even closer to now. A video chat with St. Jude patient Faith helped bring the message home for both.
The three talked about everything from what they do in their free time (JD likes to draw and play basketball, while Coco is learning to skateboard) to their favorite TikTok dance (Faith loves "Renegade") to the all-important question of karaoke or dance party, which elicited a mixed response. Both Coco and JD gave Faith, also a singer, performance tips and encouraged her to have, well, faith in herself.