Compassion wins as teen
St. Jude

Hero's circle of supporters grows

An influencer from the time he was a toddler, St. Jude Hero Travis Ilitch aims to beat his $75,000 fundraising goal by inviting others in.
The flame ignited for Travis Ilitch, as it so often does, during a chance meeting with a stranger who soon became a friend.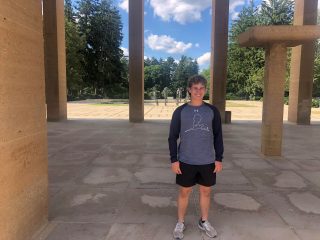 He had come to Memphis in 2015 with his mom to run the St. Jude Memphis Marathon Weekend 5K, and happened to meet a little girl being treated at St. Jude for leukemia. Travis was only 11 years old, yet the Detroit native had already been raising money as a St. Jude Hero for two years.
He and the little girl developed an instant rapport.
"I said, 'Hi,' and she came up to me," said Travis. "She wasn't very shy. Right away, we kind of hit it off."
She wanted to play, so they did. For an hour.
That was it – the moment something he did became something he felt.
"That sums up Travis. He engages people," said his mom, Kelle. "He's always just wanting to bring people in, bring people together."
His idea of giving begins with doing, and his generous nature is grounded in those little human connections. You might not guess he's a product of one of America's wealthiest families, but he is — his grandfather founded Little Caesars and his family's holding company owns the National Hockey League's Detroit Red Wings and Major League Baseball's Detroit Tigers.
Yet, he's raised more than $150,000 for St. Jude on his own. Today, at 16, Travis has become one of the most successful supporters of St. Jude, and not even COVID-19 has dulled his gift for uniting people. Last year, he raised more than $60,000 through St. Jude Hero crowdfunding. This year, he's aiming for $75,000, and he's more than halfway there.
'It all goes back to that playground'
"I think he's a natural leader, and I've always felt that way, and I think it all goes back to that playground," said Kelle. "He was 2 years old, and I remember it clear as day."
Picture it: a group of kids of all ages gather together in the middle of the field at the urging of the smallest one there – little Travis, the toddler. He leads them in a game of soccer.
People on the playground know him well and say, "Hi, Travis!" when they see him pass.
"He knew every parent at the park and every kid at the park," said Kelle. "And meanwhile, I'd be like, 'Wait. Who's this?'"
Even introverts open up to the outgoing little boy who makes it OK to be social. People are no longer strangers. A community forms. It's always been Travis' gift.
In a way, Travis reminds you of that little girl he met in Memphis. The way she engaged so easily with a new person – that's just like Travis.
In the low-tech world of the playground, he was already an influencer.
'His face would light up'
Like any good parents, Kelle and her husband, Chris, planted the seeds of caring for their children and watched to see what took root. Kelle got Travis to run with her as a St. Jude Hero when he was very young, and he enjoyed it. Early on, even before Travis met the little girl, every time Kelle would mention St. Jude, she said, "his face would light up."
So she knew.
It's not about running because they don't run far. Typically, Travis and his mom run the 5K, although Travis aspires to run the longer races someday.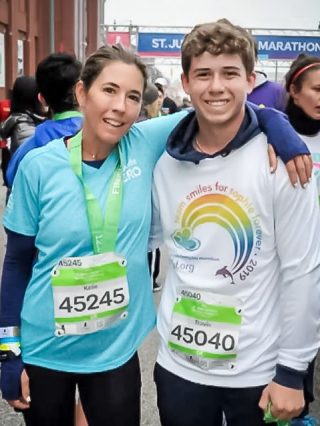 And it's not about a competitive money goal either, except insofar that the money funds the research that helps the children.
His mom simply wanted him to be aware of his place of privilege in the world and show kindness to other kids.
"There are children who are in less fortunate circumstances that are completely out of their control out there in the world," said Kelle, "and I want my children to be able to acknowledge that, to recognize that. And know if they are able to help, they can."
Thus enabled, Travis works hard on behalf of St. Jude, sending emails, making phone calls and checking in with people in the grassroots style of a community organizer.
"Helping others is a core value for Travis," said Chris, "and he exhibits tremendous empathy, compassion, drive and determination to make a positive impact on the lives of St. Jude children and their families."
He says the trick to successful fundraising lies in not only asking everyone you know to donate, but also recruiting others to act as St. Jude ambassadors.
"I take it one step further and ask them to reach out to some of their mutual friends, too," said Travis. "This way, there are levels of people reaching out, like a network. Like a community of people reaching out, all toward a common goal."
Travis recently began mentoring a seventh grader to help carry the torch of St. Jude fundraising.
"I'm just trying to get to know him and create awareness of St. Jude," said Travis. "And through that, we're also becoming better and better friends every time we talk."
Travis shares facts about St. Jude, fundraising tips and stories about what it's like to run through the St. Jude campus on race day.
"I'll be exhausted, and right as we begin running past St. Jude I'll get a second wind that will make me feel even stronger than when I started," said Travis. "Just seeing the kids, the families and the people cheering. Seeing the community come together and support St. Jude is just incredible."
So Travis keeps going.
'For the greater good'
Travis, the people person, whose interactions with others fuel him, has met hundreds of folks through his fundraising and race days, yet he runs on a team named for a girl who feels forever out of reach: Smiles for Sophie Forever.
"My mom and I never had the chance to meet Sophie, but she was a girl who would be 16 right now," said Travis. "St. Jude did incredible things for her and her family, but unfortunately, she lost her battle with cancer, I believe when she was 4 years old."
If Sophie were still alive, she and Travis would be the same age, their lives running along parallel tracks: kindergarten graduation, first day of high school, first dance. Every child deserves those things.
For Travis, she is present in her absence. She runs ahead of him.
Travis is driven to make a difference, although if you ask him, he's not exactly sure what he wants to do when he gets older. Many children of powerful families feel the weight of a legacy to uphold. Travis doesn't talk about that exactly.
So long as he can do something "for the greater good," he says, something that helps people, he will have succeeded in life.
"He's not afraid to stand up for what he believes, and he's always been that way," said Kelle. "And to speak out."
So he runs for the girl he feels he knows, although he'll never meet her – Sophie. And he runs for the little girl he played with once in Memphis, by chance. And he runs for all the other St. Jude kids and families who cheer him on as he passes through the St. Jude campus.
He empathizes, and he acts. He sends one more email, makes one more phone call and feels a connection to everyone involved, whether or not he'll ever meet them. And whether or not they're still here with us on earth.
"An incredible thing like St. Jude just brings the good out of everyone," said Travis.
And he should know.