During cancer treatment, a community pitches in to move
St. Jude

family to new home

Mom describes 'single biggest act of kindness' as others anonymously pitch in to help after her son's cancer diagnosis.
Last Halloween, Jessica would have given anything for this to be a horror movie. It surely felt like one. The doctors and nurses at the local children's hospital going about their duties costumed for the holiday to the delight, no doubt, of their young patients only added to the surreal feeling. Jessica and David's teenaged son, Warner, was exiting an 8-hour brain surgery.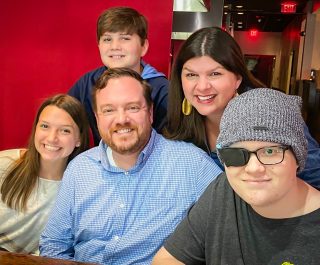 Warner had been diagnosed with a type of cancer called medulloblastoma. With surgery behind him, he would be going to St. Jude Children's Research Hospital for further treatment. And his family would find themselves the recipients of unexpected generosity.
David and Jessica have two other children — 14-year-old Brady, and 11-year-old Artie — and their community immediately pitched in to help with them. "I had friends taking the kids to school, to basketball practice," said Jessica. "They thought of every need, and did everything a mom would do, without me being there."
But there was one particularly stunning act of kindness. The family had been in the middle of moving houses when Warner's brain cancer was discovered, and there was just a week for them to get it done before Warner started what would be months of chemotherapy.
So, working covertly, about 20 women organized an unpacking crew. With a team captain in each room, they tackled the mammoth task of setting up the entire house in a single day so the family wouldn't have to lift a finger. "They met the movers, unpacked every single box, organized every drawer, hung the art, stocked the pantry," said Jessica. "When I walked in and saw the house, it felt like home immediately. It was like an HGTV reveal." Only it wasn't, because there was no one standing by to take credit.
The women cleared out before the family arrived. "I don't even know exactly who was there, so I've never even been able to properly thank them. It was probably the single biggest act of kindness I've ever experienced."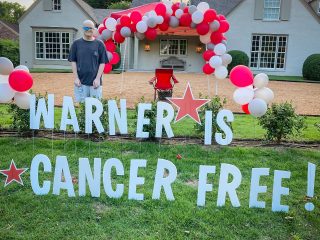 And Jessica, though she really needed help, had found it hard to ask. She and David had a fourth child who passed away as an infant. When Warner was diagnosed, she said, "it was hard to ask for help, because I felt like I had already had to lean on others. It was really hard because I thought, you already brought me food. You already helped with my kids. But these people stepped in even when I didn't ask. I've experienced twice now the reality of being surrounded and cared for by community. It was the most amazing, beautiful thing."
It just goes to show, you may think the well is dry, but the well isn't dry. Kindness is a generous spring.
Warner finished treatment this summer, and due to the COVID-19 pandemic, the celebration took the form of about 90 cars parading past to cheer for his success with balloons and cowbells.
And, as kindness begets kindness, Warner's experience has ignited in the 16-year-old a desire to give back to St. Jude, the place where he was treated for a cancerous brain tumor, and from which his parents never received a bill. He will be fundraising for St. Jude through his school, and hopes to leverage his tech talents for the hospital after college.