World Golf Championships: A $50,000 putt and other top
St. Jude

moments

We're counting down some of our favorite St. Jude golf moments leading up to the World Golf Championships-FedEx St. Jude Invitational.
When the best players in the world descend on Memphis for the World Golf Championships-FedEx St. Jude Invitational, it's not all about long drives and unbelievable putts. It's also about the support some of the world's best players show for the kids of St. Jude. In this pandemic year, those in-person connections between players and patients aren't possible, but the sentiment behind them lives on. We're revisiting some of our favorite St. Jude golf moments from recent years, as a reminder that the WGC-FESJI is about so much more than golf.
Ben Crane and Tyler (2014, '16)
When they met at the 2014 St. Jude Golf-A-Round, Tyler predicted his new buddy Ben Crane would win the tournament — and five days later he did. They reunited in 2016 for some friendly sword fighting.
Dakota and Justin Rose (2019)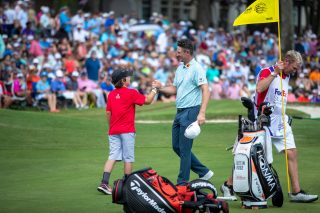 When Justin Rose came up short on a 50-foot putt for charity last year, Dakota coolly sank the remaining five-footer to clinch a $50,000 donation from FedEx. When Rose finished his final round on Sunday, guess who was there to greet him?
Reid and Brooks Koepka (2019)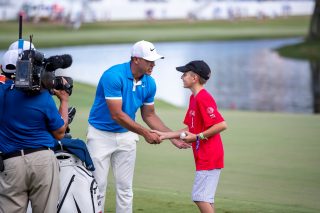 There are golf lessons and there are life lessons. After winning the 2019 WGC-FESJI, Brooks Koepka talked about the joy of being greeted on the final hole by St. Jude patients like Reid, and what they've taught him: "I realized you can't take life for granted. You really have to enjoy it. Appreciate the little things. Because you see these kids, they're struggling for their lives."
Mya's Purple Eagle (2018)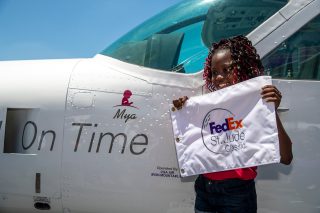 Imagine having a FedEx plane named after you. When St. Jude sickle cell patient Mya was told she was receiving that honor as the Purple Eagle patient for the 2018 tournament, she asked her grandmother, "Nana, does that mean I can go anywhere I want, whenever I want?"
Nick and Penny Hardaway (2019)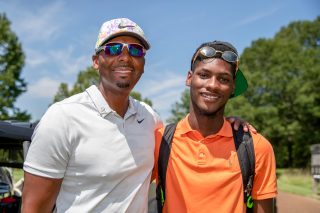 Last year's Danny Thomas Celebrity-Am brought out some basketball royalty — the legendary Penny Hardaway and patient Nick. A rising prospect when diagnosed with cancer at 14, Nick became a double threat during his St. Jude days, writing and performing rap songs about his cancer journey.