A shout-out from J Balvin lifts spirits of
St. Jude

patient

Amid cancer ordeal, Reynaldo thrilled by 'awesome' video message from popular artist J Balvin.
English | Español
In the laconic lingo of a teenager, Reynaldo said he "did just a couple dance moves, and that was it."
That was it, indeed.
Reynaldo, a 17-year-old patient at St. Jude Children's Research Hospital, actually is quite the dancer. He studied choreography and participated in dance groups in his native Puerto Rico before getting diagnosed with a type of cancer known as rhabdomyosarcoma and moving to the U.S.
Recently, as part of a challenge, he shared a video on TikTok in which he danced to the song "Amarillo" by J Balvin, a Colombian singer and rapper who specializes in Reggaeton, a type of music that originated in Puerto Rico in the 1990s. Enormously popular throughout Latin America and the U.S., the artist has more than 40 million followers on Instagram alone.
"All the dance moves I did, it was like with the energy that this song gives to me. That song specifically gives me good vibes, and that's why I did the dance moves," Reynaldo said.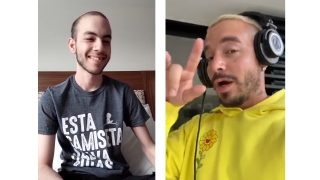 The video got the attention of J Balvin, who sent a shout-out video to Reynaldo, wishing him well and offering encouragement. "I love you so much," he tells the young patient.
Suffice it to say, Reynaldo, who has been a fan of the artist for a few years, was more than a little thrilled by the recognition. "When I saw that video, I couldn't believe it," he said.
J Balvin's act of kindness couldn't have come at a better time. It helped soften some bad news Reynaldo had received days before – that his cancer had returned and he needs more treatment.
Weeks later, he was still beaming about the video from J Balvin.
"I couldn't believe that he did that to me because he's a good singer and he's kind of famous. It's kind of awesome that someone like him did something like this to me."