Maryland church's virtual event raises $36,000 for
St. Jude
St. Stephen Baptist Church embraced the new normal of COVID-19 during its successful Sunday of Hope Give-A-Thon for St. Jude.
As his church prepared to host its annual Sunday of Hope Give-A-Thon in the midst of the COVID-19 pandemic, Bishop Lanier Twyman harbored no illusions about the challenges involved. After all, it wasn't as if he could just pass a plate around.
With in-person services shut down, Twyman, senior pastor of St. Stephen Baptist Church in Temple Hills, Maryland, adjusted his expectations accordingly for the event benefiting St. Jude Children's Research Hospital. He set a goal of $20,000 – well below what the church had collected in past years.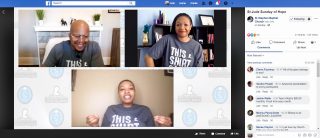 "We were just in the middle of COVID-19 and not quite sure if people were going to give, and how much they were going to give," Twyman said.
But give, they did. By the time the event was over, the church had raised $36,000 – 80 percent more than anticipated.
So, how does a church nearly 900 miles from St. Jude come to be such a solid and consistent fundraiser for the research hospital? Twyman answers with truisms about the basic human need to help one another, and about salesmanship.
"When you have little children who are sick, it just makes sense that you want to help," he said. "People like to give to good causes. People like to give to organizations that are impacting people's lives."
The St. Jude mission, he added, "sells itself."
Not that church leaders didn't help.
"Pastors are salesmen, too," Twyman said. "We're always selling. We're selling the gospel, if you will."
To facilitate collections amid the restrictions brought on by the pandemic, St. Stephen offered congregants a choice of giving options. Most gave online during virtual services using "electronic envelopes." But some chose lower-tech methods, driving by the church and dropping off donations.
In addition to the virtual service, younger church leaders livestreamed an event to solicit donations. The church brought in three nationally known Gospel music artists – J.J. Hairston, Stephen Hurd and Maurette Brown Clark – to help with the campaign.
The result spoke volumes about St. Stephen, a supporter of St. Jude for the past half-dozen years.
"It certainly met and exceeded my expectations," Twyman said.