We're grateful for: Jose Zambrano, who runs in full firefighter gear for
St. Jude
Jose Zambrano, a California firefighter, began to run in part to reduce the stress from his life-and-death work.
But when he read about four firefighters who were killed miles away in Houston in 2013 after responding to a five-alarm fire, he felt the need to help.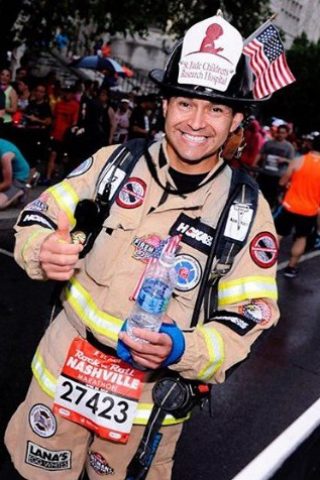 Zambrano decided to run in a marathon and raise money for the National Fallen Firefighters Foundation. To draw more awareness to his cause, he ran the marathon wearing his full fire-fighting gear.
Two years later, in 2015, Zambrano's friend, a fellow marathoner, lost his teenage daughter to cancer. She had been a St. Jude patient.
He quickly became a St. Jude Hero: a runner who fundraises for the research hospital as part of a nationwide alliance against childhood cancer.
Since then, he's participated in dozens of marathons, all in firefighter gear with a St. Jude badge on his traditional firefighter helmet.
His kindness and atypical efforts have earned him and his cause coverage from television stations across the country.
"I'm really humbled by all of this," he said. "My biggest goal is one day to be able to say I raised a million dollars for the children — not for me to get credit, for the kids."