We're grateful for:
St. Jude

Hero Matilde Flores, who runs in memory of a childhood friend
When Matilde Flores runs and raises money as a St. Jude Hero, it's personal — even though her family hasn't been touched by cancer.
It's personal because Matilde is running in memory of a dear friend she had as a teenager, named Maria. Maria was a lifeline when Matilde was new to the United States, having moved with her parents from a small farming town in Mexico. "I didn't know the language. And I felt like I didn't fit in," Matilde said, remembering what it was like before her new school paired her with Maria, who spoke Spanish.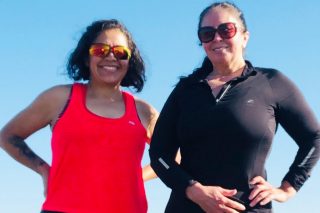 But then Maria stopped showing up at school. She had been diagnosed with leukemia and eventually passed away from the disease. Matilde was distraught — but also determined: "Ever since she passed, I had felt this need to do something in her memory and honor."
Today, Matilde, 56 and living in Portland, Oregon, not only runs as a St. Jude Hero but has recruited a team of runners to join her in support of St. Jude. Many count themselves among Portland's strong and proud Latino community. The group of women, named the Heroes Latinos, includes Matilde's cousin, Cecilia Pelayo.
"Now we all believe in the mission of St. Jude," Cecilia said.